Party: Felix, Kshitij, Kristian, Rick, Robyn, Al, Nicole, Katy, Martin, Anna
Given the festivities the night before, and the fact that several of us had just finished a five day exploratory canyoning trip, we'd planned to have a fairly late start. Fritz and Nicole's boys had other ideas, and Olly and Benji proved very effective alarm clocks. It was just 8am by the time everyone had finished breakfast and packed for the day.
I was fairly confident I would be able to find the pass to our chosen canyon, even though I had only done the trip once before. The ridge was hot and scrubby, resulting in some amusing disagreements between Kristian and Nicole about the best route to take.
We weren't sure exactly where the canyon started and ended up entering a very scrubby creek. It turns out we were much higher than we should have been. This mistake probably added about an hour to the trip.
Eventually, after scrambling around a waterfall, we were finally at the start of the canyon. We stopped for a quick lunch before abseiling in.
A couple more jump and abseils followed. At one point we stopped to watch a mountain dragon, which amusingly decided to jump from its perch and run up Nicole's leg!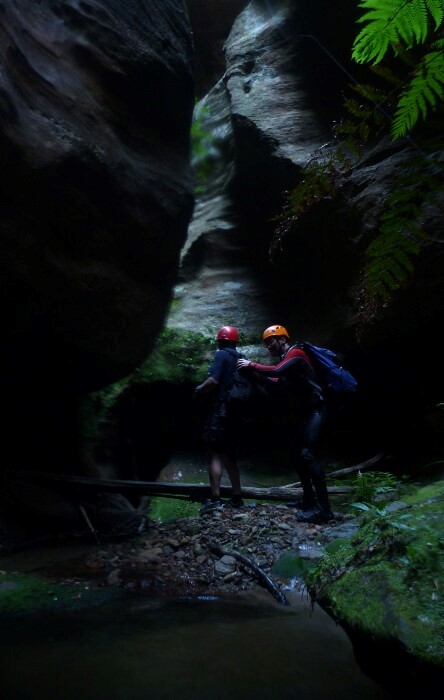 We continued down the canyon through one of the longest constrictions around.
Unfortunately, Kshitij lost his camera around where a side canyon entered. We spent some time looking for it, but to no avail.
(UPDATE: In amazing news, another group of canyoners from SUBW found the camera almost two years later. While the camera was dead, the photos survived. You can check out a selection of them here.)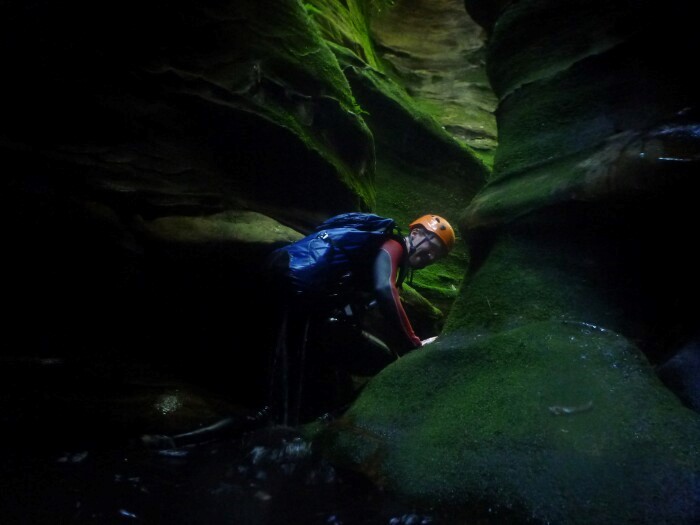 I think Rick and Robyn were the only ones without wetsuits and they were happy to enter the sun at the end of the final constriction.
It was a shortish walk back to camp, which was not quite as noisy as it had been the night before.
We discovered that a goanna had cut its way into Katy's tent where it then appeared to have gone crazy trying to escape. The interior of the tent was completely ripped to shreds. Unfortunately, this wouldn't be the last goanna incident for the trip.