From time to time people ask me what I do if I run into other people while on a nude bushwalk, or more importantly, what the attitude of the authorities is to some casual nudity in our national parks. This walk managed to answer both questions, quite satisfactorily, with a group of rather amused National Parks and Wildlife staff saying their only criticism of our walk was the lack of gender balance!
Spring has been nicely warming up, and a forecast promising plenty of sunshine and temperatures in the high 20's in the mountains the conditions seemed perfect for a naked stroll through the mountains. I obviously wasn't the only one who felt that way, because even with a couple late dropouts we doubled the number of people who came on our last organised nude walk.
Six keen walkers met up at Woodford in the morning. (Well five actually, after one member of the group discovered that trains on the Blue Mountains line have manually opening doors, which meant he ended up at the next station up the line!) With a quick detour the whole group was back together and we were off on the short drive south to Murphys Glen.
I'd been sussing out a few spots a couple weeks earlier, and this seemed like the perfect option. Close to public transport, but far enough away to have it all to ourselves on a weekday. Best of all, the dirt road has been recently graded so it is an easy drive in 2wd cars.
Murphys Glen is an amazing spot. In the centre of the valley, formed by an ancient volcanic vent, are huge towering trees, with an attractive creek flowing all the way to Bedford Creek. The walk — on a clear, obvious track — seemed perfect.
Sure enough, when we turned up the place was deserted. We jumped out of the cars, and out of our clothes, before setting off. I suggested people chuck their clothes in their packs, just in case we stumbled on a troop of girl guides, which turned out to be a smart idea.
The walk didn't take long, but it was really pleasant. We detoured to a couple small waterfalls and admired the wildflowers (especially a few showy waratahs).
What I love most about a nude bushwalk is the tactile nature of it all. The ferns rubbing against your body, the sunshine beating down, the slight wafts of breeze on your skin. The heightened sense of feeling always makes me reach out and engage with the bush, and I find my hands touching the leaves, bark, rocks and logs around me and exploring them far more than I otherwise would.
The short nature of the walk, and the lack of any serious scrub, also meant we only had the good parts of nude bushwalking (no prickles, scratch scrub, or long sweaty climbs).
Before long we could see Bedford Creek below us. There is a long impressive pool where the track joins the creek, and we followed along a short way to our final destination. An easy crossing of another smaller creek and we were there, at one end of the long pool where there is a small sandy beach, some sunny rocks, and a small grassy flat for relaxing on.
The next few hours were simply about enjoying our surroundings. The sun rose higher, making it warmer. The chilly water provided an invigorating spot for a series of short swims, and the interesting area allowed for a little bit of exploring.
Food came out, and a book, not to mention plenty of conversation. There's something about removing the barrier of clothes that always seems to make it easier to get to know other people. There's a certain honesty to the interaction.
Eventually the sun started to get a bit too much, baking the sensitive skin of a few people, so after lunch we packed up and made our way back up the track. We made the most of our return journey, pausing fairly regularly to take in our surroundings (and catch our breath, as the trip back to the cars is all uphill!)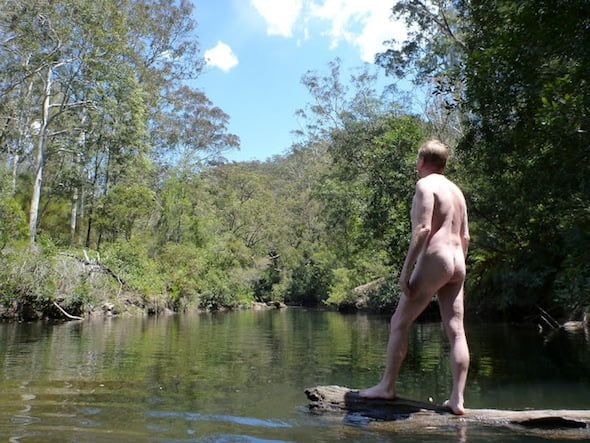 Then as we were almost back at the cars I suddenly spotted a flash of orange high visibility clothing up ahead. Whoops! We darted a few metres back down the track and dug about in our packs to find our clothes. With them on we continued along, finding about half a dozen NPWS staff getting ready to put in a containment line ready for a hazard reduction burn!
Despite being a little sheepish about the situation I thought I'd pop over and say g'day. They were incredibly relaxed about the thought of a bunch of bushwalkers taking a nude stroll through the area, and it seemed to give them something to have a chuckle about on an otherwise fairly mundane day at work.
I asked what the official policy was, and if they saw any issue with our little trip. They shook their heads, before one bloke offered up their only piece of advice: "You could do with some more girls next time". They all laughed and that was it.
A great easy walk, wonderful company, perfect weather, and an answer for all those people who ask me what happens when you bump into fully dressed members of society on one of these trips. It doesn't get much better than that!