The weather forecast had been spectacular all week — clear blue skies and above-average temperatures — but the reality as I drove up the mountains was even better.
A few people from the club had been suggesting that I should actually run a nude trip, rather than just surprising people with some impromptu nakedness when the conditions were right, so with a free day coming up and the promise of a sunny outlook ahead this trip was born.
At its peak we have about six or seven people locked in, but nerves must have gotten the best of a few of them because between work commitments, missed trains and failed alarm setting we were left with just three in the group. I wasn't too bothered; I'd have been more than happy to do it alone.
We drove out the dirt road towards Mt Hay, which probably made my companion a little uncertain as he'd never even met me before.
I parked at the start of our track to wait for our third and final trip member, who arrived within a couple minutes.
Once together it was time to strip off. The newest member of the group said he'd rather keep his kit on, which was fine, as he wasn't in the slightest bit bothered by our naked, Rubenesque forms.
Being brave, we left our clothes behind, ensuring that if we did stumble on people there was no chance of covering up.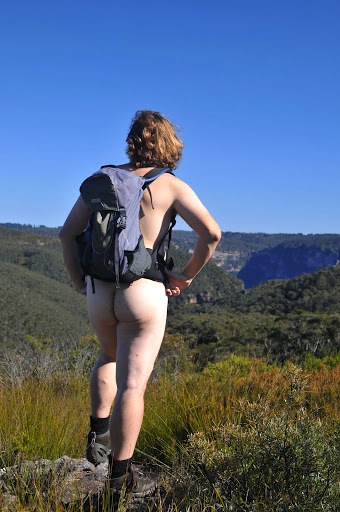 It felt amazing to strip off, with a slight crispness still left in the morning air chilling our bare flesh. It didn't last though, with our bodies soon warming up as we began to walk through the open heathland while the full sun streamed down on us.
For a group of nude guys, the walk was perfectly chosen, with enough homoerotic sounding places along the way to entice a few giggles. The plan was to head from The Pinnacles to Lockley Pylon, before lunching on Du Faur Head, all of which I deemed to be suitably phallic sounding.
Of course there were downsides, with three or four snakes almost stumbled upon as we walked (apparently being naked means you squeal louder and jump higher when you spot a creature slithering underfoot!) I'd like to think the added fear was about not wanting to have to explain to the situation to emergency services personnel had we needed rescue.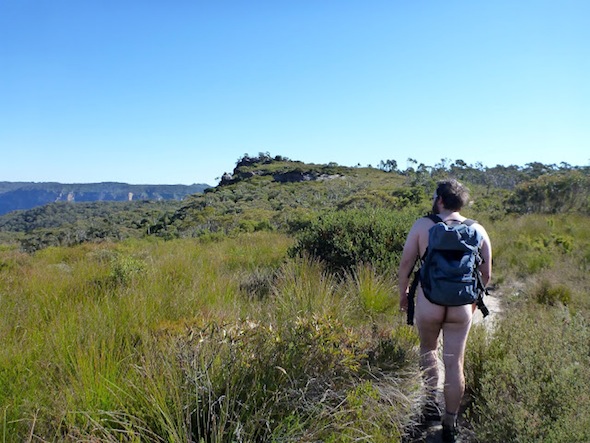 We paused for a couple photos on the way out, looking over Fortress Creek to our south and Rocky Points Ravine to the north, but otherwise made great time to our destination. Below Lockley Pylon we paused to explore a few caves, which have been carved into several layers of the cliff, finding one particularly pleasant overhang complete with a stash of firewood.
Once on top we could survey the magnificent views over the Grose Valley. Just a few kilometres away near Blackheath we could see the spots where hoards of tourists would have been crowding to see the same view, but where we were it felt like the whole world belonged to us.
The views here are incredibly expansive, and continue in every direction, with the plunging cliffs near Mt Hay, Mt Banks and the Fortress probably the most impressive.
We decided to take a break from the track, following the steep ridge down towards a small gully. As we went the views changed, with glimpses of the white ribbon of Bridal Veil Falls across the valley and then the impressive waterfall at the end of Fortress Creek.
In the gully we explored some impressive overhangs, climbed down into a miniature canyonish section of a couple metres, and admired the plunging drop into the valley hundreds of metres below.
We returned via the next minor ridge, walking through the almost alpine stunted plants and past intricate ironstone-banded rocks.
Back on the track we went past Lockley Pylon again then out Du Faur Head to just before it really starts dropping away, pausing when we found a sunny rock platform to stop at for lunch.
The spot was pretty hard to top, with the warm, almost still air, the crisp autumn blue sky, the sunlit escarpments and plunging gorge below.
After partaking in a relaxed feed, pointing out areas of interest, scrambling on the rocky outcrop and modifying the romantic messages left by some lovestruck walker, the fact that I had to get to work later in the afternoon forced us to move.
We packed up and set off back along the track, making even better time than on the way out, powering along with only a few short sections where the spiky growth made things slightly unpleasant.
Back at the cars it felt a little disappointing to be getting dressed again, and if I hadn't needed to make a stop in Leura before heading home I'd have seriously considered remaining in a natural state a little longer. I did kick the shoes off, so at least my feet got to be bare.
It was amazing to think we'd been able to spend a day just a few kilometres from civilisation, walking about 8 kilometres on a managed track to a spectacular spot, yet not seen a soul.
I loved the experience, and thanks to the stunning weather it was even better than expected. Given how good it was, you can pretty much guarantee I'll run some similar walks again in future.