Party: Tim "T1" Gastineau-Hills, Joshua "Rocky" Hill, Kosta Seiler
FCC trips often have a strange evolution and this certainly was no exception (with a few twists that foreshadowed the marvellous canyoning that eventuated). In early planning, this trip was a caving weekend at Wee Jasper! Tim "T2" Vollmer teed up Kosta, myself and Facebook friend Julie Burton (as the speleological expert), however it fell apart when T2 pulled out a week or so beforehand. So instead, Julie Facebooked an open invitation for a Newnes canyoning weekend.
The choice of canyons seemed ideal, being Pipeline (which I'd last done as my very first canyon in April 2004) and Devils Pinch (which I'd never done). However, with the canning of caving, I had agreed to play cricket on the Saturday, so I proposed to Kosta that we meet Julie out there for the Sunday. I also then took the liberty of inviting Rocky (despite not being organiser or leader!).
As a bonus – and to make up for missing Saturday – I decided to skip work on the Monday and tack on a reconnaissance of River Caves Canyon. Sweet!
Then, a day or two out, Julie piked, citing the forecast of a wet weekend and preparation for a trip to NZ (if I remember correctly). So it came to be that on a wet and cool Saturday evening I picked up Kosta at Richmond and proceeded out into the Wolgan River valley beyond Lithgow. Rocky was to meet us the following morning, at the campground.
To this day, it still saddens me to recall our drive along Wolgan Road, approaching Newnes. Coming over a crest, we narrowly avoided an injured kangaroo lying on the road, and stopped to check. It was immediately obvious that the poor thing had come off worse in an earlier encounter with a vehicle, suffering at least one broken limb and seemingly extensive internal injuries. It lay there frightened, in pain, suffering, incapacitated. (What lowlife could leave an animal in this state? It disgusted both of us.) Of course we knew what had to be done; there was no saving this poor 'roo. It's traumatic and hard, but the right thing to do.
So we arrived at the campground melancholy and subdued, indiscriminately negative towards our neighbouring campers, fairly untalkative and with spirits dampened. To rub it in, light rain started to fall after we lit a fire and we retreated under a fly.
Joshua arrived at 9am, in rather unwelcoming weather – a chilly 8 degrees and the overnight rain had continued unabated into the morning! We faffed around for a bit over an hour before deciding we could not be outdone. Devils Pinch Canyon, with its relatively small catchment area, would hopefully be manageable.
Not surprisingly, above the Pipeline Track, we found the views of the Wolgan and Capertee valleys partly obscured by cloud, but right on the tops we were compensated with spectacular carpets of wildflowers.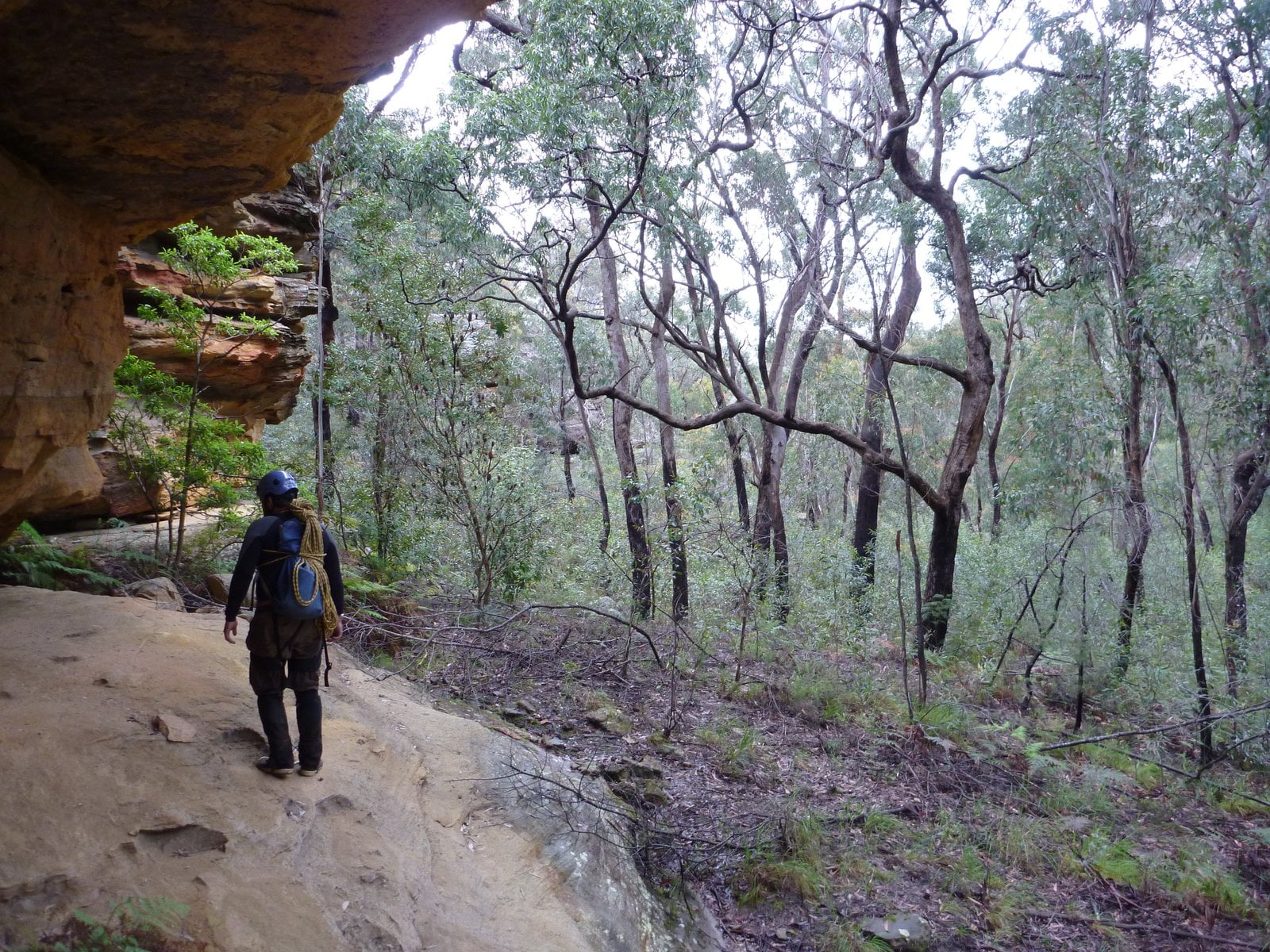 We chose to drop in high above Devils Pinch, passing some decent overhangs and camp caves before a light scrub-bash to the first abseil, into an impressive chasm and first constriction. Rain fell solidly as we waded down this typically-dry section, the cascading rivulets of water on the canyon walls contributing to a remarkable ambience.
Later, following this excellent sustained constriction, the creek opened out for a while and we rigged a rope for a small drop, only then to find a tree root on the left wall snaked around the corner and "ramped" conveniently down to the creek bed. Then in and out of constrictions for some time before another spectacular pitch into the lower canyon.
The sheer walls in this lower section of Devils Pinch blew us away and the canyon immediately went into my top 5.
Outside the canyon, there's an exciting abseil down 3 sets of falls, nearing 50m. I led and nearly threw myself off the top, not entirely being aware of my decreased ability and control, a "carefree carelessness" brought on by the cold and exposure. Kosta then descended steadily and safely. This abseil is optional, with a scrambly pass on the western side, and after waiting for what seemed an age for Rocky to begin, we saw him get off the rope, shout out something incomprehensible and disappear into the scrub. In a moment of clarity, recognising the debilitating effect of the cold, he'd decided to skip the abseil and take the scramble option.
In very little time we negotiated the steep hillside down to the Wolgan River, waded a shallow section, intersected the fire trail the other side and cruised back to the campground just after dusk.
Joshua then retreated to Orange, while Kosta and I stayed put, and recovered, for the next day's reconnaissance of River Caves. Devils Pinch Canyon, on what turned out to be the coolest October day in 20 years, was certainly an epic: beautiful, eerie, elemental and testing. We were soon craving to return, in better weather!