Party: Tim "T1" Gastineau-Hills, Kosta Seiler
Kosta and I were at Newnes overnight, after an epic trip with Joshua through Devils Pinch Canyon. The plan today was to duck up onto Newnes Plateau and check out River Caves, a reconnaissance mission before the second beginners abseiling and canyoning weekend.
Some careful navigation through the state forest got us out to the barrier on the Mt Cameron Fire Trail and we quickly came across the obvious foot track at a saddle, leading steeply at first into a shallow gully. It was a very pleasant descent, first past an interesting amphitheatre and then through groves of waratahs in full bloom.
Approaching the junction with Budgary Creek, there's that immediate suggestion of something special, as the high banks narrow to an impressive-looking chasm upstream. River Caves is about 400m of deep, twisting canyon, named after the numerous dark alcoves and amphitheatres along its sheer walls.
For a short section of canyon, there is a remarkable variety to formations and greenery, beautiful streaming light effects and an echo-y resonance.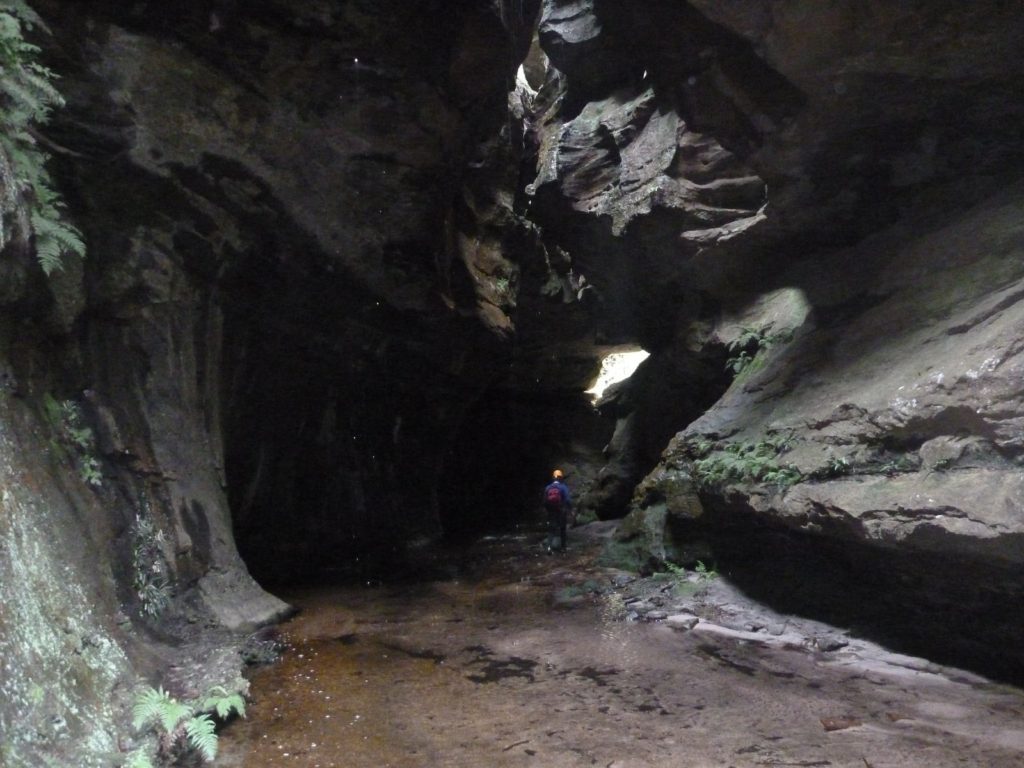 Wet feet are unavoidable and a wade or two is likely unless you scramble onto high ledges on either wall. As we explored all nooks and crannies, I pictured River Caves being an excellent retreat from the summer heat and perfect for kids to splash and muck around in. Big kids too, I guess.
Following the canyon, at a Y-junction, the exit track is easily found upstream, on the left bank, and in contrast to the track in, it climbs steeply at first then takes an easy ridge back to the Mt Cameron Fire Trail.
All-in-all, River Caves proved to be a spectacular and easy canyon, enjoyed all the more in warm sunny weather – and the reconnaissance convinced us it was a very worthy addition to the upcoming beginners abseiling and canyoning weekend. Also, thankfully, a very suitable wind-down after the previous day's epic.