Party: Tim, Mike, May, Hiromi, Ako, Ben, Kristen, Naser and Awen
– Trip report by May Ho:
Blessed with a sky of blue and the warm caress of the sun, it was a perfect day for a nude yoga bushwalk just before the weather turned too cold.
Despite the horrendous storm the day before, nine of us met full of anticipation outside Glenbrook Station where we soon piled into two cars.
Mike led the entourage, driving towards the Blue Mountains National Park entrance at Glenbrook where we would begin our walk.
The walk to Kanuka Brook is about only a couple kilometres each way and relatively easy even for the likes of inexperienced me.
Once we parked the cars, we headed to the start of the track where most couldn't wait to strip off. I respectfully acclimatised to the surroundings. Tim even decided to go barefoot to really connect with the ground, which was slightly damp at times due to rainfall the day before.
As we set off, the view opened to the brown and green hued foliage so indicative of Australian bush and the trees closed in around us. The smell of eucalyptus permeated the air and the slanting morning sun flashed through the trees beckoning us to move faster to the jewel of the brook before us.
We climbed and scrambled over boulders, fallen trees, feeling the leaves, brushing against branches in divine intoxication with our Mother.
Then came the moment that took our breath away –- we drew to a halt at the sight of Kanuka Brook. Struck by its beauty, we took a moment to admire the birdsong and call of the hissing water as it flowed down the rock steps of time and creation.
Everyone clambered down to jump into the emerald green waters! With two inflated lilos, most took turns to float and swim about.
The water was fresh if not slightly nippy but the sun warmed us up immediately.
As most of us enjoyed the tranquil scenery soaking up the sight of cliffs under the clear morning light.
Mike monkeyed about by climbing up the waterfall to the flat rocks above.
Tim yelled out for him to wait whilst he got his camera and captured a frame-by-frame shot of an eight metre jump!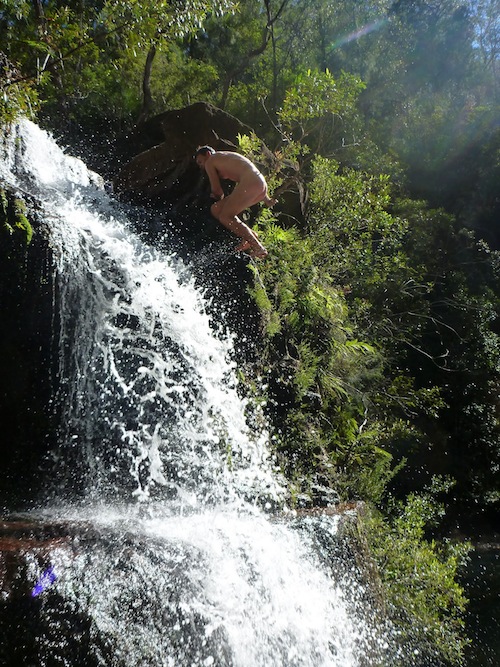 Not surprisingly none of us joined him for a climb and a jump. Tim remarked it would be different if he had a rope.
As the sun started to move away, we swiftly made our way to a flat encampment for our yoga session. By this point, most were starting to feel a bit chilly so I kicked off with Sat Kriya, a simple practice which distributes energy around the body and warms you up in no time!
Being completely open and authentic, everyone proceeded with tenacity to their practice of elevation, finding strength and nobility in our connection to Mother Earth.
We decided to re-clothe after long deep relaxation as it was getting cool and settled into a healing circle. This time everyone had a chance to step into the circle as we chanted the healing mantra, feeling the healing energy flow around and over us. In so doing we empowered and connected to our highest potential.
Feeling re-energised and peaceful after yoga, we had lunch and built a fire where Tim showed us his brute strength by breaking firewood over his thigh.
As it started to get late we reluctantly packed up and made our way back to the cars.
Back at Glenbrook Station, Mike made the excellent suggestion of having a drink at a local pub and we all went except for Naser who had to get back to town.
Whilst we enjoyed our drinks and pub grub, I'm reminded of my own journey to teaching nude yoga in the bush. Such experiences bring us into contact with people we would never have encountered but for the sharing of an open and honest appreciation for our land.
Our journey to Kanuka Brook was not only about the place but also about people and it may be the people and the place, that we remember the most.