Canyons near Sydney (5th Edition)
Author: Rick Jamieson
Cost: $16.50 from CanyonGear.com.au
UPDATED REVIEW: January 2019
A lot has changed since I first reviewed this book in 2012. Most significantly, the author of the guide — Rick Jamieson — passed away. His death has meant that for nearly a decade the guidebook has not undergone revision or reprinting.
At the same time, the inevitable changes that take place in and around canyons have occurred, resulting in some of the information in the guide becoming outdated and incorrect. A significantly example is that the access information relating to the extremely popular Claustral Canyon is completely wrong.
Finally, I've changed a lot, with new experience and the calming influence of age making me slightly more charitable towards Rick, along with some of the divisive features of this guidebook.
There are many thousands of people, particularly those who began canyoning during the past two decades, for which this book or earlier editions were an invaluable introduction to the strange yet marvellous pursuit that is canyoning.
For some, the book was simply a handy document that could be flicked through when searching for inspiration for a their next adventure. Still others treated the descriptions — which cover a good chunk of the canyons within a few hours of Sydney — almost as a holy book of divine inspiration. At least one canyoner I know has meticulously worked their way through, ticking off canyons as they were visited, turning the book into a sort of bucket list.
Despite the rise of online canyoning resources that provide detailed descriptions that can more easily be updated over time, Rick's book has remained a stubborn institution. With stocks of the final print run dwindling — I've been told just a few hundred remain — that may finally come to an end in the next year or so.
The book itself is pretty much as you would expect. Just short of 100 pages, all black and white except for the cover, made up overwhelmingly of text descriptions with just a handful of sketch-maps and photos. It provides a brief introduction to canyoning in the Blue Mountains, the history of canyon exploration, some safety advice, and information on equipment and basic technique. Rick also uses his own basic rating of canyon difficulty, which while useful for popular canyons, generally fails to address the diverse challenges posed by more remote canyons.
The origin of the guidebook goes a large way towards explaining the passionate division it still causes among some in the canyoning community. Rick was extremely active with the Scouts over many decades, and when he first started developing the guidebook in the early '90s he reportedly described the project as a "pamphlet for scouts" when seeking information from more experienced canyoners.
David Noble (the Sydney University Bushwalkers Dave, not the NPWS / Wollemi Pine Dave) was approached given he had previously produced a small canyoning guide for Wild Magazine. Under the premise that the guide was of limited nature and non-commercial in intent, he provided a great deal of information to Rick that went on to form the basis of this first edition. Dave's other great frustration, beyond being mislead over the use of his information, was that the book contained so many errors when it first came out. Indeed, even by the fifth edition there remains some incorrectly named canyons, incorrect historical notes, remote canyons marked in the wrong location, and even joke canyons that either don't exist or are extremely poor quality.
This habit of acquiring track notes from others, rather than exploring everything himself, carried on right through to the fifth and final edition. In fact, by the time this book came out, Rick's deteriorating fitness and health had greatly limited how far afield his canyoning adventures could take place. Despite this, Rick added the location of dozens of remote wilderness canyons in Wollemi National Park to the fifth editions, going against the very canyoning code of ethics he publishes at the start of the book. (These canyons come from a sketch map of canyons, drawn in the mid-1990s, and surreptitiously sold under the counter by a former staff member of the Paddy Pallin store in Katoomba.)
Some canyons in the guidebook were clearly never visited by Rick, which is part of the reason for errors with descriptions, grid references, and names, particularly for some of the more remote canyons.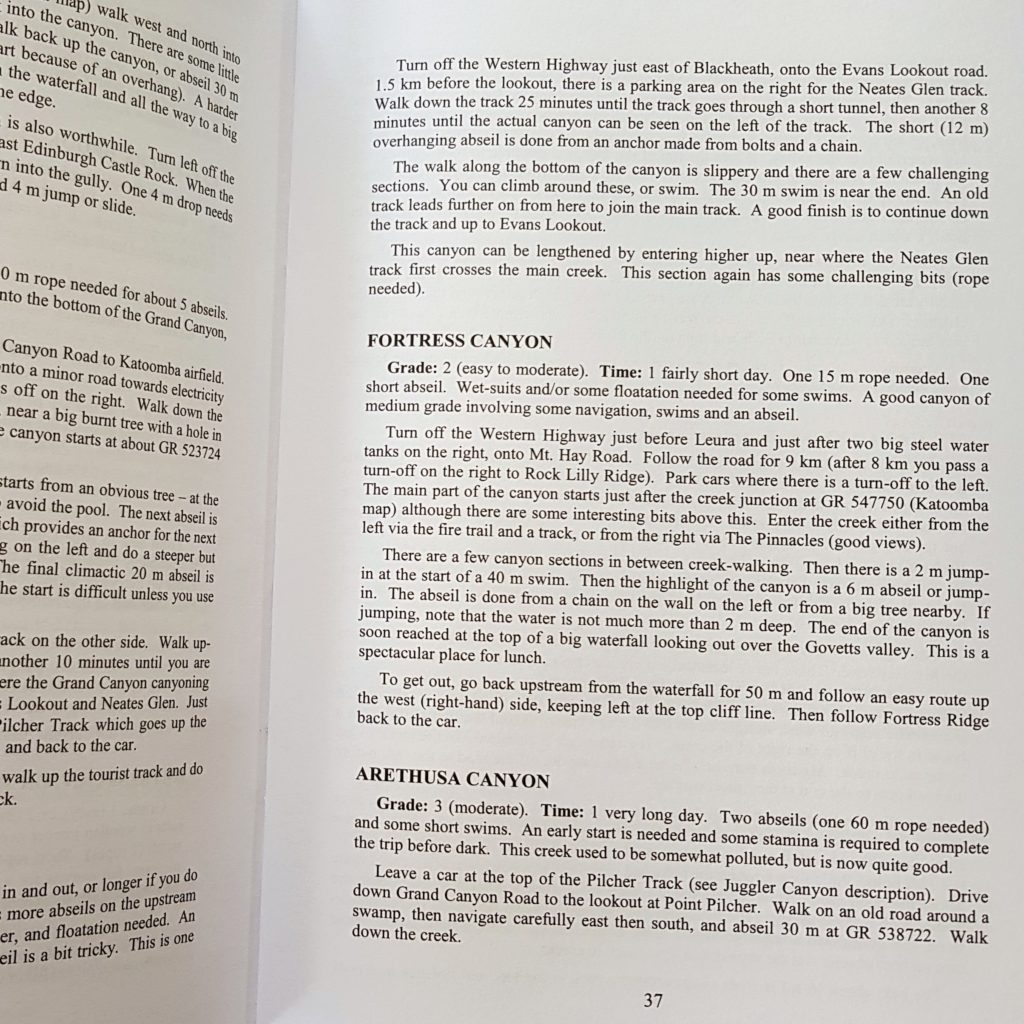 Perhaps because I came from a bushwalking background, preferring to find my own way using a topographic map rather than following someone else's track notes, I put off buying the Canyons Near Sydney guidebook until I had been canyoning for several years. In fact, I had explored somewhere in the vicinity of 70 canyons before I finally gave in and purchased a copy.
I retain my view that, once a reasonable level of proficiency is acquired, canyoning without the use of guidebooks or track notes is not only safe, it's actually more enjoyable. The pleasure of being surprised by obstacles then finding a solution that allows you to move safely through is greatly rewarding. This is perhaps why I am often much more excited at the chance to explore unknown creek systems or remote, unpublished canyons, where the endless march of bolts, slings, and fixed handlines have not yet marred the natural wonder of the place.
But even now, from time to time, I still find myself reaching for Rick's book. I flick through to remind myself of areas I've been meaning to visit, or haven't gone in years. I check rope lengths when packing last minute for a more popular canyon. And I go on a journey of exploration in my mind when the realities of busy a life mean I simply don't have time to get outdoors.
I no longer get caught up as much with my concerns about some of Rick's canyon ethics — whether his willingness to publish details of wilderness canyons or encouragement for more vehicular access to wilderness areas to save himself a long walk in — and instead try to enjoy the best parts that come from skimming his book.
I also recall fondly my first forays into more remote, multi-day canyoning trips, which were inspired by Rick's sketch map of the Bungleboori canyons.
In many ways, the best parts of Rick's book have been the canyons where he provides little or no description. Simply enough information to point you in the direction of an obscure creek (at times with an incorrect claim that it isn't a very good canyon) then leaving you to explore. From less visited canyons close to civilisation, to some where the longer walks or tougher navigation makes them less popular, I've had countless great days in canyons like this that you wouldn't know existed if you restricted yourself to the online canyoning guides.
So while there remain errors, and some canyons have changed since the book was published, it remains a useful resource that is well worth having on your bookshelf.
For those likely to only visit a couple popular canyons each year, you can probably save your money, but for those of us who have caught the canyoning bug, who love to trawl for new places to explore, this book will very quickly reward you with inspiration for new adventures.