Party: Tim Vollmer, Tim Gastineau-Hills, Joshua Hill, Kosta Seiler, Mike Gray, Melissa Freer, Louisa Vaupel, Peter Brotherhood, Angie Bulic, Fiona Knox, Saul Richardson, Charlotte Greig, Tamsin Lillie, Joe Parkin, Annie Cote, Henry Backman, Carina Lucchinelli, Guy Tannenbaum, Jarrett Cohen, Katie Hendry and oh-so-briefly Nigel Butler
Missing gear, two injured leaders, logistical nightmares, another leader lost somewhere in the mountains and a near-empty fuel tank meant the stress levels were high before we even arrived on the Newnes Plateau with 15 beginners in tow ready for a weekend of abseiling practice and introductory canyoning.
I'd been a little nervous all week, with something like 25 beginners asking to come on the trip, I let the numbers blow out as far as I felt was safe (and based on what club gear I thought was available). Thankfully I didn't take any more, because when I arrived in the gear locker on Friday afternoon there were only five harnesses, and one of them wasn't functional.
Thankfully Bjorn had some gear on order from Mountain Equipment and between him, T1, Joshua and myself we could pull together more than half a dozen other harnesses. A quick trip through the CBD to fill the car with new gear and it was on to work, which I wasn't able to leave until 1.30am.
An advance party had already headed out on Friday, with T1, Joshua, Kosta, Louisa, and Melissa at the camp site, although they did spend the night a little worried that Peter hadn't also arrived as originally planned. It wasn't the first time a lack of phone reception caused problems.
The rest of us met at North Richmond the next morning, with the nightmarish travel arrangements actually working out, and all but one person (who had a medical excuse) arriving in the right place and dead on time.
We bundled everyone into half a dozen cars and set off in a slow convoy up Bells. It was here the next disaster struck, with Nigel driving ahead thinking he knew where we were camping, and me sharing the same assumption.
After a very slow drive up, where we never quite reached the speed limit (to the frustration of the locals) we made it to the Zig Zag and on to the dirt roads. Arriving at our great little camp site not far off Glow Worm Tunnel Road we found the advance party from the night before enjoying a lazy start, but unfortunately no Nigel. In fact, both T1 and I did a drive around during the day to find him, but neither of us thought to check the Rocky Creek car park which is where he had ended up. Adding to the stress, Carina told us she had been driving on empty for most of the trip, so there was some question about whether her clunky Volvo would make it out again.
I'd already been a little worried before all this given Joshua and T1 both came into the trip with substantial injuries, but had valiantly decided to press on regardless.
Joshua, who had crushed his finger between a large rock and his trailer on Wednesday assumed his finger was broken, but hadn't been to the doctor to confirm it because he didn't want his wife to tell him he couldn't come. In the end, a visit to the hospital on Monday confirmed not only the break, but major damage to the nail bed, and he was operated on the following day. Thankfully, the doctors warning that there was a chance he could lose the finger came to nothing.
T1's ankle, which has been receiving specialist treatment for serious ligament damage that had kept him off trips for the last two months, survived the trip with some pain, but was looking in a pretty bad state the following day.
Thankfully from here on things took a turn for the better. We bundled everybody into the cars and drove down the road to a good spot where we knew there were easy pagodas to teach abseiling on, as well as some interesting overhangs and sheer drops which we could progress the group through over the next few hours. We handed out harnesses and descenders, and thankfully were only one short, so I got to spend the weekend in my homemade sling harness that I sometimes take on exploratory bushwalking trips.
There were a few early nerves, especially when we moved the group on to the overhangs, but they all took to it with gusto. We even had them using a fairly steep scrambly pass to get back up the top, which was good practice.
Our insistence that everyone wear a helmet paid off when a chunk of rock was dislodged by an unnamed abseiler, whizzing down and striking an unsuspecting Joe in the middle of his helmet with a sickening crack. Thankfully no harm was done, but it is be a fair bet an unprotected head would have split open like a ripe mellon.
Eventually everyone had completed a run through of several easy drops and all three of the more complex abseils, so it was time to head back to base camp for a late lunch.
After some relaxing we made our way out to The Dry Canyon (Wolgan View Canyon) to give them all an idea of exactly what a sandstone slot canyon looks like. The stroll was clearly too casual, and we were well into the dark lower section before certain members of the group had to have the canyon surrounding them pointed out.
We headed out to the lookout rock to admire the views. A few members of the group, on hearing of the luxury available at the Emirates resort below us, almost considered defecting, until the $2000-a-night price tag was mentioned.
With a cool breeze blowing we decided to head back through the lower constriction then up a pass onto the pagodas above to look down into the deep canyon slot. From here we walked a little further and sat, admiring the cliffs glowing red in the late afternoon sun.
Eventually we set off back to camp at a good pace that ensured we were already into the food and drink, with the fire raging, before it was completely dark.

The next few hours are a little hazy. In fact, I think it is fair to say we managed to single-handedly sort out the nation's wine glut. We managed a scramble up a nearby pagoda to watch the almost-full moon rise in the east. There was a hearty, if typically shambolic rendition of the Fat Canyoners Club theme song, along with Charlotte's impressive Pru and Tru impersonation (being a former Mosmanite certainly helped!) before empty cups and the lure of the fire drew us back to camp.
Somewhere in the early hours of the morning the last of us stumbled off to our tents, but only after experiencing new delicacies like brie on chocolate (thanks Carina) and salty licorice vodka (from Henry's personal collection).
We awoke fairly early, with a fair amount of effort required to stir everyone from their slumber, and some rather seedy looks on a few faces. Despite being a Jazz musician, Saul was clearly the most hung over, with several visits to the bush bathroom before we set off. His head probably wasn't helped by Jarrett's "pimp pants" which provided an additional assault on the optic nerves.
After some greasy breakfast we grabbed our gear, jumped in the cars and set off for the day's main objective: Tiger Snake Canyon. With a party of 20 we were all a little worried about how long it would take, but by splitting into four smaller groups and leaving ropes in place at each drop we made it through in great time.
The upper section seemed both shorter, and narrower than I recall, but provided a good mix of slippery, awkward and overhung abseils. Downstream we entered via the long abseil that drops through the winding constriction into the dark bowels of the canyon.
Once here we had some fun. With a little bit of scrambling we headed up the section of canyon missed because of the choice of abseil, with a good number of the group climbing out onto the amazing arch.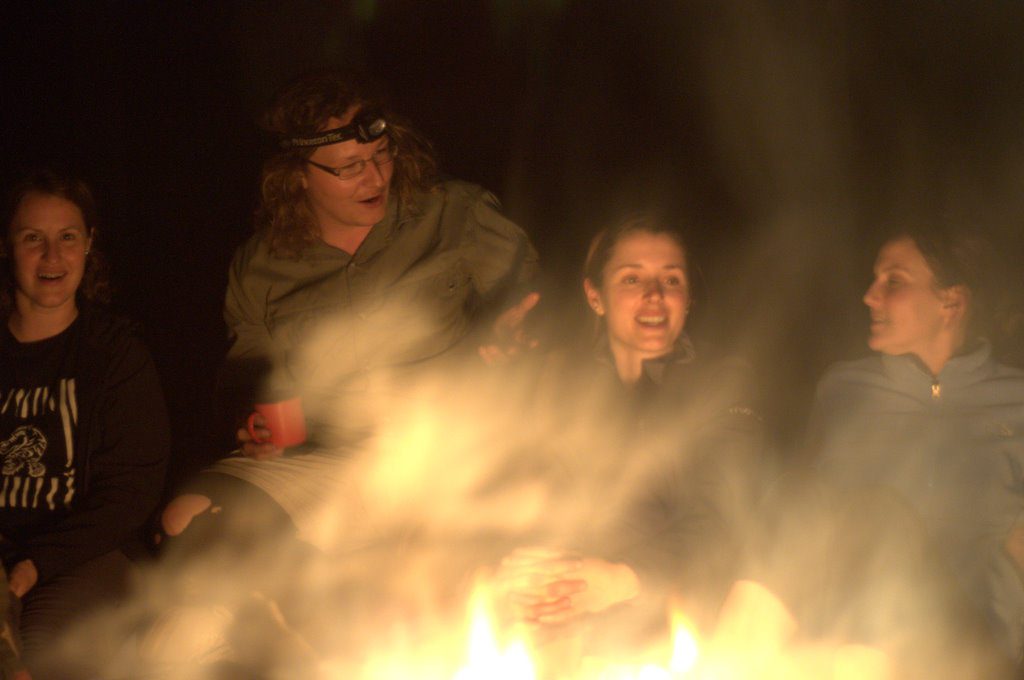 After leaving the canyon a few of us made a quick visit to the glow worm cave before we all scrambled up the pass and walked to the big pagoda for a late lunch.
There was some discussion about whether there was time to squeeze in Penrose Gully on the way out, with some divergence of views, but finally it was agreed a smaller party would have time for it. In the end 12 of us set off at a good pace, leaving the others behind to faff about with cameras and soak up some of the beautiful sunshine.
Penrose was just as I remember it: tight. It requires plenty of squeezing, sliding and bridging. Best of all is the cracking second abseil, which between the anchor (a very short little bollard) and the awkward drop (too narrow to just go straight down) provided the most technical descent of the trip for the beginners. Despite the difficulty, everyone got through it without any trouble.
For the final drop we rigged through the hole, which is a little more interesting, but does cut down the great overhang. This one went smoothly until Carina, the third last down, managed to wedge herself in an incredibly uncomfortable position very reminiscent of a frozen chook. Somehow she had her left shoulder jammed in a chicken wing position, her feet completely off the wall, and her right hand grimly clinging onto the rope. Not wanting to have to rig up a second rope, and with her still quite close to the top, I climbed down to her and was thankfully able to pull her shoulder loose, allowing her to continue down.
From here it was a quick walk up the very nice exit pass, a pause to check out the stunning gorge heading towards the Wolgan, then a scrub bash back to the track and on to the cars.
Back at the camp site we found the remainder of the group had already done the bulk of the cleaning up, which after the night before was a considerable task, and in the failing light we quickly finished up, packed the cars and headed off for dinner.
With Carina's fuel light on, we stuck in a tight convoy, detouring to Mt Victoria given it is the first fuel on the way down the mountains. As we streamed into the pub, the poor staff called for backup, with the kitchen doing a valiant effort to feed us all, even if the quality was rather hit and miss. We all grabbed a celebratory drink, with Tamsin's strawberry milkshake clearly the most potent, given the uncontrollable giggling that followed.
Eventually it was time to head back to the cars and set off home. We'd escaped without any major incidents on the trip, we'd survived with one less leader (who demonstrated for the beginners that even leaders get lost some times), the pre-existing injuries hadn't stopped people, and everyone had a great time learning new skills, so it was all around a very successful trip.