In the lower Blue Mountains there's a spectacular lookout that has somehow remained a mostly locals-only spot, despite offering panoramic views over Glenbrook Creek.
It is accessed via a short walk, mostly on a fire trail, which follows a ridgetop through attractive bushland. Currently, it also offers an attractive display of wildflowers. A final scramble along a bush track brings you to a number of rocky outcrops, each offering stunning views across different cliff-lined sections of the gorge below.
I've simply known it as "the lookout at the end of Greens Road". The fact that it isn't officially named, signposted, or marked on the topographic map seems to have kept it a hidden gem, albeit one greatly loved by the local community.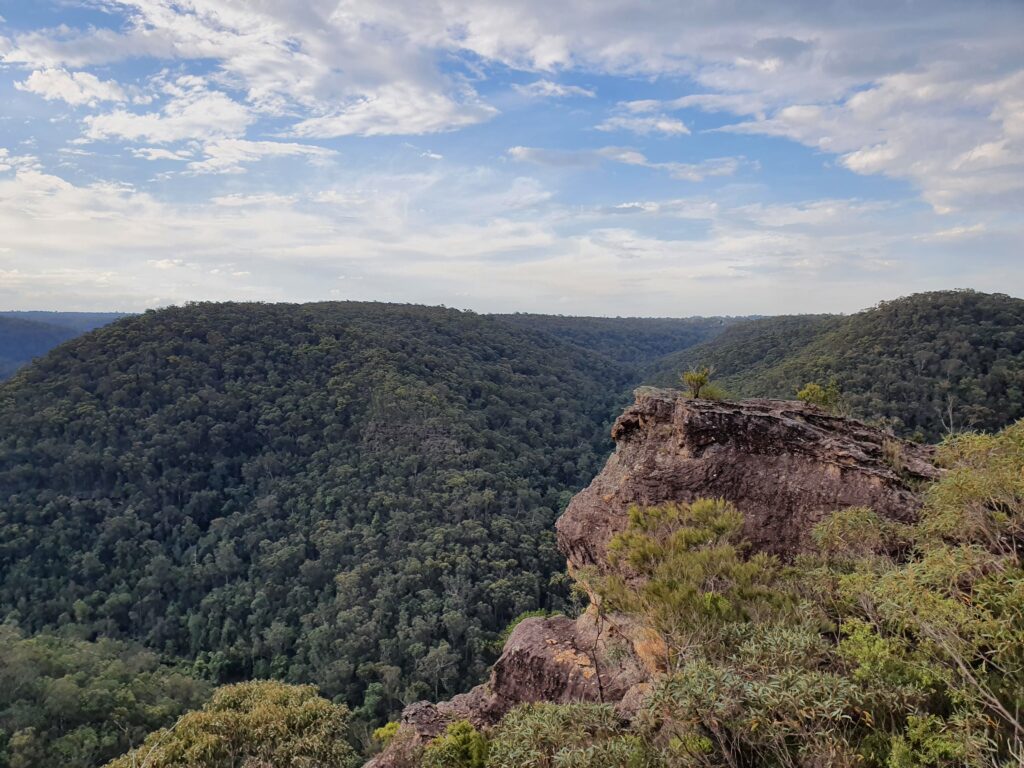 Unfortunately, this low-profile has now put it at imminent risk of being permanently closed off. The walking track to the lookout follows a road reserve through a large private acreage. The owner of that block has applied to purchase the road reserve, which would cut all public access.
Crown Lands, the NSW Government agency responsible for the land, is currently accepting submission from the public before determining the future of the road reserve. These submissions must be received by tomorrow: Wednesday 18 November 2020.
If you share our view that bushwalking access must be retained to this area, please send a short email expressing your concern (details of who to email, and what points you need to make, are at the end of this post).
Visiting Greens Road Lookout:
Currently, access is simple. You drive to the end of Greens Road at Warrimoo, just a few hundred metres off the Great Western Highway, park in the clearing near the first gate, and set off on foot.
The track heads past an attractive little view point before dropping down across a saddle. Here a large National Parks gate between two rocky outcrops is meant to keep vehicles from heading further along the track (more on that later).
As you head across the saddle, a stunning fern-filled valley drops away on your left. The shape and vegetation make me wonder if it's one of the ancient volcanic diatremes that dot the Blue Mountains.
After a quick climb you're back on a ridgetop that takes you the rest of the way. A mix of open bushland, dotted with wildflowers, makes for a pleasant walk.
The fire trail ends at a large rock slab. Cross this, looking for the well-worn footpads that lead between several other outcrops. It's worth taking time to explore each one, admiring the various views. Lost World and Bunyan Lookout are obvious across the valley.
For the adventurous, there's off-track options to continue, including a scrambling route down into Glenbrook Creek, where pools of clear water beckon.
Why does the landholder want to close access?
I don't know the owner, or their motivations, but there are a few likely reasons. The current owners bought the block in 2017 and have since been granted approval to build a house and shed.
While keeping this area as a private wonderland may be their motivation, I think other issues are at play. The fire trail — which is meant to be a maintenance track for National Parks — is clearly used illegally by 4WDs.
The first gate has been bypassed, but at the large National Parks gate someone has used an angle grinder to destroy the lock. Fresh 4WD tracks confirm ongoing illegal access into the National Park.
This situation is quite heartbreaking. Those 4WDs have driven right onto a sensitive rock slab at the end, causing damage, while broken glass nearby is also likely from people who have been illegally driving out there.
I can totally understand why people planning to build their dream home on a pristine bush block might consider this kind of illegal and antisocial behaviour a real security risk.
What are the alternatives?
There is currently another proposed road reserve closure in the Blue Mountains. That one — at Bullaburra — includes a specific exemption that allows bushwalkers continued access. This is the same arrangement that should be provided in Warrimoo.
National Parks should also take responsibility for preventing illegal vehicle access and antisocial behaviour. If they upgraded the locked gate and worked with the landowner on signage and fencing near the car park, this closure could be averted.
Finally, encouraging responsible, low-impact use by bushwalkers and local residents would actually help prevent antisocial behaviour.
What can you do?
The most pressing thing that needs to happen is we need to make sure Crown Lands understands that this area is an important access to Blue Mountains National Park and one that is regularly used by bushwalkers.
We also need to urge them to either reject the sale of the road reserve, or to only allow the sale with the condition that an easement be created that maintains bushwalking access along the trail.
It only takes a few minutes to make a submission by email and it only needs to be a couple lines long.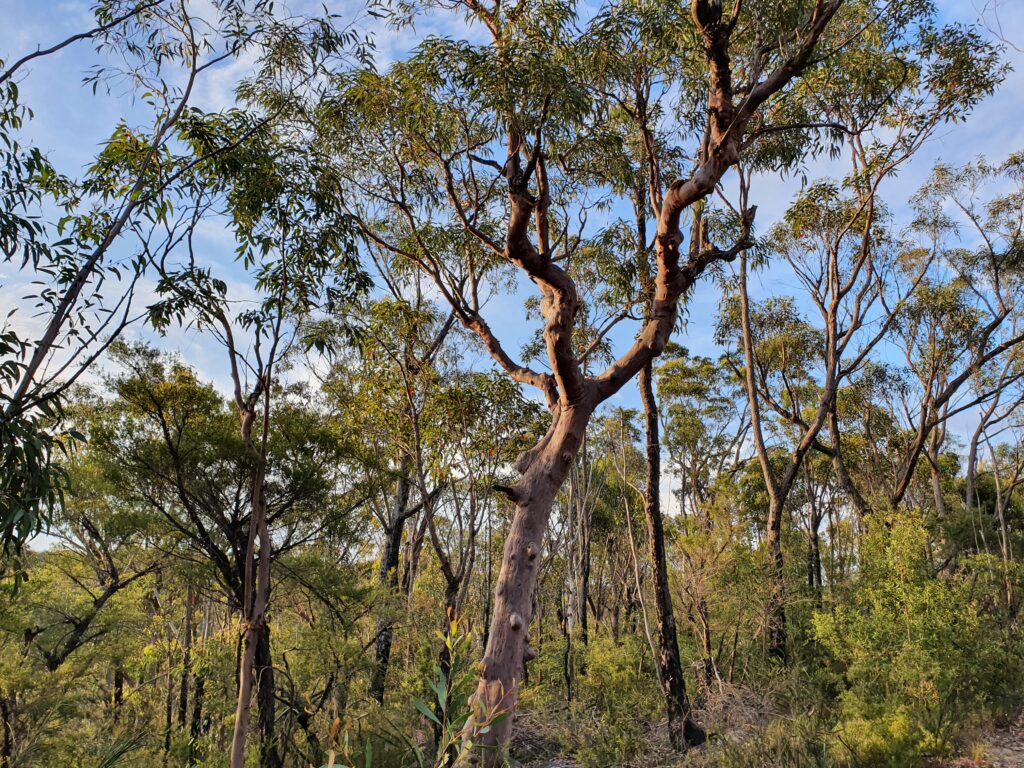 How to make a submission to Crown Lands?
Email the Crown Lands case officer handling the matter, Renee Daymond, at [email protected].
Use the following subject line: Submission regarding proposed disposal of crown road within 32 Greens Road Warrimoo (File ref: 19/08762, Cluster: 612819).
Make the following key points in your email:
The crown road through 32 Greens Road Warrimoo is an important recreational access route to part of Blue Mountains National Park.
This crown road is a popular walking track among locals, as well as visitors to the area, and provides the primary access to the spectacular lookout at the end of the ridge.
Given the recreational importance of this crown road, it should not be sold.
If the crown road is to be sold, the sale should be conditional on the creation of an easement that maintains bushwalking access to the National Park, along with vehicular access for NPWS and the Rural Fire Service.
The creation of an easement that retains bushwalking access to the National Park is consistent with other proposed crown road sales, such as of the crown road at the northern end of Kent Street, Bullaburra (File ref: 12/04935, Cluster: 622946).
Include your name, street address, phone number, and email address at the end of the submission.
What else can you do?
If you haven't visited the lookout, set aside a couple hours to visit. You won't be disappointed. Make sure you park at the top gate and act responsibly.
Also consider contacting National Parks and asking them to formally advocate for the creation of a bushwalking easement along the fire trail.
I would also politely encourage National Parks to take action on the illegal access to the park and vandalism of the gate. If National Parks took proactive action to prevent illegal and antisocial behaviour from occurring, it could go a long way towards ensuring ongoing bushwalking access.
Send your email to: [email protected] and [email protected].