I am originally Tasmanian, so walking through temperate rainforest is my bushwalking spiritual home. T2, on the other hand, is a true Blue Mountains walker, with rocky ridges and high camps among his favourite things. When we had a free day for a walk while in Tassie then, I wanted to pick something that T2 would enjoy, and give him a taste of what my home state has to offer. I was also aiming for one away from the crowds, and ideally somewhere I hadn't been previously.
Not having any maps with us, we needed to pick something fairly straight forward. I ended up settling on Mount Murchison — a foreboding peak near Tullah, in western Tasmania. Close to Cradle Mountain-Lake St Clair National Park, it provides great views over the iconic high country, but is far enough off the beaten track to be free from the hordes of walkers found elsewhere.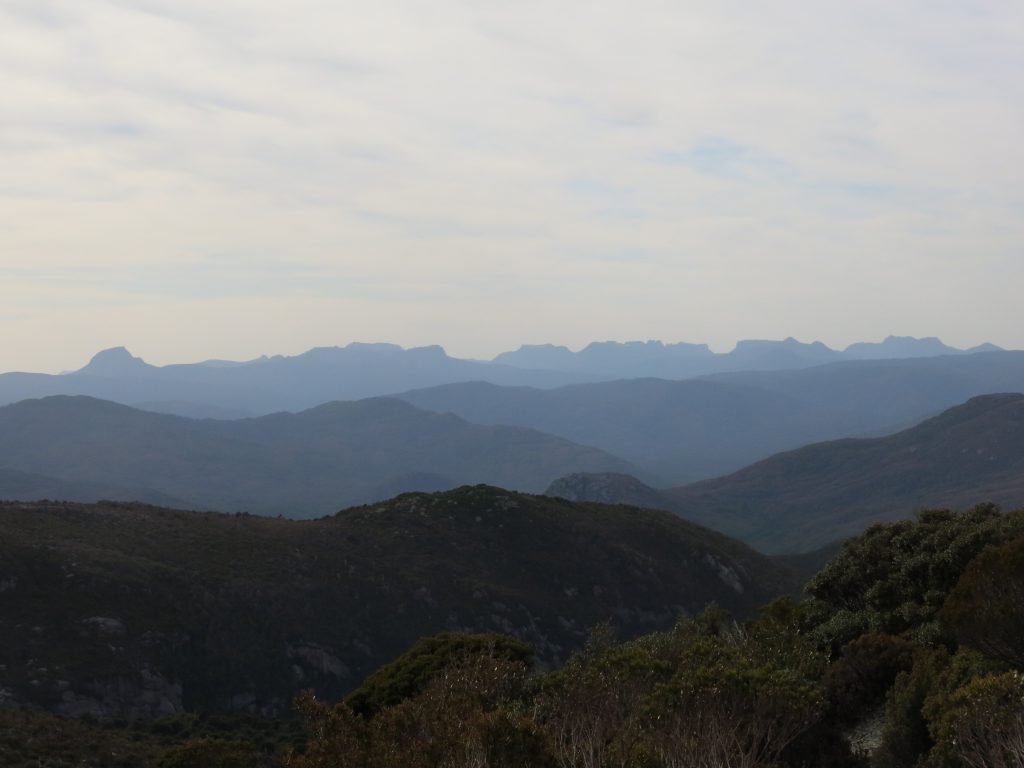 When a chat to a local the night before our walk revealed it was possible to turn our planned walk into a loop via a hidden mountain lake, I knew we were on to a winner. A quick trawl of bushwalking forums and online maps gave us all the information we needed.
Crawling along a winding mountain road, we carefully watched the unique numbers on each passing telegraph pole. Eventually we found pole D55 and parked the car. As promised, the track to Lake Sandra started from the embankment opposite.
We set off up the hill, following the track as it made its way through the usual Tasmanian progression of temperate rainforest, tea tree scrub, and finally low alpine vegetation.
Lower down vegetation was quite thick, with the track taking a circuitous route as it sought out the path of least resistance.
Soon we were atop a knoll, looking across Lake Sandra. We headed down for a quick dip, but despite my best efforts I couldn't convince T2 that the water temperature was conducive to swimming. I was still keen for a swim, but wading out the water depth remained frustratingly thigh depth. Eventually I gave up on my swim and simply sat down for a refreshing dunk before heading back to shore.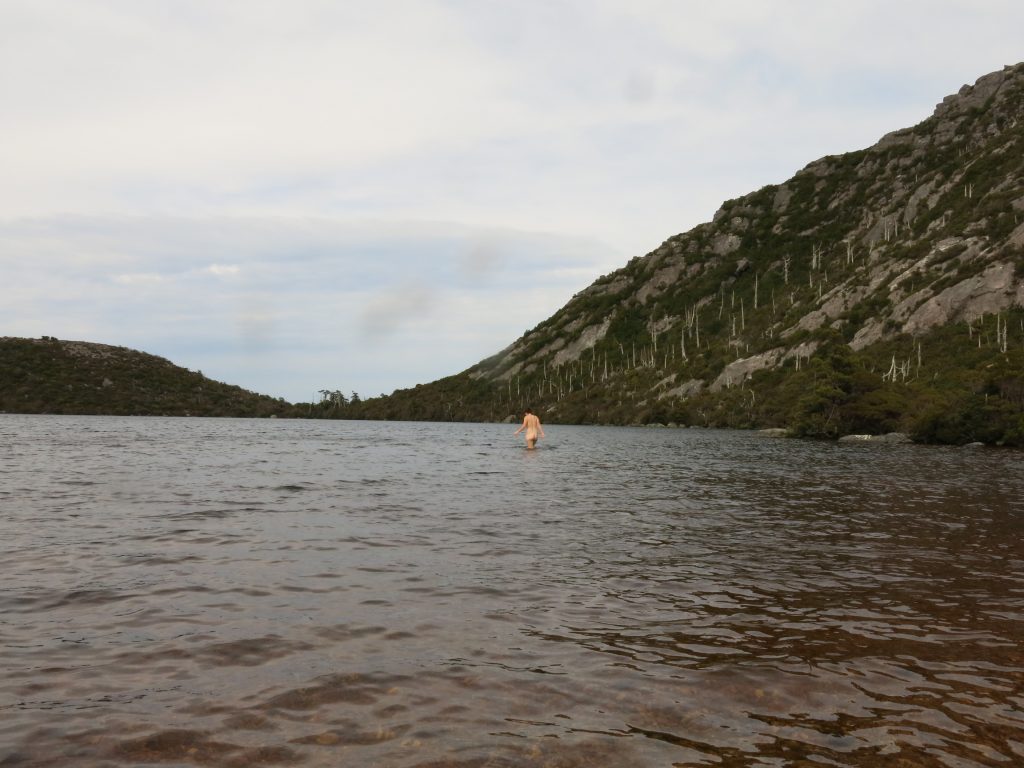 From the lake, we headed up the obvious spur to the ridge. T2 had his first taste of the joy that is bushbashing through scoparia, but it was short-lived and the route up was relatively easy.
Up on top we were met with blustery wind from the west, but that was easily counteracted by the wonderful views over to the plateau and peaks beyond.
From here the ridge contained boulder hopping and stunted trees, leading to low alpine meadow. Each turn brought a new and lovely view, whether to lakes below or peaks beyond.
Being October, we were delighted to find a remnant of snow, and went down to play on it.
As we continued to follow the cirque around to the summit, we chanced across intermittent cairns. They seemed unnecessary given the clear views across the cirque, and we were far too busy enjoying exploring either side to bother restricting ourselves to the cairned route.
As we progressed towards the summit, the ridge became narrower and narrower, with a visible pad forming, before it culminated in a beautiful knife edge with sheer drops on either side.
With the most technical part out of the way, the route became more difficult to follow. We wasted some time following false pads on the tricky terrain, before dropping onto sloping rock slabs and following them back up again towards the trig point.
By this time, low grey clouds were starting to roll in from the west. I let T2 know, but he was blissfully unaware of what this meant, and too enchanted by the walk to worry. I hoped we would get to a track before visibility deteriorated and the inevitable downpour hit.
Thankfully, there was a track from the trig point which initially followed rocky slabs further around the cirque before becoming much easier to follow on the sheltered eastern side. We relaxed, knowing we weren't going to get lost from here.
The track overlooked more lovely hanging lakes as it progressed steadily down the hill. T2 marvelled at thin sheets of conglomerate, sliced by ancient glaciers.
At one stage, in a gully covered with snow, T2's patented sliding/skiing technique ended with wet feet as the snow collapsed beneath him, revealing an unseen creek much to my amusement.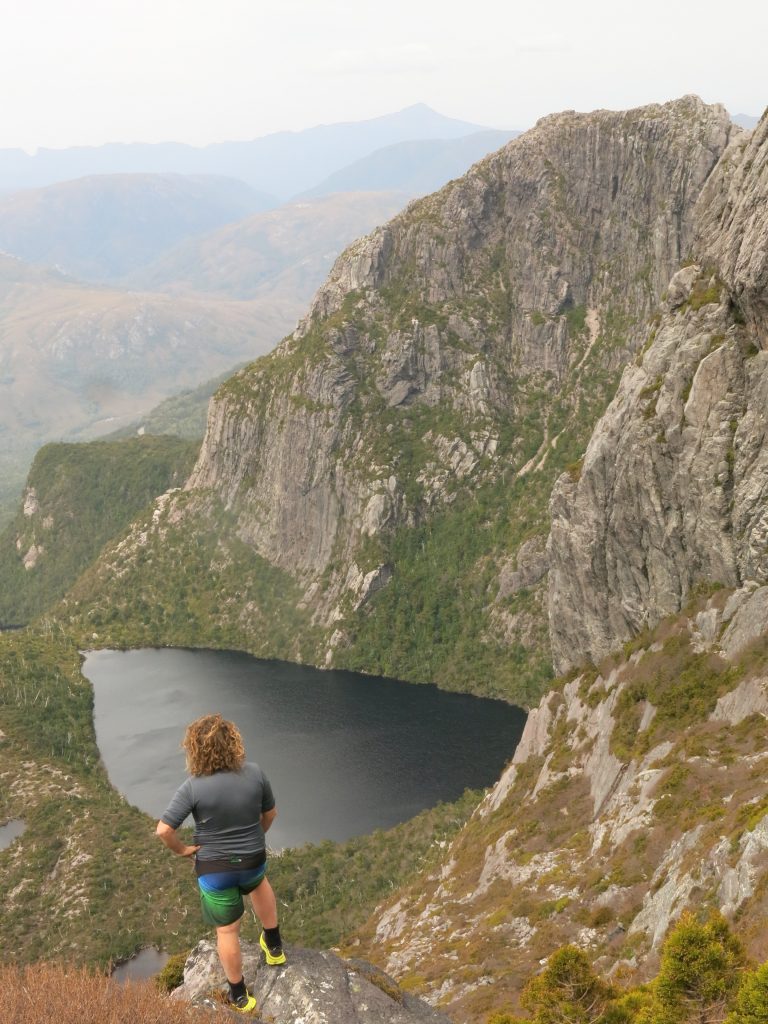 The track continued to drop and the skies became progressively darker. By the time the rain hit we were in thick and sheltered forest, so we didn't actually notice it until we popped back out onto the road at pole D15, where the traditional route up Mt Murchison begins.
With massive grins on our faces, we started off on the 5km road walk back to our car.
Halfway there we were picked up by a lovely tradie. She didn't seem to mind that we were soaking wet at this point and happily dropped us back to our starting point — another added bonus to our already fabulous day.
It had been a great taste of Tasmanian walking, complete with lake swims, scrubby sections, temperate rainforest, tea tree, high alpine meadow and rock hopping — completed by the full gamut of Tasmanian weather. The only thing missing was Tassie style mud!
With easy road access and amazing views (in good weather), we were really surprised that this walk is not more popular. It is certainly among my favourite walks in the state.