Party: T2, Bron, Vorn
Growing up in North West Tasmania, Bron's childhood bedroom looked out at the stunning escarpment of Mount Roland, so as a result I always think of it as her mountain. When we decided to try and squeeze in an exploratory canyoning trip in while down in Tassie, I was instantly drawn to the impressive set of waterfalls on the Minnow River that drain most of this mountain.
Trawling topographic maps and aerial photographs, the falls were reminiscent of the upper part of Kanangra Main, with three big falls plunging several hundred metres off the plateau above. Best of all, between these main drops were some interesting looking features, including a deep, dark slot, and a stunning pool perched high up the cliffs.
A bit of research revealed an old bushwalking track to the base of Minnow Falls, along with a walkers route up the escarpment nearby. With confirmation that we could access the top of the falls, we locked Bron's brother Vorn in to join our somewhat ambitious exploration.
We packed two 60m ropes, which I hoped would be enough, as well as a fiddlestick that would allow us to move through without leaving slings (not to mention more easily retrieve long and awkward drops).
Considering this was a big day down a completely unknown set of falls, you'd think we'd have set off early. That was certainly the plan, but the combination of Vorn needing to vote in the morning and Bron and I enjoying a sleep in meant we didn't park the car until at least an hour later than intended.
Setting off, we briefly moved through a pine plantation before an old dirt road took us up through low scrub and eventually into stunning forest, where a carpet of ferns lays beneath towering giants.
The track was obvious — lower down it had clearly carried vehicles decades ago — but it can't have had too much use in recent years as it was covered with a healthy layer of moss in places.
What had begun as a gentle uphill became steeper and steeper, with the ascent only relenting when we reached the base of the cliffline and started skirting along it towards the base of the falls.
Once we reached Minnow Falls the full scale of what lay ahead of us became clear. We paused for a snack, then started poking around to find the route upward.
This pad was lovely, and was well worth a visit on its own. It climbed steeply up a small gully full of lush green foliage. In places, scrambles up slippery rock faces had the assistance of rough bush ladders.
Just after we scrambled up though a small cave there was a lookout that gave the best look yet at the longest and most challenging of the drops. It was impossible to see most of it, as it cuts through a narrow slot, but I could spot some potential anchors a short way down that I hoped would allow our 60m ropes to reach the bottom.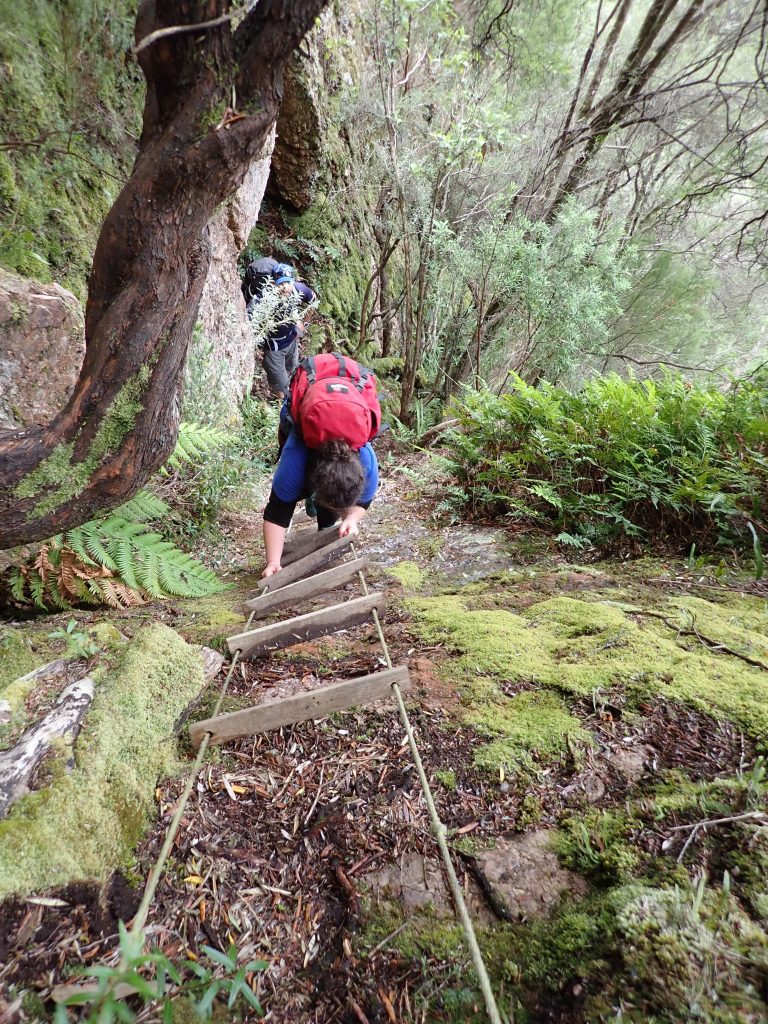 Finally, after a great deal of huffing, puffing, and perspiring, we reached the top of the plateau.
We stopped for lunch on a rock next to the babbling river. To one side we could see the dark, tannin-rich water babbling gently through open forest. On the other side, the river began plunging through boulders towards a sharp break in the cliffs.
This first section looked like it could be easily descended with a jump into a deep pool followed by a shortish abseil. But we'd already spotted a ramp nearby that promised to avoid this section. This was particularly appealing as we hadn't brought wetsuits and we wanted to delay swimming in the cool water as long as possible.
Some scrambling soon took us down to a large tree that provided a great natural anchor. The falls dropped initially through a series of small pools before an impressive single drop of about 40 metres down a smooth rock chute. Pausing above this gave the best view of the amazing pool perched part way down the cliff.
The water snaked side to side, occasionally dousing us with spray or pummelling our feet, while behind us the valley dropped away spectacularly.
The rope ended about a metre above the pool, but there was no worry about the pull-down because of our fiddlestick.
Oddly placed bodies of water are very Tasmanian, so the fact that we were swimming across a stunning circular pool on the side of a cliff seemed surprisingly normal. On the other side we admired some small rock pools that had eroded on the rim.
Given how smoothly this first drop had gone we were a little complacent about time, taking a little longer than we should to enjoy the views and watch the water flowing from our pool down into the dark, seemingly-bottomless slot below.
A short abseil took us down towards a tree I'd seen on the walk up that I wanted to use as the anchor for this long waterfall. Unfortunately, it looked like getting to it would require moving along a slippery ledge, so I got off rope a little higher up. It was a decision I'd come to regret.
We scrambled through a small cave to a nice dry spot where I rigged the next rope from a large boulder.
Looking down, there was no way to see the bottom of the waterfall. I packed the second rope in my bag, confirmed I had ascenders and slings, and set off.
After moving through some mossy vegetation, I was soon onto smooth, water-scoured rock. Below, I could see there was still a long way down. What I couldn't see among the spray was the end of the rope.
I continued cautiously, keeping an eye out for any cracks or flakes of rock that might provide a spot to rig the next rope, but the surface was far too smooth.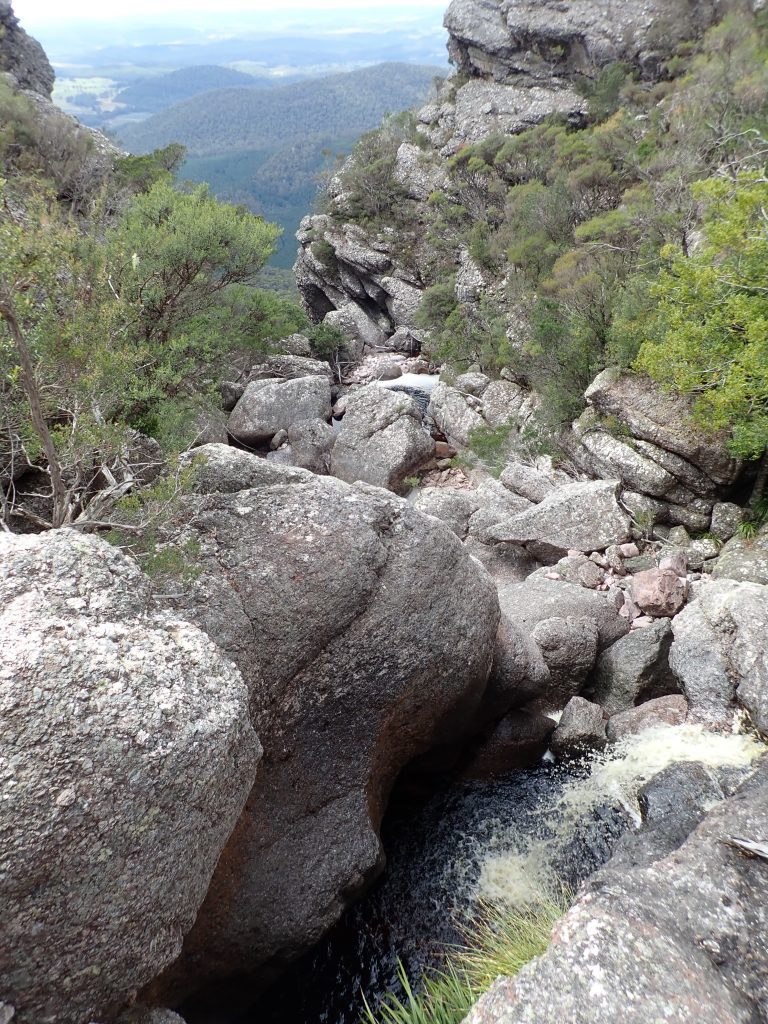 Finally, I caught sight of the end of the rope below me. It clearly didn't reach the bottom, but it was hard to make out just how short it was.
Putting a knot in the end of the rope as insurance, I tied off and began looking for a solution to the problem before me, namely that I had committed to a 70m abseil with a 60m rope (a solution not involving a 60m prusik was my preference).
The spray of the waterfall was cold, and I knew I didn't want to dangle there too long, but I was also determined to ensure I was calm and cautious rather than acting in a rash way. This was most definitely not a place where I wanted to have an accident.
My first attempt at a solution was to pendulum my way further into the slot, where the slippery rock walls narrowed to just a metre apart. I hoped that I could get off-rope here and then carefully slide down the remainder of the drop.
Unfortunately, the rock was too slippery and the rope swung me back before I could wedge myself in.
I contemplated joining the ropes, but knew that would only create other problems as Vorn had never passed a knot on abseil and this would not be the place to learn.
Below me, a small, deep-looking pool appeared to be just over 10m down. I contemplated the jump, but the dark water made it impossible to assess its depth.
Now feeling the cold, I used the rope to swing me away from the waterfall and into an alcove that was protected from the worst of the spray. Here I could see some vegetation clinging to a small ledge about 5m below me. It looked like a careful bum-slide would then be able to get me down from that point.
Using a prusik to connect it above my descender, I attached a 5m sling from my pack to the end of the rope. I then untied the knot in the rope and dropped off the end, using the sling as a handline.
It worked, but the huge amount of of stretch in a 60m rope meant I initially dropped quite fast before the sling suddenly caught me, nearly pulling it from my hands.
From here I was able to climb into a slippery crack, hang from a chockstone, then drop the remaining distance into the pool below, which turned out to be nice and deep.
I'd made it down safely, but it had been a dicey process, so I knew it would be best to try and avoid it for the others. I called out, hoping my voice would carry over the roar of the waterfall, explaining that the others should pull the rope up and use the sling still attached to the end to rig it as low as possible. I was very happy when I saw the rope start snaking upwards.
All up, it had taken nearly an hour to get safely down this drop.
After being re-rigged, the rope came tumbling back down. I could see a tangle about three quarters of the way along its length, but assumed it would shake free.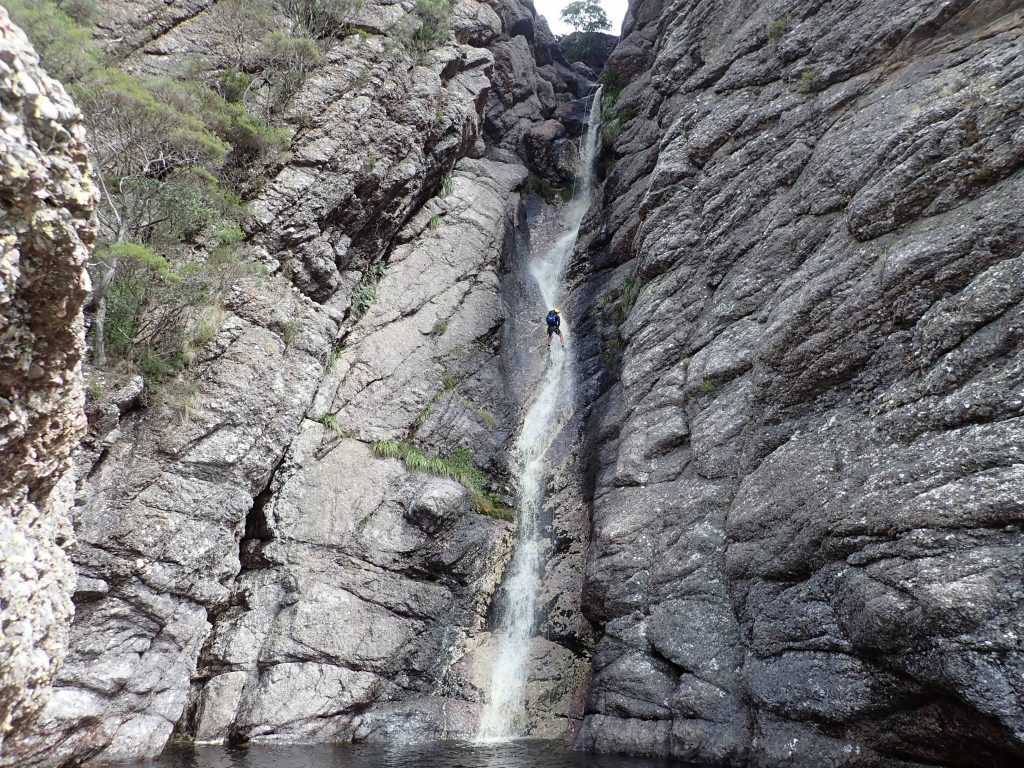 As Vorn came into view, I called out to him about the tangle. He tried to shake it loose, but it didn't want to budge. Moving closer to it, his feet slipped on the wet rock and the knot was quickly jammed up against his descender. He called out that this was a proper knot and that he couldn't make it budge.
Even with the new, lower anchor, the rope didn't reach the bottom. Thankfully, the thin pull cord did, so I tied an ascender, some prusik loops, and other gear to this and Vorn hauled it up.
Now secured on the rope, he was able to take his descender off then undo the knot. It was quite an impressive tangle that required a lot of effort and focus while dangling in the spray of a waterfall.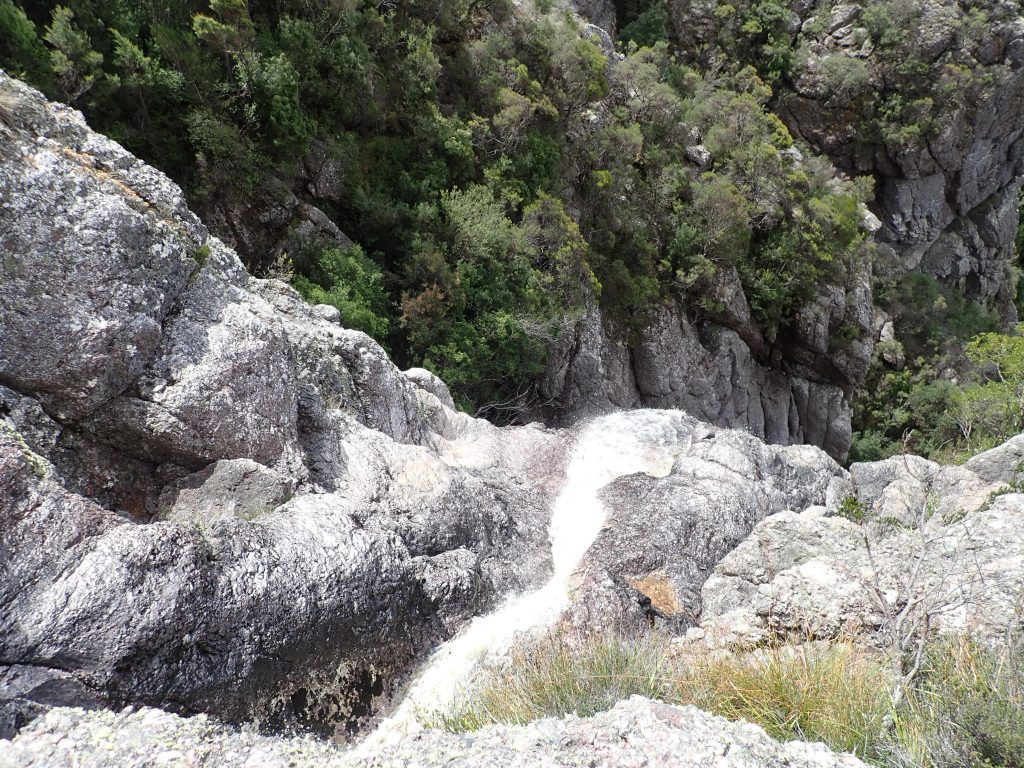 Finally, with the rope untied, Vorn was able to continue on. Unfortunately, his cold, wet hands were having trouble removing the ascender, so I called out to just leave it there for Bron to remove.
It was probably due to the exhaustion, but he had no interest in trying to pendulum his way over to the alcove I'd used, instead descending to about five metres above the pool and sliding down the near-vertical rock.
By the time Bron heard the off-rope call, she'd been sitting around for around for more than an hour and was both cold and very nervous about what lay ahead. This wasn't helped when she spotted the ascender dangling on the rope and stopped to figure out what on earth she needed to climb. She was left trying to decipher my calls over the roaring water. I finally managed to explain that she just needed to remove it from the rope, not use it for anything.
Bron managed to get into the alcove without trouble, with the rope stretch taking her just far enough. I pulled the fiddlestick, and Bron collected the rope, before she did the final 4m jump into a pool.
Up until this point we hadn't noticed any signs of previous visits, but we also hadn't really been looking for them. Just after this big abseil we spotted an old sling with a maillon, confirming that we weren't the first people lured by these stunning waterfalls.
The next section was a scramble among slippery boulders, and the cold, fatigue, and lateness of the day — not to mention the ominous clouds that had rolled through — meant we all felt rather nervous. We looked off to the side, wondering if there might be an escape that would take us to the track, but the terrain was far too steep and slippery.
Thankfully, we were through the most technically challenging sections. All that remained were three much more straightforward abseils.
The most impressive of these included a deep pothole full of seething water, with a large log jammed vertically. It required climbing out of swimming depth water onto a ledge no more than 30cms wide, which was not the most enjoyable place to manage the rope and pull cord. I was very thankful that I could see the end of the rope this time and it clearly reached the pool below.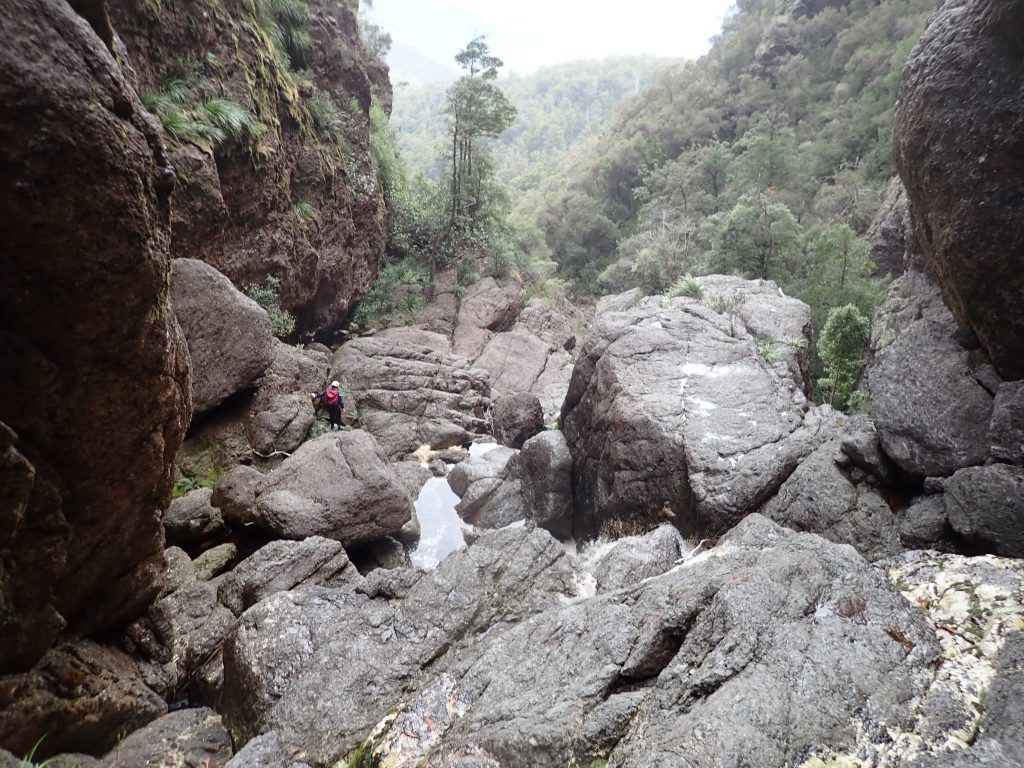 From here we could see our morning tea spot just below us, so despite it now being 5.30pm the pressure was suddenly off: we weren't going to be benighted or caught in the canyon by rain.
After the final drop we stripped off some of our wet layers, packed away the piles of rope, and celebrated the fact that it was almost all downhill from here. By 7.30pm we were back at the car, with half an hour of light to spare.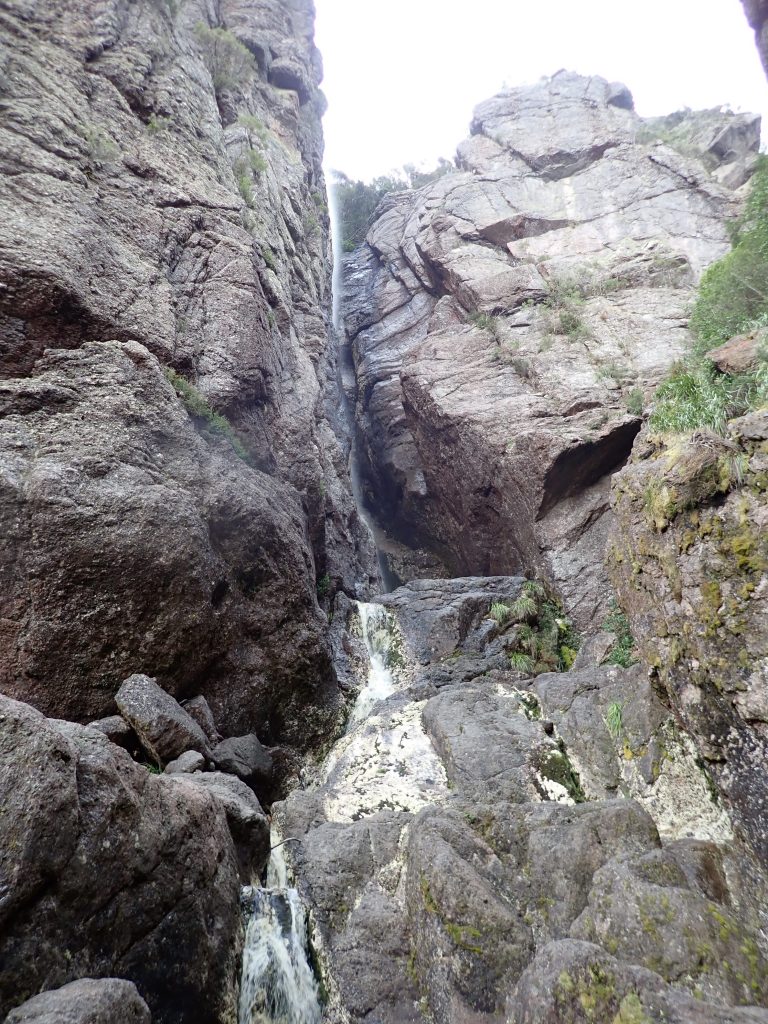 It had been a spectacular day down an impressive set of falls, but it had also taught me some valuable lessons. Firstly, challenging exploration really requires early starts.
Secondly, if I'm intending to descend long, unknown waterfalls, I probably need to get some longer ropes. Simply having a 70 or 80m rope would have shaved an hour or two off the day and made the whole thing much safer and more enjoyable.
Finally, there may not be sandstone canyons in Tassie, but there are definitely some amazing canyoning adventures on offer. I've already started developing a list of potential creeks and waterfalls for future exploration.