When I think about canyoning at Bungonia, two words come to mind: big and dry. Unlike the slot canyons of the Blue Mountains, here you're abseiling down long drops into impressive gorges that — while showing the scars of occasional huge floods — are generally quite parched.
There are some other common features too, like the sharp, broken, often loose rock, metamorphosed and pushed upwards at improbable angles over millions of years. Not to mention the long exits up crumbly slopes.
Our plan for this trip was a little ambitious: three good sized canyons over a weekend. To make it work required the use of a pass none of us had been up, but which we'd been warned involved exposed scrambling with lots of loose rock.
Most of the group converged at the campground on Friday night, dribbling in over several hours. Friday had brought a few changes, with a last-minute dropout replaced by an even more last-minute addition.
I insisted on an early start the next morning, given our first canyon was the one I feared would provide the most challenges. I had done it before, quite a few years back, but my memories were vague. What I did remember was a reasonably long walk in, coupled with quite a few abseils.
At the carpark we met up with our final group member, taking the party to a healthy seven. It was more than I'd normally like on a harder trip, but I knew everyone had plenty of experience so made an exception.
Here we also bumped into a few familiar faces from UTSOAC. They had an even more ambitious plan: combining Long Gully and Fordham canyons as a day trip. (Spoiler alert, they didn't finish their second canyon until dusk and weren't back at the carpark until midnight. On the plus side, they replaced all the slings in Fordham, so if you've been thinking about visiting that canyon, now is probably a good time to do it.)
We set off along an old fire trail at a good pace, making short work of the undulating terrain. The bone-dry bush didn't fill us with hope for the canyon, leaving us to predict a canyoning experience that would involve some very manky pools of water.
Eventually, we hit the upper part of our creek. While it was quite dry, a small trickle of running water was promising. The walking was also easy, with impressive casuarinas overhead and smooth river stones underfoot. This upper section of creek, far from being a painful slog, was rather enjoyable.
Intermingled with the easy walking were a series of small gorge sections. Several group members set themselves the challenge of keeping dry feet, resulting in increasingly elaborate scrambles to avoid the pools below. At one point, Ankit decided to show his romantic side, giving Becca a shoulder ride across a pool to keep her dry. Other, fatter, less capable people quickly gave up (after falling in) and simply enjoyed the swims.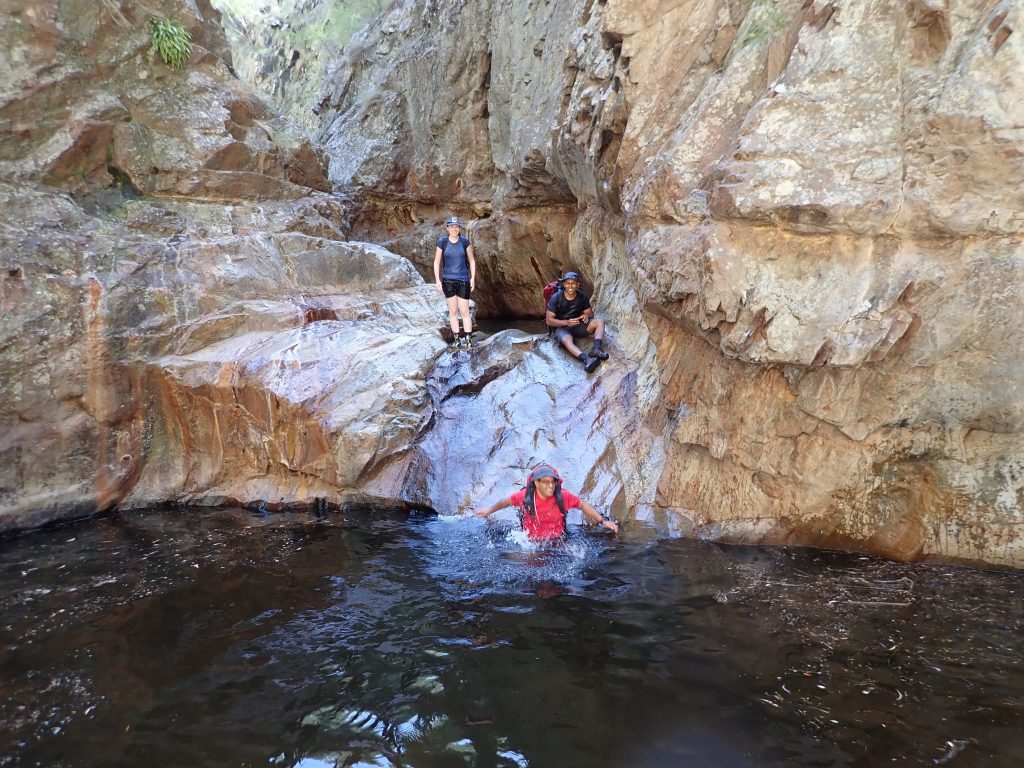 Eventually the creek began to narrow, with a beautiful slot that finished with a couple short slides or jumps. Not long after that we were in the main canyon section. A series of abseils and jumps came in quick succession. Then, as we rounded a corner, the impressive vista of the Shoalhaven River far below us came into view.
The next few drops were long and impressive, taking us downward in leaps of 50 or 60 metres at a time. Then, before we knew it, we were spat out at the river.
The Shoalhaven was barely flowing, and the water was an earthy brown, but it was so warm that we chose to float downstream rather than walk along the bank. As we bobbed along we admired the impressive cliffs of the Blockup Gorge behind us.
An early start and efficient group meant it wasn't even 2pm. We found a nice grassy spot for lunch before spending the next two hours relaxing, chatting, and swimming.
Finally, as the hot sun began sinking in the sky, and with our exit ridge now in the shade, we decided to get moving. Most of the group powered up, despite the unrelenting uphill, while a couple of us plodded, puffed and sweated away at the rear.
A short drive had us back to camp, where a plethora of snacks appeared. The next several hours were spent chatting, drinking, and with one member trying desperately to offload large quantities of zucchini into other people's meals.
As the night wore on, an unnamed person suffered the curse of the goon bag and was found snoozing in their car with a puddle of burgundy vomit beside the door.
Eventually, with our intoxicated friend feeling well enough to retire to their tent, the rest of us decided to call it a night, knowing we had a big day ahead of us.
We were all a little sluggish in the morning, with the process of having breakfast and breaking down camp taking a good hour longer than it should.
A couple party members decided they weren't feeling up to our planned canyoning double. The remaining five arranged a short car shuffle — I figured that after a big day we'd be happy to avoid a final 1.5km slog — before setting off down a well-worn track to our first canyon.
It felt like just a matter of minutes before we were in the bed of Bungonia Creek. Like the day before, it was open, easy walking. We paused to admire an impressive pinnacle of rock, right in the middle of the stream. This unlikely monolith has somehow survived eons of floods while all around it the rock eroded away. A few more scrambles and we were at the top of the first drop.
Unlike the previous canyon, which featured a number of narrow and winding sections, Bungonia Creek is very much an abseiling trip down an impressive gorge. It didn't take long for us to make our way down several long pitches and through some short swims to the spur that would take us back up to the second canyon.
This ridge is quite remarkable. At its base, where it separates Bungonia and Jerrara Creeks, it follows the strata of the rock. From one side, open slabs lead up at a constant angle to the top where, suddenly, a sharp cliffs drops away into a pool 20 metres or more below.
This knife-edge of rock soon transitioned into a steep gravel slope, requiring zigzagging along goat tracks between patches of sparse vegetation.
Our intrepid leader set off across an exposed ledge that took him to the top of Jerrara Falls. The rest of us were less keen about it and instead continued to press up the slope, rejoining him a short time later.
From the valley, this lower section looked like it would be the hardest part. In fact, it was the next bit that required the most caution, with a series of scrambles on incredibly loose rock taking us ever upwards. On either side of our ridge, now far below us, we could see into the heart of both canyons.
In places the roots of some very hardy native figs provided much needed holds, while other areas required us to stagger our ascent to ensure no one was hit by loose rocks. Finally, the ridge ended, with flat, open forest suddenly before us.
This pass had actually been the thing I was most nervous about when planning the trip, with warnings that it was quite dicey and that most groups set up belays in a number of places. For that reason, I'd restricted the group to people who I knew would be able to handle it, which was a decision that definitely paid off.
We paused to admire a pair of goannas — a large one and a smaller one further up the tree, which we assumed were mother and child — before setting off to our next canyon.
Soon we were on a tourist track that took us to a lookout that provided a great view of Jerrara Creek and the ridge we'd just climbed.
From here we'd expected the track to become less distinct, but a series of markers — and at one point a chain handrail down a steep section — seemed to indicate that National Parks have decided to formalise this canyoners access into a maintained track.
We stopped for a quick lunch at a shady spot just before the creek began to drop, enjoying a couple ginger beers that Kshitij had been lugging with him. Then, with bags packed and harnesses on, we set off.
I enjoyed this canyon more, as it contains narrower sections with sheer cliffs either side. The water, however, was a soupy brown with absolutely zero visibility, making us nervous about attempting any of the long jumps. Still, the abseils were lovely and it was a very pleasant journey to the top of the towering Jerrara Falls.
Here we scrambled down the bare rock to a bolted anchor about 15 metres below. Down a steep slab and over the sharp edge, we dropped to a ledge where another anchor was placed, but pressed on over the next drop to a further ledge where a very tough casuarina provided a wonderful natural anchor. This drop took us into the pool below the knife-edge ridge our earlier pass had gone up.
We'd been hearing voices for a few hours, so it was no surprise when we caught up to the final members of another canyoning group just after the junction with Bungonia Creek. They'd already rigged the usual anchor, so we set off down to a lower ledge where another tree was rigged for the final abseil of the day.
With the ropework done, and another group just in front of us, we decided to enjoy the big pool at the base of this abseil. While most of us were content with the lovely swimming hole, one person decided to scramble back up the lower section of the falls to a great jumping rock.
It was only as he prepared to leap that he suddenly realised that a nine metre drop while naked might not be so pleasant on some sensitive regions. We laughed as he worked out his defensive strategy, then hurled himself outwards, cupping his manhood moments before impact.
Eventually we packed up and set off for the creek bash we knew was coming. There were some fun scrambles as we found the best route through the boulder fields, which became easier as the massive rocks shrunk from house sized to more manageable chunks.
With plenty of daylight, I convinced the others to ignore the usual exit and instead continue through The Slot. I've never walked this section of Bungonia Gorge, but it looked exciting on the map. Sure enough, we soon had two vertical walls climbing hundreds of metres above us. This is an amazing feature, carved through the same band of limestone that is responsible for the nearby caves.
Em, who'd been less keen on this longer route, suddenly became excited when she realised that these cliffs were the location of some of the most intense aid climbing in the country.
The gorge ended with some fun scrambles between limestone boulders before opening back out. Here, despite the fatigue we were feeling, Kshitij spotted an old tire, which he dug free from the flood debris and strapped to his pack.
We were all feeling hot and tired by the time we reached our exit track, so paused for a 15 minute soak in some small pools in an attempt to counteract the heat and humidity.
Like the day before, a number of group members bounded up the slope like mountain goats, while others left a trail of salty drips as they plodded along grimly. Here, Kshitij began to regret his environmental consciousness, but not enough to be willing to offload the tire or 60m rope in his pack to someone else.
Finally, just after seven, we reached the ridgetop, celebrating the relatively flat track back to the car. The shuffle, which in the morning may have seemed excessive, was most welcome.
The spirits were lifted by a change of clothes, cold water from the eskies, and some salty snacks. With the sun getting low, and some long drives to get home, we said our farewells and hit the road. It had been a cracking weekend with a wonderful crew.