Party: David Dearnley, Jessica Lai, Stephen Zaman, Peggy Huang
It wasn't until 11.30 am that we started from the 4WD turn-off on Mount Hay Rd. (Click here for drop pin). We were 'busy' having a lazy morning and enjoying pies in Leura.
Given the late start and the presence of Dave, a grade 24 climber, we planned to avoid the long walk along Carne Wall back to the cars by taking the rock climbing exit.
We started with a walk up an old 4WD track to its end point. From there, we followed a faint track leading off to the NW through the thick bush. We headed gradually downwards, but with one small uptick before heading more steeply downwards into a gully that joins up with Govetts Creek.
From here, we followed the faint track all the way in to the canyon.
The first abseil was 18m off slings on a tree – for which our 36m rope exactly reached by literally abseiling "off" the rope.
Following the track a little further down and around to the right, we reached the second abseil, again off slings on a tree. This one is about 20m and required us to tie our two ropes together (one 36m and one 30m). I would recommend increasing the friction for this abseil as it was quite fast for me on my hydrobot.
This abseil got us down to a pleasant spot under the cliff right next to the creek. We donned our wetsuits here. We then worked our way downstream in the usual fashion. Walking down a log near the start. We found the best way was to balance walk or slowly bum slide down, then jump off onto some large rocks to the right. I was encouraged to jump off towards the top of the log. Jess jested that if this stunt didn't go to plan, we have a nurse, a physio and exercise physiologist on this trip. But I decided to take the smaller jump today as it'll be more fun for all if none of us had to work on our day off.
We continued along the creek scrambling over more slippery rocks and logs. There were several short wades and swims. And a mix of compulsory and optional squeezes through a few holes in between rocks and logs.
Eventually, we reached the 15m or so waterfall at the start of the canyon proper. There are a number of ways to abseil here, off slings on a tree higher up on the left or off slings around a rock on a ledge on the right. We decided to set up a new anchor by putting a sling around a wedged rock in the middle; just above a hole inside the waterfall. This hole looks directly down into a second, smaller hole, about ¾ of the way down the waterfall. This second hole is hard to see from the top as it's covered by all the water flowing into it.
On other days, with higher water flows, this abseil would have been impossible or dangerously unsafe. Our plan was to capitalise on the comparatively low water conditions today to abseil from the first hole in order to access the second hole in the waterfall where most of the water flows through. This is one abseil where you'll definitely appreciate your helmet!
After a while, the excitement of abseiling may wean, but I don't think any of us will ever get bored of this abseil. There's a few seconds where you can't see anything but black or white, can't hear anything but lots and lots of water, and can't breathe. But in another few seconds you're out of the pounding, heavy gush of water, thinking "what was that? That was crazy fun! Let's do it again!"
Video of Peggy abseiling into a hole inside a waterfall
I would highly recommend looking for our white sling and trying this abseil for yourself (of course, only if you're happy with the conditions of the day and our set up at the time you visit). We didn't use a maillon but had no issues with the rope pull down.
After the highs and the flows, we then continued through the canyon itself, admiring the beautiful green rocks. The canyon has a number of deep cold pools, some with small jumps, some slides down cascades, and lots of scrambling on slippery rocks.
At the end we emerged from the semi-darkness into the brighter open space above Arethusa Falls. Keeping to the cliff on the right we head around to Alpheus Falls, where there are some rocks on the farther side of the pool. From here we enjoyed great views of Arethusa Falls, the Grose Valley, and surrounding cliffs. A great lunch or afternoon snack spot.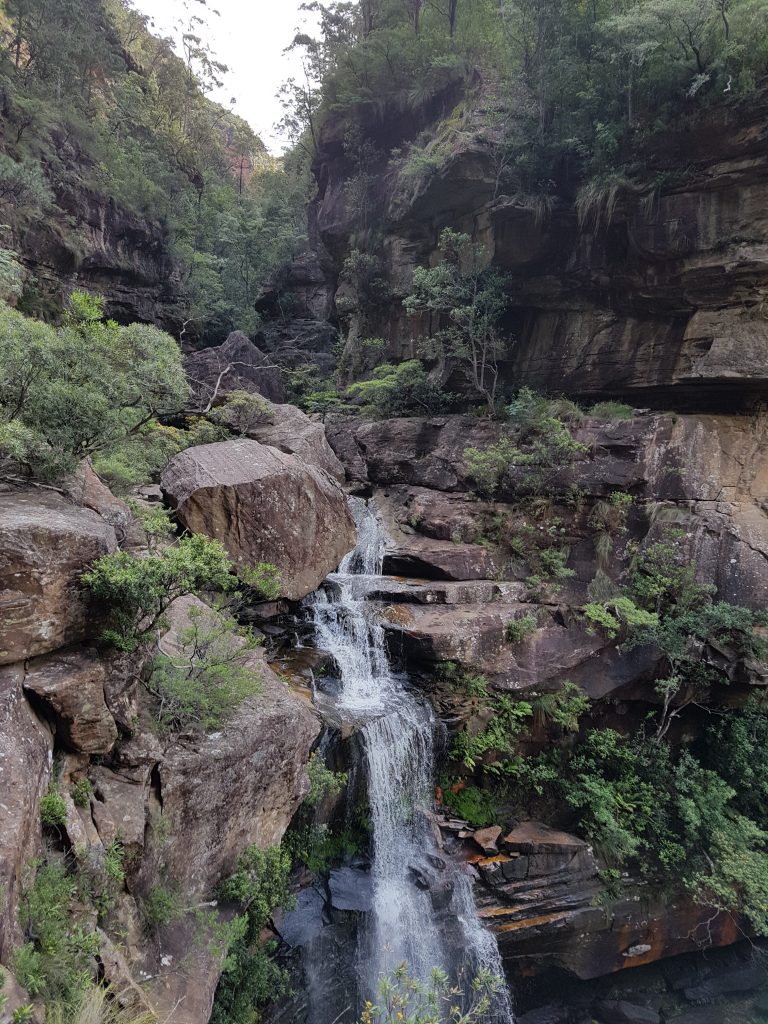 We then started the climb out. Our designated climber Dave led all the pitches up and we belayed Jess and Stephen. Our group of 4 really helped with this pattern. The first pitch was from the top of a block, with two bolts and a handline. On this climb, I may, or may not have deliberately left the handline on the top of the pitch to make my husband Stephen's climb out more difficult.
Further uphill, we encountered the second pitch which has a traverse to the left.
Because it was already quite late we decided not to reverse the section of Alpheus Canyon and instead continue climbing out. So we continued up the track and scrambled up a few more small cliffs – most with hand-over-hand ropes or tapes hanging down. One had a pile of rocks to stand on and a foot rope to assist. Being tall or having good hip flexors will assist in getting your foot into this rope.
I personally didn't find any of the climbs difficult (just tiring for the arms towards the end). However, I wouldn't have done this trip without an experienced climber leading and setting up a top belay, which Dave did so well with a munter hitch. Thank you Dave 😊 None of us had any slips, mishaps or falls, but having the rope there boosted our comfort and confidence.
We continued up eventually reaching a rocky outcrop. This offered a great vantage point with views up the canyons on each side, and down into the valley too. The cliffs were lit up with a beautiful golden hue with the late afternoon sun.
From there it was a straightforward walk up to the ridgetop. We then continued following the track along the ridge back to the 4WD track, finally turning left to head back to the car. After enjoying the canyon at a relaxed pace, we clocked in at 8 hours, getting back to the cars at 7.30pm. From there we drove to Lawson to enjoy a big dinner and more fun.
T2's write up from 2013 reported 10 car tires in this canyon, but we were pleased to find none. I am wondering if Felix carried them all out on his person — in a single trip — because that's the type of thing Felix does.
This was a fantastic trip to start off the year. Perfect weather, good company, plenty of laughs and banter, spectacular scenery, refreshing swims, exposed but fun climbs and one unique and amazing abseil through two holes.
A quick guide to this canyon (your requirements may differ depending on the experience of your group and the exact route you choose):
Arethusa was one of the earliest canyons explored in Australia (in 1940). It's close to Katoomba and a good choice for a warm summers day.
| | |
| --- | --- |
| Rope | 1 x 36m + 1 x 30m |
| Driving on dirt roads | Yes, < 5km |
| Swims/Wetsuits | Yes |
| Time | 8 hours at our relaxed pace |
| Rock scrambling | Yes |
| Rock climbing | Yes, we used about 4 quickdraws for the climb out. |
| Bush bashing | Yes, but fine without gaiters |