Party: T2, Em, Kshitij, and Bron (on and off)
Sometimes I feel like an easy day out, travelling through a canyon I know will deliver maximum bang for my effort. Then there are the times when I crave an adventure, pushing myself into the unknown, with remote, trackless trips that require a lot more technical skill. Unfortunately, between these two urges fit a whole lot of canyons that are a bit long for the easy days, but too accessible for the challenging trips. Whirlpool Canyon falls firmly in this category, which is why I'd never before visited it.
I didn't know what to expect. Despite being quite accessible from Mt Wilson, Whirlpool doesn't seem to get anywhere near the same level of visitation as the canyons further downstream the Wollangambe River. But that was perfect, because I really wanted a daytrip that would allow me to experiment with some techniques I picked up on my recent Utah canyoning trip.
With a warning that this could be a reasonably long day, and that I only wanted experienced canyoners because I planned to experiment with ropework, we ended up with a small, efficient group.
Bron and I had spent the previous day canyoning and were a little tired, so in the morning Bron begrudgingly made the decision to stay home. Then, minutes after Kshitij and I had driven off my phone rang. I thought I must have forgotten something, but it was just Bron calling to say she'd changed her mind. A quick u-turn and we were again on our way.
We swung through Blackheath to pick up Em, which took slightly longer than planned because a bunch of other outdoorsy folk had also dropped in ahead of some other adventures that day. I also took the chance to play with the very cute and energetic puppy.
Despite the delays we were at Mt Wilson just after 9am. Following some organising of gear (I really should have packed before this…) and debates over whether wetsuits were in order, we set off from the fire station and down to the Wollangambe.
We soon fell victim to the most basic of beginner errors. It'd been a while since we'd all walked together, so there was a lot of conversation going on, but not much attention being paid to navigation. Suddenly, the path turned sharply to drop down a gully. We stopped, realising that we were in the wrong spot, and started retracing our steps.
After sheepishly passing a large group, complete with young kids, who were heading down the correct (for them) track to the start of Wollangambe 1, we made it back to the rocky outcrop that should have been our turnoff. Despite the short nature of the detour, the humid air had me pouring sweat after the unplanned uphill walk.
Five minutes later and we were down at the sandy beach that was our actual destination. We didn't pause, not knowing how long our day would be, and instead crossed the river and pressed straight up the pass on the other side.
Bron soon dropped behind after her breakfast nearly made a return appearance. Knowing what lay ahead, she decided that it was best bail now. She headed back to the river for a relaxing day, unfortunately forgetting that her lunch and snacks were in my pack.
The three of us who remained pressed on up the ridge. It quickly became evident I was the weakest link when it came to fitness, so Em and Kshitij decided to speed me up by carrying the ropes.
The bush here, despite being smashed by a ferocious bushfire a few years back, was really lovely. It is quite amazing how well nature can recover.
We knew we had to cross another creek that contains a canyon to get to our catchment. We followed the ridge for a while until we were confident we were above the constriction. Some zigzagging down the slope — with a couple sideways traverses when we hit drops — soon had us at the creek. There were cliffs directly opposite, but less than 50 metres upstream Em spotted a scrubby break and we were soon heading up the other side.
Another sweaty slog had us at the top of a very pretty ridge, complete with a number of open grassy fields that looked like a perfect spot to camp. We looked across at a number of rocky pagoda-covered spurs heading down to our creek, but decided to continue further upstream to ensure we didn't miss out on any canyon.
The spur we chose to follow featured nice, open walking. Looking down into the valley beside us, the small creek also looked surprisingly pleasant. We made our way down some ironstone ledges, where the Spice Girls briefly made a brief and left-field appearance, before hitting the creek. We were quite proud that we'd managed to find a route across two major ridges and a creek without resorting to abseiling or using a handline.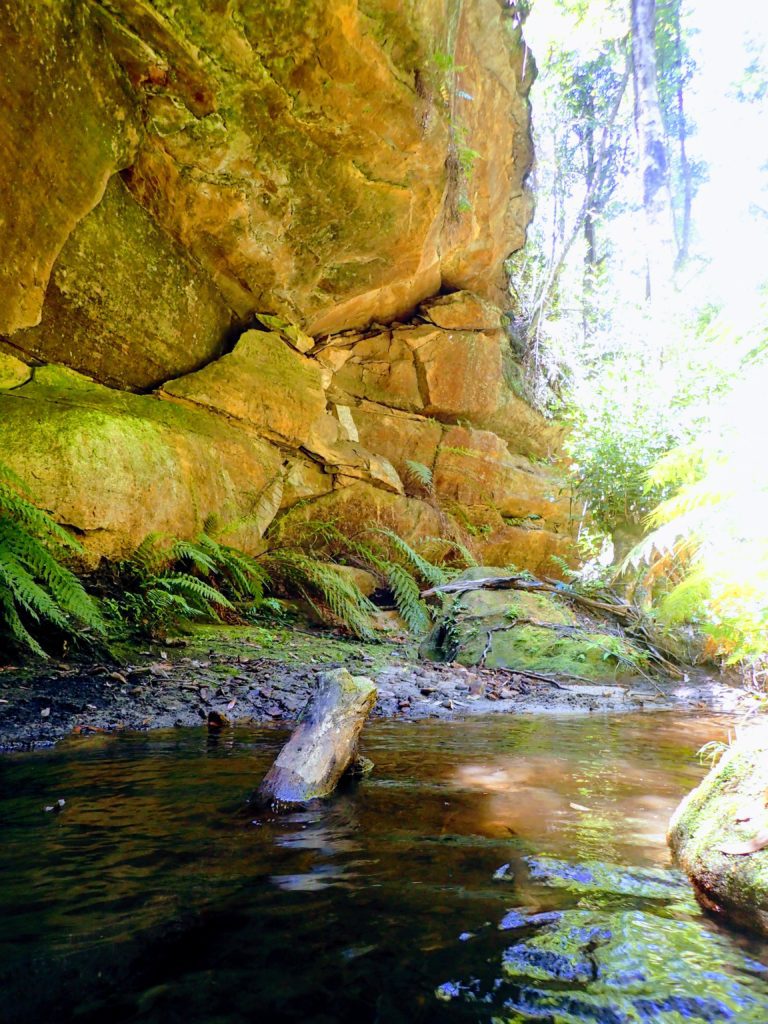 Soon enough we were at the junction with the main creek. We decided to put our harnesses on in case we came to any obstacles. It turned out that the only obstacle for the next couple hundred metres would be ferns, fallen trees, and scrub.
We ended up heading up on the left, under some small cliffs, in a quest for easier walking, before some exposed bedrock made us think the canyon might be close. The creek soon cut through a tiny section of canyon, directly underneath a massive chockstone, before again opening up. Some more creek bashing had us at the start of the canyon proper.
I'd brought along a fiddlestick which I picked up in the states to allow us to create retrievable anchors (I'll be writing up further info and a review of these soon). Despite the first drop being just a few metres, the others let me rig it with my fancy toy.
While the retrieval worked a treat, I'd forgotten to partially close my small rope bag, so there was now a whole mess of pullcord floating in the pool.
We continued on through pleasant canyon sections. The narrow parts didn't generally last too long, but they were impressive enough to make it well worth the journey. Best of all, the limited visitation made it feel really pristine.
We mostly used existing anchors, but in a few spots we took advantage of our ability to abseil without leaving anything behind to pick more interesting looking drops into some nice constrictions. We also managed to downclimb some things others had for some reason abseiled. At one point, rather than follow Kshitij and I off a slippery log, Em decided to excavate the debris on the floor of the canyon, opening up a much more direct route down.
Before long we could see the cliffs of the Wollangambe looming before us. We stopped at the junction for lunch. Kshitij shocked us when he pulled a full rockmelon (cantaloupe) from his pack and cut it up for us. But the shifting sun soon had us ready to continue on our way.
Kshitij decided to put his wetsuit on for the next part, not so much because he was expecting a lot of swims, but rather because he didn't think he could handle the future mocking that would come if he simply carried it all day.
This section of the Wollangambe contains some quite impressive canyon that is nearly as good as the tourist sections further down. But for us, it seemed even better, because not only did we not see any other people, there weren't even footprints in the sand.
Some fun rock jams tested our route-finding, and the quicksand tried it's hardest to steal our shoes, but none of it could wipe the smiles off our faces. Particularly with the stunning blue sky overhead.
For the normal people, the sight of light reflecting onto sandstone — and in one place causing an overhang to glow a rich orange — kept us entertained. But there was also something for Em, who paused at a very dead (and partially mummified) wallaby to dig around in its guts and examine the bugs that had made the carcass home.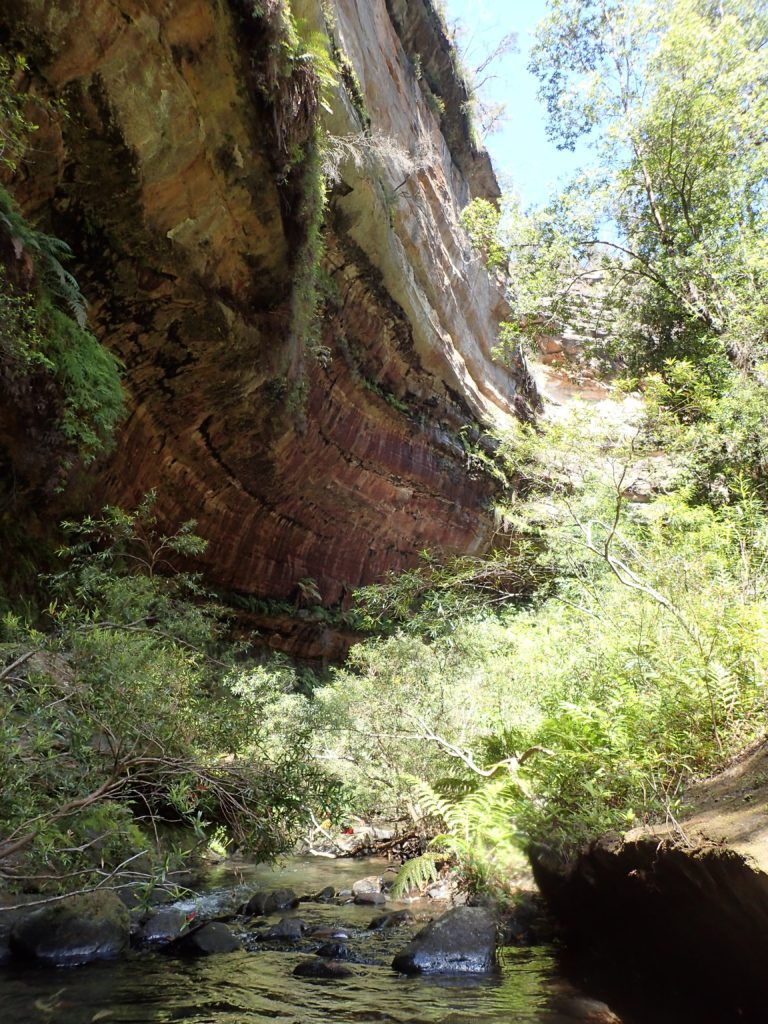 At the Geronimo exit we noticed fresh footprints, and before long we could hear the group in front of us. We tried to guess their numbers, using our best tracker skills, but ended up being at least three off.
I gave a big cooee as we approached the beach where Bron had been, but the only reply came from the Geronimo group.
Some time was spent removing sand from our shoes and cooling down our bodies before making the warm push back up to Mt Wilson.
Like the rest of the day, this walk was stunning. Perfect weather and beautiful bushland. The only downside was my fitness, causing me to drop behind the other two. A big snack to restore energy levels, and a decent breather, and I was almost able to keep up.
Back at the fire station, we found Bron under a tree enjoying a good book. She'd explored the bend in the river near where we left her, which contains a nice canyon section, as well as checking out the lower constriction of Horseshoe Canyon. But hunger pangs had encouraged her to walk back to the car early and head into Blackheath for a late lunch.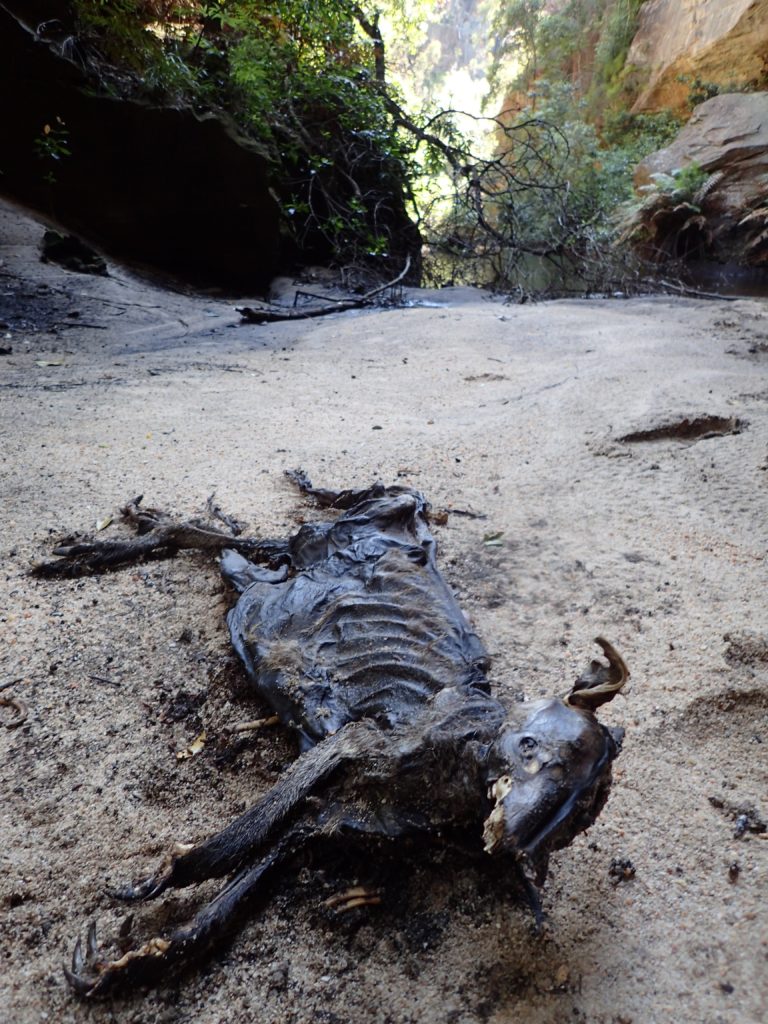 We were basking in the lovely day — and the fact that it hadn't taken anywhere as long as I'd feared it would — when Em got a call with some bad news. Her cute puppy was now at the vet, and quite sick, with the likely suspects either a snake bite or some poison. We jumped in the car and raced her back home.
The remaining three of us continued to Katoomba to enjoy some woodfired pizza and well-earned ginger beer after a great little canyon, and a stunning section of the Wollangambe, that had made perfect use of a sunny summer day.
Postscript: After a couple days where she was still a bit off, Em's puppy made a complete recovery. A very happy ending to a stressful few days.