Canyons: Secret, Telephone, Motorcycle, Goldstrike, Boy Scout, Devils Drain, Bighorn, Weeping Springs, Ring Bolt, White Rock, Black
Day 0 – Secret Canyon
After Jimmy helped me with positioning my car at Willow Beach he dropped me off at the Secret Canyon TH. I thanked him and was soon on my way. I was surprised to find the first rap bolted – apparently the bolting fairy had visited this canyon. I continued down the wash, some tricky down climbs forcing me to remove my heavy pack.
Passing a frog/toad? I soon entered the main open wash where some birds were singing like crazy! I would have liked to stay longer, but the light was failing fast and I was keen to get to camp by the hot springs. I continued through some constrictions that had various logs and branches positioned to make it easier to climb through. I soon reached the first rap into the canyon proper. There was a large steel rung embedded into the rock. After testing it I looped my rope through and rapped down. It was getting pretty dark at this point and I felt like I had missed out on seeing the canyon so I decided to leave the rope in place so I could reverse in the morning. I tied both ends to a log to make it hard for anyone to pull the rope up.
It was so dark at the top of the next rap that I had to be pretty careful. Furthermore, I couldn't find an anchor. I soon gave up and decided to use my pack as a counterweight around the large chockstone. I could hear running water as I rapped down and after landing tested the temperature of some water just downstream – it was warm. I located my headlamp and went for an explore down canyon. There was a small pool at the bottom of a downclimb through a small waterfall, beyond that was the Colorado River. There weren't really any great camping spots, the only real option was the pile of sand below the rap. I headed back to inflate my 'bed' and then returned to the river to filter water. There was a huge fish! I went to get my camera, but it was nowhere to be found once I returned (I got a poor quality video of one the following day – maybe it was from the fish hatchery?).
I decided to skip dinner, I was feeling far too lazy. I went for a soak in the shallow pool, watching the stars for a while before retreating to bed.
Day 1 – Secret, Telephone, Motorcycle, Goldstrike, Sauna Cave, The Ear, Boy Scout
There were so many helicopters flying around in the morning, that it may have been these that stirred me from sleep.
In the light I found that the rap above my camp was a fairly straight forward scramble so up I went to see the canyon in the daylight. Instead of ascending the rope I had left the day before, curiosity got the better of me and I decided to see if the gully on the right (canyon left) worked as a bypass – so that you could do the canyon without abseiling. The gully led me to a saddle, climbing up further seemed a little dangerous, so I paralleled the river for a while and doing a couple of down climbs reached a smaller waterway. Zig zagging up, I managed to get to the top of a dryfall and hike up to another saddle. Down the gully on the other side seemed like it wouldn't go, but to my surprise there was a small ledge leading steeply downwards. I climbed down and found myself above the rap. I headed up the canyon a short ways, but actually found that I liked it better in the dark – perhaps my imagination had spiced things up a little?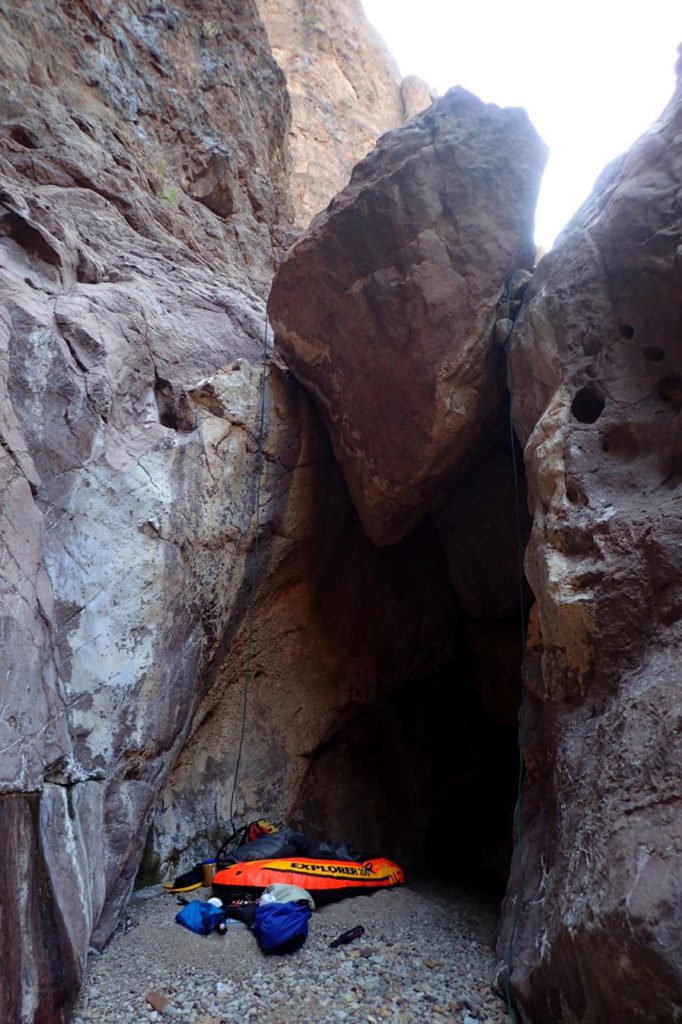 I rapped down and after dropping my rope on the next rap, down-climbed to my gear. Breaking camp, I headed down to the river, topped up my raft and was soon paddling out onto the river… the current was moving fast… so fast that it was carrying down from Gold Strike… I soon realised my efforts were futile and accepted defeat. I landed on a small beach my mind racing with what to do… I had just floated past my plans for the day. Should I try scrambling up and dropping into Telephone? I decided to scramble along the side of the river expecting I'd have to do a bit of swimming. I soon had my feet wet, then I was climbing along the rock half submerged, and soon I was swimming sections, happy to find any place I could pull myself out to warm up for a while.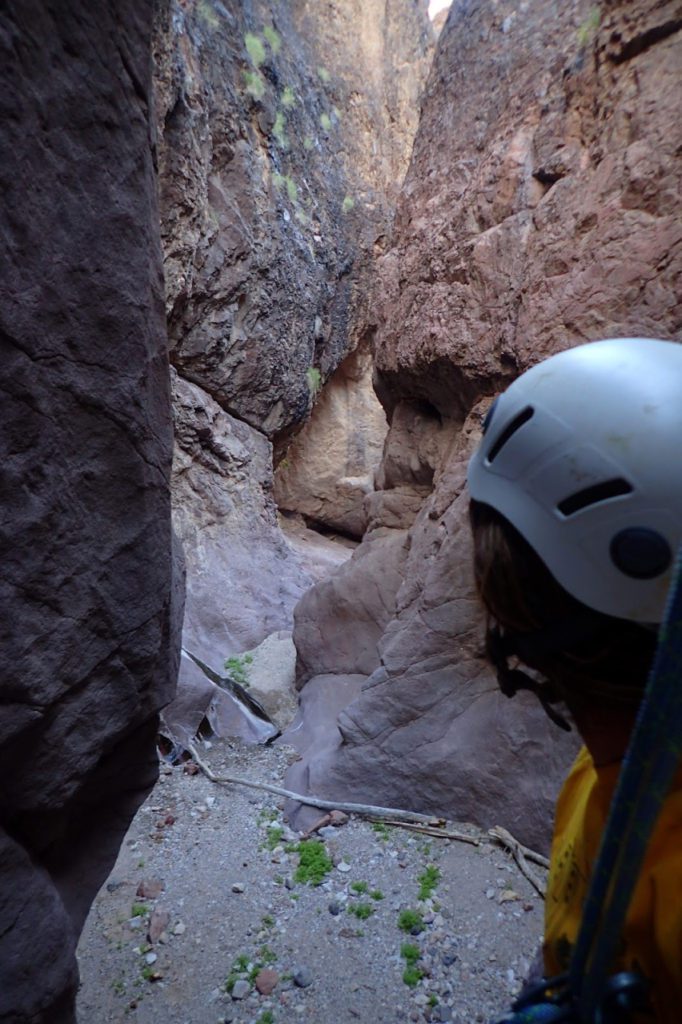 I passed a couple of warm springs and soon reached a section where iron brackets had been driven into the rock. It looked like it used to support some kind of catwalk, and some sections still had a cable attached. There was a rotting wooden ladder and a large vertical corrugated pipe whose purpose escaped me. Rounding the corner I found I could scramble the rest of the way without getting wet.
The water coming out of Goldstrike was warm and I sat down to let my body defrost.  There were some kayaks left on the beach, as well as a couple of parties of two. I talked to a one of the groups, took some photos for them and then had a quick talk to the kayakers (who had returned) to see if they had any info on the canyons I was about to do; nope, they weren't really locals… but it looked like I would be sharing camp with them for the next couple of night as their camping plans were the same as mine.
I headed up Goldstrike, walking in the warm water, enjoying the small waterfalls, interesting growths and cave-like formations on the walls. The canyon was wide and deep with a boulder-strewn floor meaning there were lots of climbing/scrambling opportunities. In many places, fixed ropes had been left in place to help negotiate the climbs. The main things that lessened the experience for me was the number of people that had been through the canyon. There were definite trogged paths and I spotted quite a lot of rubbish that had probably been dropped purposefully rather than inadvertently. I ran into the group I had talked to at the beach, and helped them up a few of the climbs. Soon I reached the junction for Telephone and left the main thoroughfare. After a large boulder pile I enjoyed a couple of constrictions, but the canyon itself isn't much and is used more as access to the top of Motorcycle. Before exiting the wash, I was surprised to see a snake. It was warming up enough now that they seemed to be coming out of brumation. The route I took to exit involved some fairly serious climbing, but it looked like you could take a longer route to skirt the cliff band.
I followed the road, noting the broken wires on the power lines I had been passing throughout the canyon. When I got to the top of Motorcycle, I spotted a big horn on the road ahead. I went a bit further to see if I could get a closer look, but by the time I got there the sheep had magicked itself to the top of the next hill with a couple of its friends.
I went back a ways and dropped into the top of Motorcycle. The first rap was close to the road and had also been visited by the bolting fairy. Looking down to judge the length of the rap, the naming of the canyon soon became evident.
It looked like I would have a couple of raps in a narrow slot, but then (to my disappointment) it looked like the canyon opened back up almost immediately.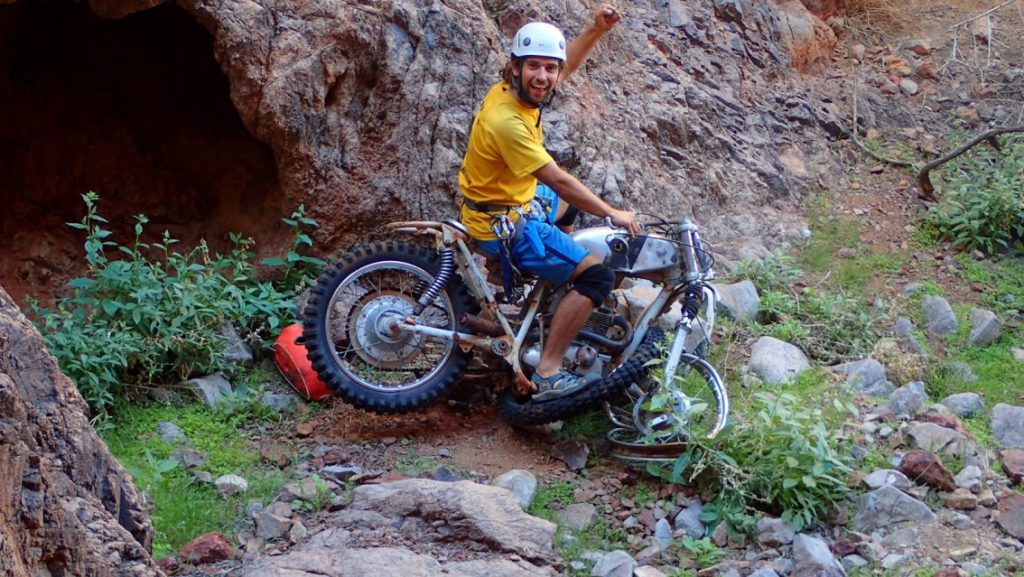 Over a kilometre down the wash I reached the next constriction. There was a climb-down followed by a very nice abseil down through a polished slide. Unfortunately this constriction was also short lived, and half an hour later I reached the next narrow section which you rappelled into via a sling around a chockstone positioned above your head. There was a nice amount of green grass in the section that followed.
I soon emerged into Goldstrike. I concealed my pack beneath a boulder and headed up to explore the top section. I was surprised to find a volunteer managed water station with a garbage bag for empty bottles and homemade PVC dispensers with salt and sugar sachets.
I went up the canyon until it got quite wide and uninteresting (roughly under some power pylons that crossed above the canyon.
Heading back down to the beach I was surprised at how high the water level now was… I was a little worried about whether I had secured my raft well enough or not… I lent my water filter to a couple who had run out (drinking at least a litre myself) and stripped down before heading upstream to see if I could make it to Sauna Cave. Scrambling around, I passed a nice hidden alcove. From there I had a lot of swimming to do. The current was quite strong and in one section I had to pull myself along using holds on the rock. Several times I had to climb out and cling to the rock to warm up before plunging back into the water. I was soon drawing close to the sandbar Jimmy had described to me and with a final burst of energy I swam a little further until I could scramble around to a trail I had spied leaving the water's edge. There was a large sandy area which I would have considered camping at if I had my raft. Passing a sign warning of naegleria fowleri ( "brain-eating amoeba") I removed the head lamp I had looped around my neck and climbed into the dark entrance of the cave. The water was an amazing temperature and as I explored further into the cave/mine I truly felt like I was in a sauna with the warm steam swirling around me.
I had less time than I would have liked as I still had a ways to go before I was at my planned camp in Boy Scout. I decided to swim back to Goldstrike and whilst cold it proved to be a fast way to get there, as I raced along swimming with the current.
Collecting my gear, I sealed my dry bag, made sure my life jacket was well attached and again continued swimming down the river. I was really starting to struggle with the cold now. One of my legs started cramping and wouldn't work properly, but I pressed on as I was drawing close to where I had left my raft. I really hoped it was there… the water level had been continually rising and there was a notable difference after my visit to Sauna Cave.
To my relief my raft was safe above the waterline, and I quickly packed it and pushed off, relaxing for a while whilst making considerable distance just floating along. I passed a cool canyon which I marked on my map – I later found out that it had already been descended and was actually named (Rick had descended it after writing his book – though he didn't do the first descent).
I decided to explore a side stream which, on the topo map, was marked as containing a hot spring. It had a fun climb to get up into the wash, but as I continued it remained dry and when I reached a dryfall that would require me to backtrack and scramble around, I decided to call it a day.
Paddling as fast as I could, ignoring my aching arms, I just managed to cross the river and make land in the cove at the foot of Boy Scout. I unpacked and said hello to one of the kayakers I had met in Goldstrike. The rising waters threatened to wet my gear, and several times I moved it further up before I was again pushing out onto the river – just upstream was a cave called The Ear. There was still some daylight and I thought I would squeeze in a quick visit – if I could make it against the current! I made it okay, and scrambled up into the large opening. It provided better views than I had expected and I was happy I had taken the time to visit.
Returning to the Boy Scout cove I filtered some water and slowly made my way up to a large overhang where I found the kayakers. Douglas, Austin, Brad, Briana and Cameron were all long-time friends and were on their way back from a trip to Havasupai. They provided good company and we got along well. As the sun was setting someone pointed out the silhouette of a big horn far above on the canyon rim.
I was pretty hungry at dinner as I had skipped the last dinner and breakfast – a huge mistake considering the physical exertion and cold water. Afterwards we had a game of Monopoly Deal which was actually a lot more fun than I had expected and in my opinion superior to the board game.
After the game we went for a soak in the hot springs. They had already scoped out the options during the day. The first pool (above a waterfall) was quite deep and in my spot, the level lapped against my neck as I sat comfortably with my legs extended on the sandy bottom.
Soon we headed up to a shallower but hotter pool. We lay in the soothing waters for a while and enjoyed a nice combination of conversation and extended periods of silence. On the way back, I stayed alone in the cooler pool for a while before joining the others in camp to sleep.
Day 2 – Boy Scout, Devils Drain, Arizona Hot Springs
In the morning I filtered water, deflated my bed/boat and said 'bye' to the others before heading up canyon. We had the same camping destination tonight so I would be seeing them before the day was done.
Checking the maps I had, I was a little confused about where to exit the canyon. One said I could scramble around once reaching the big drop, another said to exit almost immediately. I left my pack deciding to explore the canyon which in hindsight was silly as I should have trusted the information in Rick's book.
The canyon proved to be much fun with lots of fixed ropes to get up the drops. Unfortunately I was pretty tired and this made it a little less enjoyable… I got to the bottom of the 340″ rap and then had to reverse almost all the way back to camp to get my pack and again struggle up the canyon, sometimes pushing my pack up above me, other times tying it to the end of a rope and hauling it up. Finally I was out of the narrows and trudging up the steep slope that had evidence of traffic and was even marked with periodic rock cairns.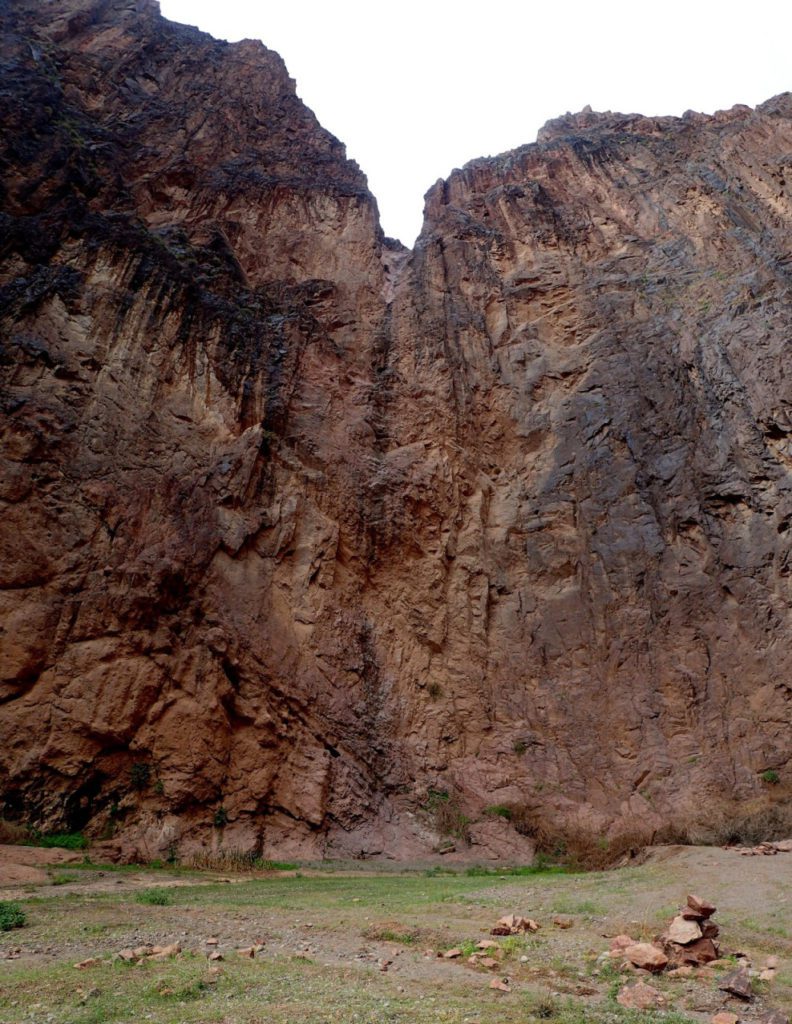 The last section was quite steep and after a mini canyon there was some fixed rope followed by some exposed climbing. At the top, I found a well-trodden path almost immediately and enjoyed an area of flowing prickly pears before dropping back into the wash. I had some lunch before leaving my pack and exploring the canyon to the top of the big drop. I was surprised to find an esky with some emergency water, and equally surprised at the diameter of the ropes on the next hand-over-hand. The anchor for the big drop was bolted and for some reason multiple sets of bolts had been put into the rock. I'm not one to care about the length of a rap, but I have to admit that this one looked pretty cool!
I headed back up to my pack and continued up the wash. There were one or two places where the wash constricted, but nothing too amazing. I was a little perplexed by some lines of straw wattles held in place with some wooden stakes. I exited the canyon before the car park, cutting cross country to intersect with the entry to Devils Drain. It turns out I misread the map, expecting that the approach followed a valley/wash, when in fact it followed a ridge. This resulted in some confusion and ultimately in more hiking in the heat than I would have liked. A better way might have been to hike straight up from the top of the big rap.
I knew I was on track when I spotted the large rock arch that was supposed to be the first rap of the canyon (zooming in on the photo below, you can actually see the hole in the shadow). The views were pretty good and the herd of sheep I ran into must have thought so too. The leading sheep had some kind of tracking collar around its neck. It seemed quite bulky in my opinion.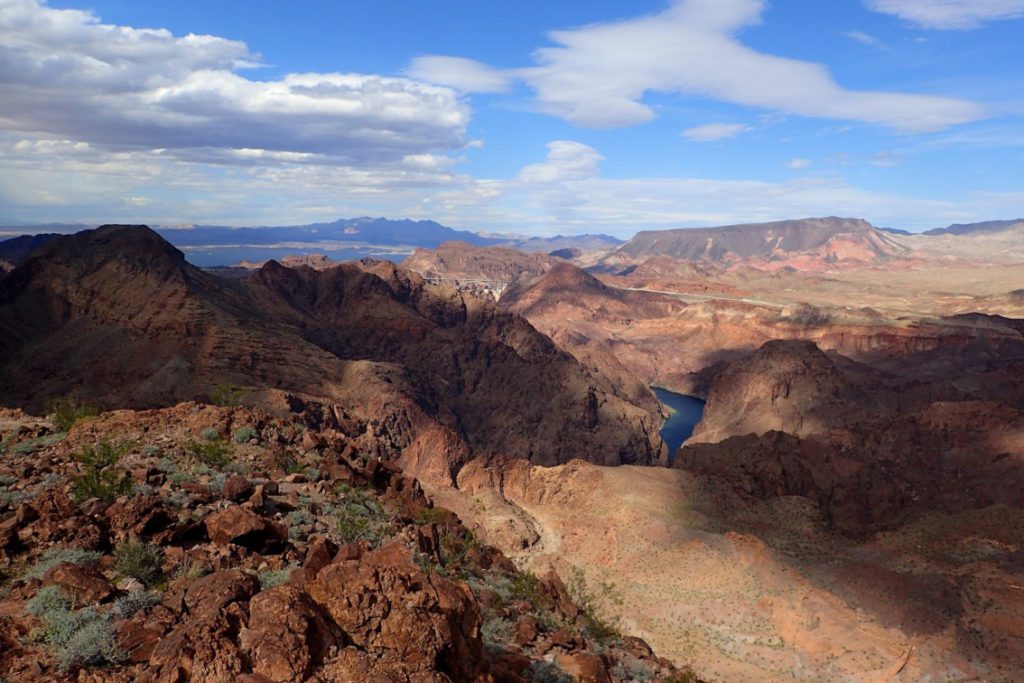 Continuing along the ridge, there was some exposed scrambling before I finally found myself looking down through the hole in the arch. What a cool rap! Once down I decided to record myself abseiling down through the hole, and after an attempt at climbing up under the arch, I resorted to prusiking up and then having a second turn at rapping back down.
The rest of the canyon was actually quite good as well. After a short ~10″ rap there was a really cool pitch down through a polished chute which was probably one of my favourite rappels of the week. Another pitch followed almost immediately, and then another tiered drop. And that was it. Though short, the canyon was quite good.
Continuing down the wash an alien noise stopped me in my tracks. It was a strange mix of hissing and rattling – it was my first time hearing a rattle snake! It was a nice warning, and I got a short video getting a little spooked when it turned around whilst I was trying to pass it. That is the second snake in two days… hopefully I don't see any closer than what I just experienced!
I was soon looking down on a bunch of greenery and as I got closer, a little jumpy as lizards ran this way and that, I began to hear water gurgling below. I came across a very dirty pool. The water was extremely hot. I tried walking down the right hand side, warm mud reaching my ankles. Bush-bashing a little further I looked around for other options and saw that I could escape from the mess I was in, by exiting on the left. I back tracked a bit and crossed over, happy to have escaped despite all the additional scratches I had received.
Further down, I reached another tributary flowing in (also hot). It was much cleaner, and I followed it to the confluence finding an overgrown trail leading downstream. At the top of a waterfall I rigged a hand-over-hand and once at the bottom stripped down for a soak in the hot spring. I sat under the waterfall for a time enjoying the light massage.
Continuing down to the Colorado River I was surprised at the amount of dead wood. It would have been a good spot to camp but I had told the kayaking group that I would meet up with them – plus they had kindly taken my sleeping bag and solar panel so I needed to get them back too.
I floated downstream, got pestered by some overfed ducks and not far before reaching Ring Bolt canyon explored a deep 'sea' cave with some nesting birds (mud swallows?) in the entrance.
It was then a short float down to Ring Bolt Canyon. I met Walt and his grandson Dylan. They had a nice fire going and were listening to Bob Marley. They had come in on a motor boat and having the space had brought some extras which I was offered and happily accepted. Some unpickled gherkins and a fizzy drink went down well. After chatting a bit more I headed over to the others who had found a nice, more secluded, spot beneath an overhang – which was great considering Walt had informed me that there was a high chance of rain tomorrow!
It was already dark by the time a sat down and began dinner preparations. Soon we all headed up to the hot springs. Unfortunately, the sky was overcast so we couldn't enjoy the stars this night. After some time in the pool, I joined some others lying down in the shallow stream. Eventually we returned to camp. I had perfected the pressure in my raft (my bed) so I slept really well – possibly also attributed to exhaustion?
Day 3 – White Rock, Liberty Bell Arch, Ring Bolt, Arizona Hot Springs
The next day, the forecast rain, combined with weariness, made me decide to insert a more relaxing day into my trip schedule. I would spend the day hiking around White Rock and Ring Bolt Canyons, adding in a trip to Liberty Bell Arch. I was somewhat familiar with this route having visited the hot springs with my family a month and a half ago. However, heading up White Rock, I missed the turn and ended up taking a longer more convoluted route that passed some old mining infrastructure that had long been abandoned.
Not sure I was going the right way, I was pretty happy when I spied the rock arch I had been looking for. Despite it being a lot further than I had expected, (and also losing most of my water when the lid of my bottle fell off and I felt water running down my legs – I still don't understand how it happened) I continued along the trail, climbing up to a fantastic lookout high above the Colorado River, almost opposite Devils Drain.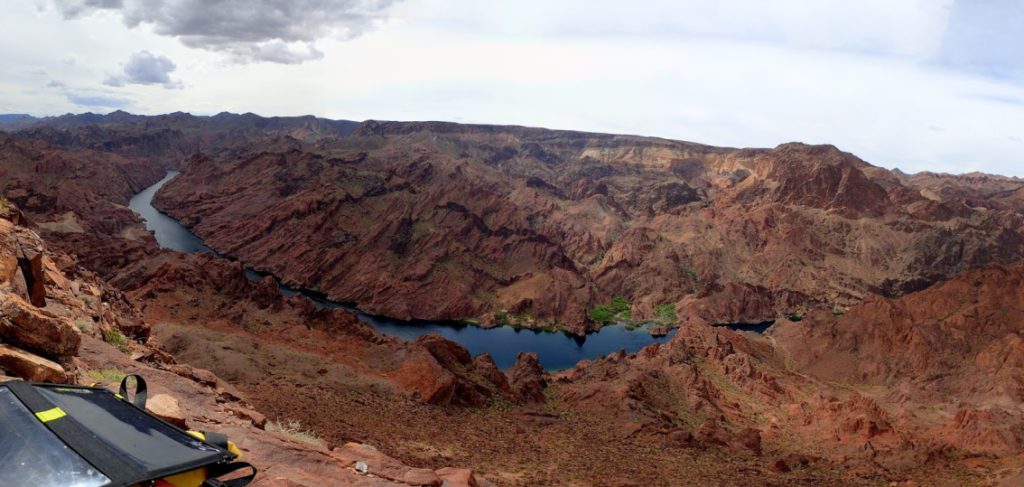 I sat there for a time before hiking back (this time by the more conventional route) and dropping into the top of Ring Bolt Canyon. There were some narrows in the upper section with quite a tricky down-climb (I think there was a bypass option). Then canyon then opened up. Further down I found what I had been looking for: petroglyphs. I hadn't know about them last time, and having dropped in lower last time we had missed them!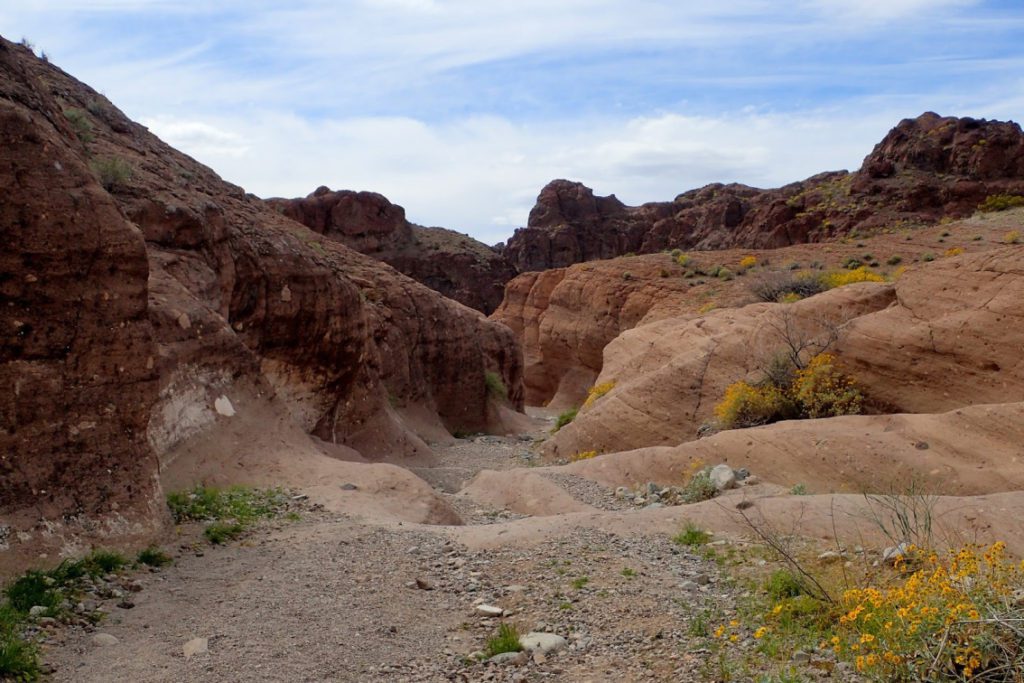 I bumped into some people I had met earlier hiking the loop in the other direction. I gave them a heads up about the petroglyphs they would have otherwise missed (they were taking the early exit). I passed the scout group that had woken nearly everyone up early that morning and was nearly back at camp when it started pouring. I finished filtering water and ran to my overhang. The area was now taken over by the scout group. It looked like they hadn't expected rain, and I spent some time putting some of their gear inside the tents, putting on one of the rain flys and putting other gear under the overhang. I borrowed a chair, did some eating and writing, and was soon lying down in my bed-boat.
After dark I headed up to the springs and spent some time talking to a couple who had some portable music filling the air. After they left a guy who worked for Apple joined me. He also brought music and some of those coloured Lucy lanterns which floated well on the water surface. A couple of other groups arrived too. I was surprised at how many people hiked in after dark to stay for a few hours. I couldn't really fault them though: It was certainly a nice location!
I soon said farewell to the hot springers and headed back to a quiet camp for some shuteye.
Day 4 – Big Horn, Weeping Springs, Emerald Cave, Cat Walk, Ranger Station, Willow Beach
In the morning the scout leaders yell for everyone to rise, also roused me. It was a good thing (and expected) as I wanted an early start so that I wouldn't be hiking once the day heated up. I was just behind the scout group in breakfasting, and after packing topped up my pack raft before pushing out onto the river.
I floated down past the familiar exit to Death Pit and then passed the exit for Weeping Springs which I would soon be descending. Landing on some rocks at Bighorn I prepared a pack with gear. I had originally planned to do all of Weeping Springs and swim back down to Bighorn, but past swimming experience had changed my mind. Whilst floating down I had spied a good escape that would let me scramble along the river and back to my pack raft. As it turned out, I did all of Weeping Springs except for the last rap.
Starting up the wash I came across a pretty flower that I hadn't seen before – I wonder if it is native?
Big Horn proved to be quite sustained with many mini cracks and canyons coming in from the sides – in fact, up higher I sometimes wasn't one hundred percent sure which was the main water course! There were some really pretty sections and once up higher in the canyon the surrounding mountains also proved to be quite interesting. There was one or two climbs, but not really anything crazy.
As I was exiting the canyon I heard a rustling up to my left. A little confused I turned to see what had made the noise. A large white owl flying on silent wings past me and continued down through the canyon. Amazing!
After continuing up the wash I headed over a ridge and dropped into Weeping Springs. At the first rap, I was surprised to see that one of my pack straps had collected a yellow flower. The canyon was lots of fun. I didn't take many photos in the canyon for some reason. Though I did take one of one of the seed ball things that I found. They were hollow and some had loose seeds inside so that you could shake them like a maraca.
Towards the end, the canyon opened up and there was an obvious escape to the right. I decided to explore further and dropped into a scrubby slot that brought me within less than 50″ of the surface of the Colorado (the would-be 9th rap). I decided it wasn't worth the effort and continuing up a ramp on the other side found that it provided easy access back up. I scrambled along the river, a couple of commercial kayaking groups passing me, before I climbed down, then waded across to my pack raft. The loop had taken almost exactly 3 hours so it wasn't even midday yet! I packed and pushed out onto the river, having lunch whilst the river carried me downstream. I was surprised that there was a northerly wind. I had been warned that it almost always blows upstream; it looks like luck was with me today! Not lucky enough to avoid being pursued by some more overfed ducks though!
I soon spotted the cable car crossing the river. I had been told that Emerald Cave was near here. But to be honest, it would have been hard to miss. It was below the catwalk and there were several kayakers paddling in as I drew closer. I paddled in too and talked to them for a little while, but they were soon off: they had hired the boats from Willow Beach and didn't have long left before they had to return them.
I secured my pack raft to a small tree and scrambled up onto the catwalk. It reminded me of something from a movie or video game. It was quite fun walking along the wooden planks as they made creaking noises below you. The whole thing seemed quite stable and in quite good condition.
The sun came out from behind the clouds and I raced down so I could paddle back into Emerald Cave. I was sure the light would make it more brilliant. To my relief the sun was still shining when I got there!
Continuing downstream I stopped to check out the ruins of the old ranger's station. It was only a foundation so I didn't find it overly interesting and was shortly on my way downstream again.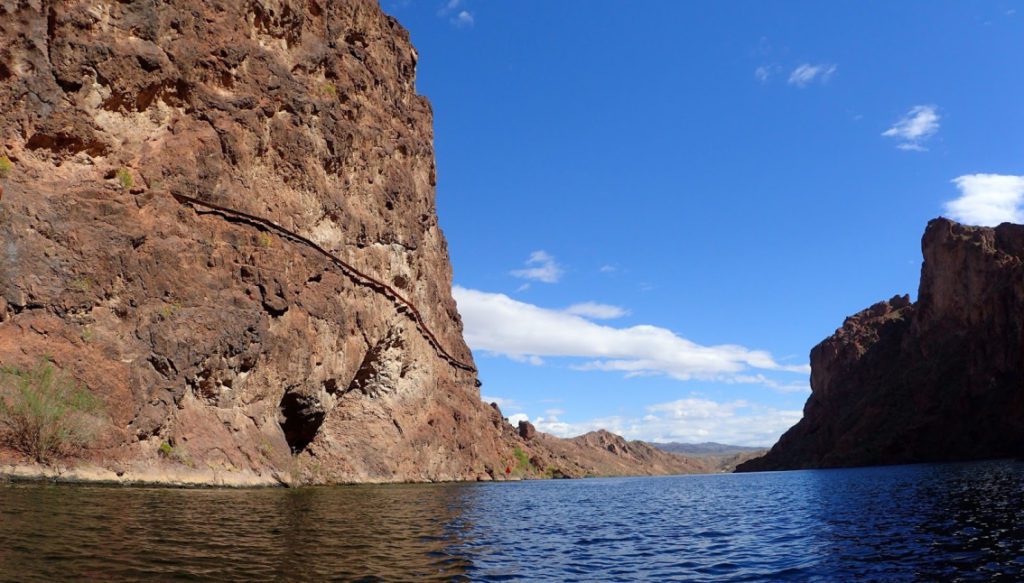 The current was getting much weaker by this point and I was having to paddle more and more. By the time I could see the fish hatchery it was almost non-existent. Eventually I landed, happy to see my car safe and sound (unlike others after the 2006 floods!). This final day was my favourite of the trip and I wondered if the rest day was part of the reason? Maybe I should start trying to pack a little less into a day to make it more enjoyable?
One of the signs enlightened me to the purpose of the ring bolts along Black Canyon. Apparently they were used when the Arizona Fleet steamboats frequented this stretch of the river (before the dam). The strength of the rapids forced the boats to attach cables to bolts placed in the canyon walls. A winch was then used to pull the boat up river.
After walking around for a bit I headed off. I was keen to get back in case anyone was worried that I was a day late. I stopped in at the McDonalds in Boulder City and splurging a little I enjoyed a thick shake whilst I emailed Jimmy to let him know I was out safe.