Party: Felix
After a great weekend canyoning in the Stateline hills with a fun group of people, I left Klaus' lakeside villa, hitting the road somewhat late. The part I was most anxious about on this particular trip was the road. The cars we had taken over the last couple of days had high clearance with big chunky tyres… today I was by myself in my trusty front-wheel drive Dodge Caravan (I really need to give it a name!).
I passed the casino and the now familiar "Road Closed" sign you need to drive around; through the tunnel and into the unknown. Hitting the first ditch at a sharp angle, I managed to place my wheels so that I didn't scrape, but the fun didn't end there! I had 6.4km of careful driving to go. Often I would have to jump out of the car and spend time removing rocks/boulders from the road to make it passable. And once or twice I had to farm rocks and build a kind of bridge over some of the deeper ruts. My seat-belt quickly became an annoyance, and having a fancy car that liked to make lots of beeping noises I was forced (maybe that is too strong a word choice?) to sit on top of my clipped buckle.
I had half expected to abandon my car and walk the road, but as it turned out I made it to the end and was soon ready to head out.
I started up the old mining road and quickly overheated and removed my shirt to cool down… maybe it was because I was comparing canyons here to Australia, but for some reason, I decided this was a great opportunity to try a canyon T2-Style. So that's what I did. There would be no one around for me to worry about and there was little scrub to scratch my exposed skin.
Continuing up the road, it past through a narrow draw. Looking at it now, its amazing they used to get vehicles through there! I soon reached the entrance to what looked very much like a mine. There was a barbed wire fence around the entrance, but perhaps the greatest deterrent was giant pile of rubble that consisted of all the material that had collapsed from around the mouth… I passed over this quickly and explored around the mine which proved to be quite shallow.
Returning to the scorching heat I continued up a short ways before climbing up to the ridge top… we now skip most of the hour it took to get to the top and jump to the big horns I met there.These were the first once I had actually seen, though judging by the amount of droppings some must have nearly always had eyes on me.
Dropping down into the wash I reached the top of the first rap/abseil which – as could be expected – featured the pile of rocks as an anchor (I was beginning to feel better about these after they held up over the last few trips).
There were some nice rappels, but to be honest, I found this canyon more open and shorter than some of the others in the area, and therefore I wouldn't rate it as high as Desperado or Turtle Tears. Though there were some fun down-climbs which I actually enjoy more than rappelling.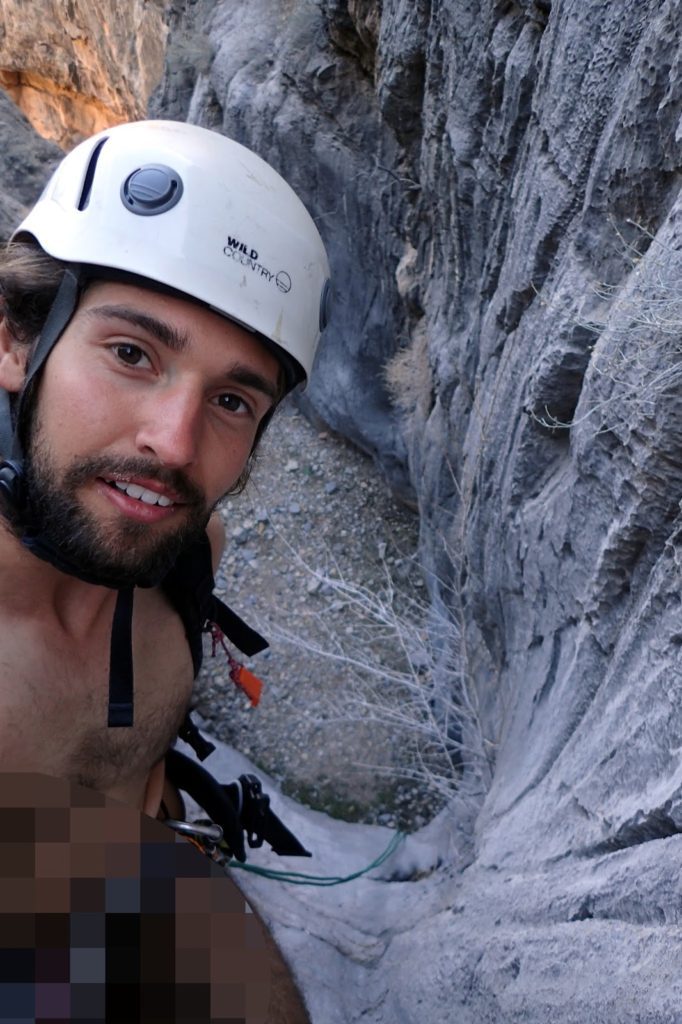 Towards the middle of the canyon, it was nice to see a tree anchor.
By this point the harness was getting a little uncomfortable, but this might have more to do with the fact I was using my Blue Ice Choucas mountaineering harness… instead of one more suited to canyoning.
As I neared the final rappel I couldn't believe I was already there! The beta advised 6-8hrs and it had only been about 3… I photo pfaffed for a bit before rapping down into the wash hitting an old road that led me back to my car.
Glad I didn't need to break into my car with an antenna (how the canyon was named), I finished much earlier than I had expected and after eating, I sat around for a bit thinking about what to do… I got in contact with Dylan and Ellie. Several minutes later: Yay I had canyon company tomorrow!
Doing the canyon T2-style was a fun experience and it certainly heightens your awareness of the surroundings. Try it out and you can make your own conclusion.
(Total Time ~3.5hrs)