Party: Lauren, Michael, Claire, Tony, Yang, Anqi, Li-Jia and Felix (Photos: Yang and Felix)
Lauren, Michael and I overnighted at Wallerawang in the Blue Mountains. After dumping our bikes into the utility tray and grabbing a few lemons off the tree we headed to Medlow station to meet the others. We pulled up beside Michael's motorbike just as Claire's bus pulled up.  I received messages from Yang and Tony that the rest of the group were stranded at Katoomba.
While waiting outside the Hydro Majestic Hotel at Medlow Bath, we had time to reflect on its history.
After selling his shares in a Sydney department store, in 1901 Mark Foy purchased Hargraves House with the vision of creating Australia's first health (hydrotherapeutic) resort. In 1903 he acquired the Belgravia Hotel and the pre-fabricated Casino Ballroom was imported from Chicago. With guest wings Belgravia, Hargravia and Delmonte, the Hydro Majestic was opened "in the midst of a snowstorm on 4th July 1904." Following the opening of his establishment,  Foy successfully petitioned the government to change the locality name from Medlow to Medlow Bath (though some sources say the name was changed in 1903).
"The inner workings of the resort were all thoroughly modern and included a steam-driven generator imported from Germany. This generator produced electricity for the resort and the neighbouring township of Medlow Bath. In fact the Hydro Majestic had working electricity four days before the city of Sydney. The resort also had its own water supply, steam laundry, freezing works, sewerage treatment works and a telephone system connected to the Sydney exchange."
"The establishment did not thrive as a health resort; after a couple of years it became the Hydro Majestic Hotel and it then enjoyed great success." A number of famous guests stayed in the hotel "such as Sherlock Holmes creator Sir Arthur Conan Doyle whose novel The Lost World was inspired by the vast wilderness environment that the Hydro was set in."
In 1942 the Hydro was taken over by the U.S. Defence Department and turned into a hospital for American casualties from the battles of the Coral Sea and South Pacific. The "US soldiers convalescing at the hotel [must have had]… excess … time and ammunition". Instead of getting out of bed they would shoot the light bulbs, roll garden statuary of the cliff, set up mouse traps on seats and 'disposed of ' Foy's imported goat herd!
It wasn't long before the rest of our more orderly party arrived. We headed down the street named after the Belgravia and followed a track named after the Wonderland Park guesthouse.
The track was surrounded by a good number of large banksia and was quite overgrown to begin with, but opened up significantly… someone had cleared a meter each side of the walking track!
An old sign alerted us to our turnoff and we were soon within the stone confines of Mark Foy's alleged Tomb. His will had decreed an elaborate tomb should be constructed. It never was, and he was buried in South Head, Sydney.  http://trove.nla.gov.au/ndp/del/article/42727571
We visited an overhang that has probably been used as a climbers base and found a hammer and some rusty chains. The group split here, with some of us doing an exposed traverse around the cliffline and the others heading back up to the track junction where we would regroup.
Once reassembled, we headed out to what I think is Tuckers Lookout (it was marked in a few different places, depending on what map you looked at) which offered a good view of the Megalong and some power-lines resembling the old flying-fox. We continued down Sentinel Pass. There is some old walking infrastructure here and in one darker section has been widened.
Once down through the cliff-line we headed to the Coliseum. We paused for a moment to take in in our surroundings – a spectacular curved overhang with a waterfall trickling down to the focal point. There were remains of elaborate stone work, the work of a Murdo McLennan.
Rather than reverse our route, the vote was to continue down into the valley through some temperate rain forest in order to complete a loop. The end was sunny, well defined, and graded quite low (maybe to accommodate a horse and cart?).
We split up again to ascend through the cliffs; some returning the same way and others taking a more adventurous off-track route involving some free climbing – or optionally tree climbing! – followed by a jump over a crack.
After walking past a concrete ring (the remains of a sunbath) followed the cliffs through an area of sheoaks, arriving at the back of the Hydro where we planned to have lunch.
One of our group decided to call it a day, but was replaced by Li-Jia, who despite missing the start of the walk, decided to join us for the second half!
After lunch we headed off to the Three Brothers with a long break at a lookout.
To vary things a little we did a little bush bashing along the cliff-line instead of taking the track.
We soon reached the remains of an old Flying Fox. This was used each morning to ferry produce up from the Valley Farm which Foy had set up in the Megalong Valley; "on it was a racecourse, stables, diary farm and a piggery. The farm grew corn, turnips and oats." Access tracks were improved and each afternoon "kitchen scraps were sent down [to feed] … the pigs".
Curiosity got the better of us and we explored some rock climber tracks which led us back to the Three Brothers. Taking the main track this time we headed off to find Maxines Bower. We definitely didn't take the most optimal route here ending up in a bit of a swamp where the majority got wet feet. The water also proved to dissolve some glues as the sole on one of Yang's shoes fell off!
We were soon back on track and after a couple of slips in a creek-crossing, we located the 'bower' shortly after. As far as I can tell this overhang was named after Mark and Elizabeth Foy's daughter Maxine (born in 1902). I am no geologist, but its formation looks to be very similar to that of Cox's Cave. My guess is that both overhangs formed via chemical erosion through a fault in the rock.
Everyone managed an exposed traverse onto a sunny rock platform which offered a great opportunity for a group photo.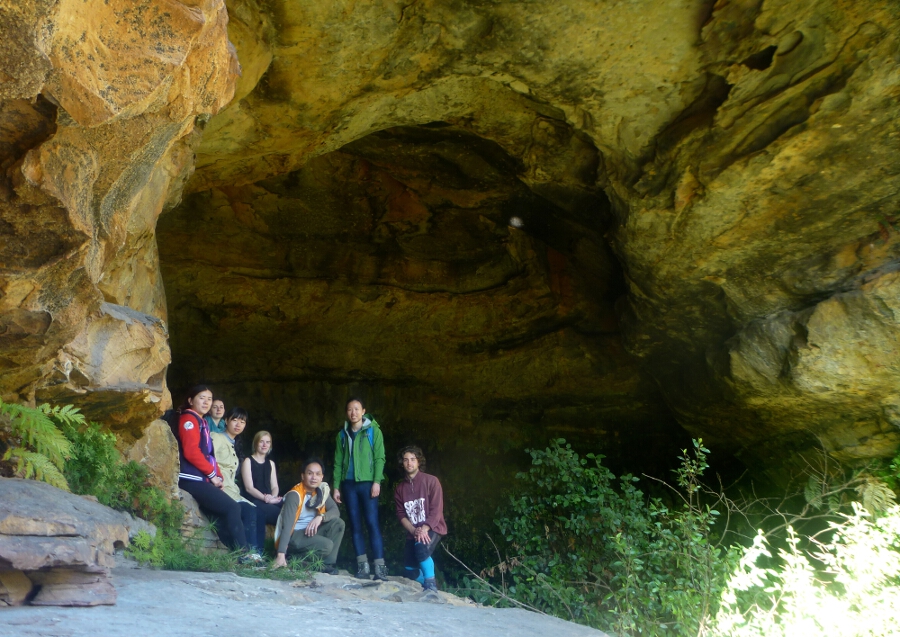 We continued along the Glen Rosa Track, pausing for afternoon tea and some shoe repairs. Around the corner at the Coliseum Lookout, we though we saw a rock plunge down, but just above the tree line its trajectory flattened and a bird soared over the tree tops.
After a stop to fix a second loose shoe sole, we arrived at Church Cave, also known as Chinamans Cave or Medlow Cave. This overhang was used by Hargreaves to entertain guests and permission was also granted for Church of England services as early as 1894.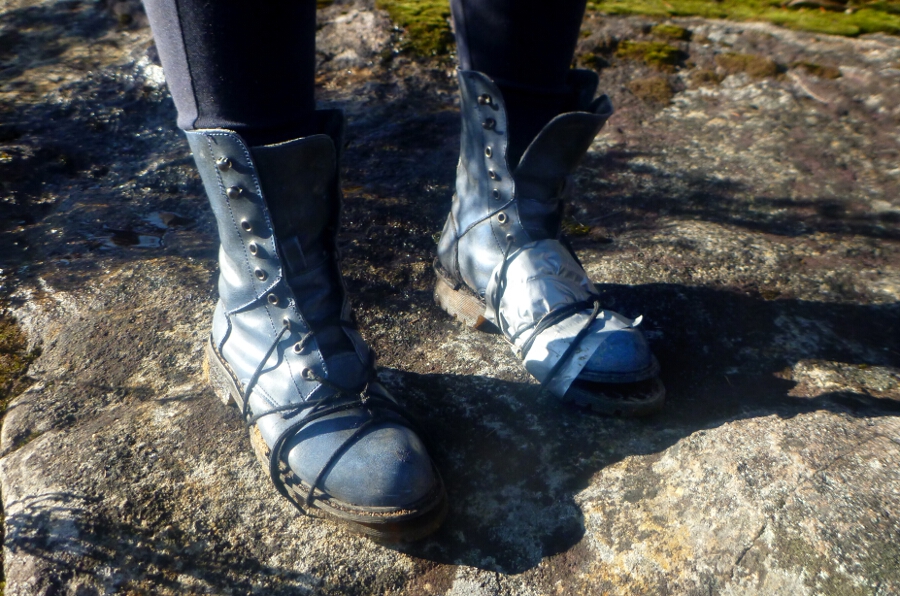 Cave Church – 1898
Returning to the Hydro we dispersed at the train-stop (bus-stop). I was staying in the mountains to help out at CWBC's abseil and prussiking training day.
Thanks to everyone for a fun day. Welcome to the new SUBW members!
Felix