Party: T2, May, Sierra, Tully, Kristian, Sean, Gary, Ray, Natalie, Daniel, Chris, Sam, Siang, Tim, Awen and Jason
Meet at 9:30am at Glenbrook Station. Sierra thinks she is the only female, but then come two more down the road from the toilets, so it's alright. Kevin of the Bankstown Bushwalkers starts chatting with us. T2 tries to drop names, but can't remember the names he is trying to drop, so ends up saying things like "that middle aged woman who abseils" and "that young, mid to late twenty year old guy", and "that guy whose name I can't remember who came on a trip with me a couple of years ago". Somehow Kevin managed to guess some of the people's names, and, despite the poor clue giving, was still engaged by T2's 'Guess Who' style game.
Gary, dismounts his large white van, already shirtless and ready for a day in the bush, a little pre-emptive. He is eating a persimmon, one of the most sensorially satisfying fruits you can eat. He later explains that he is a philosophical naturist. Somehow, this fits in with the initial persimmon eating. Possibly it is an innocence of that sensual fruit. Edenic.
There are handshakes and introductions around the small group, while the other half is off visiting the toilets in the park. There isn't that much point, though, except out of convention, because there will have to be a lot more introducing in a group of sixteen.
This is especially true because people tend to look a lot different naked than they do with clothes on, from my own experience. Perhaps it is not that way for others. I would probably need to be introduced to someone again when they were naked, even if I had met them when they were clothed before.
We piled into four or five cars and headed for the national park, not that far away. A shock for me, if not for others, was that you had to pay to enter the park for the day. This makes sense, but I had never experienced it before. I suppose $7 per car isn't much. Carbon Emissions Offset Tax, you might say.
Once at the trail head, we strip off in short order. It takes a long time to sunscreen up, though. There is a huge surface area suddenly. A train of people forms to make the process of sunscreening backs more efficient. Some people elect to wear shoes and hats, all have backpacks with lunch and clothing in case we meet any of those Duke of Edinburgh girls we saw in droves along the road through the park. That would be a little awkward.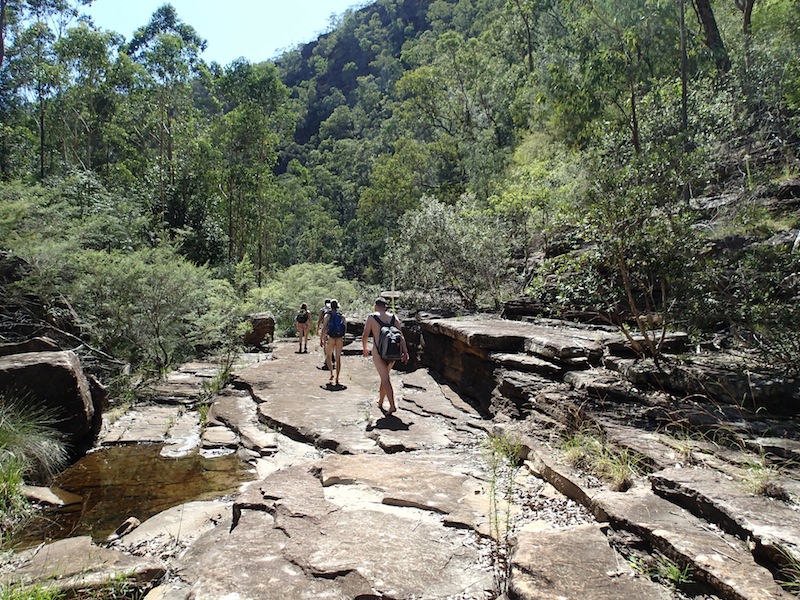 A family showed up, small kids in the back of their SUV. A pause and a few smirks before they quickly left. We had them outnumbered.
The sun was hot. Storms, or at least rain and overcast skies, were forecast all week, but the weather turned out incredibly hot, to the point of risking sunburn.
The walk was pretty uneventful, as we followed a very well-marked trail, pausing at a nice lookout above the gorge of Erskine Creek.
From there it was down, via a few zigzags, towards the creek which we would follow through the gorge for the rest of the day.
We couldn't resist stopping for a swim at the creek almost as soon as we reached it. This also gave everyone a chance to cool off or catch up to the group, or both.
Of course, we made lazy progress after the swim. No one was in much of a hurry. We walked on a track along the right bank of the creek. It was a good feeling on your skin, mostly. There was the tactile feel of scrub, sticks, all the different types of plants, and the occasional spiky leaf that wedged in the tender parts between the toes of the barefoot walkers.
I found I remembered my surroundings with greater ease. Others commented that it made them more focussed on the tactile experience.
As we moved upstream the track became fainter, before disappearing completely. We turned to the creek itself, scrambling and rock hopping along. The added challenges made things unexpectedly difficult for a few of the less experienced walkers, but they pressed on.
In the creek-bed the sun beat down surprisingly hot, also taking its toll on some. But there are advantages to being nude, particularly the body's more efficient temperature control and the ease of slipping into the cool pools along the creek. Much more effective than the complex ventilation systems facilitated by expensive sythetic hiking fibres.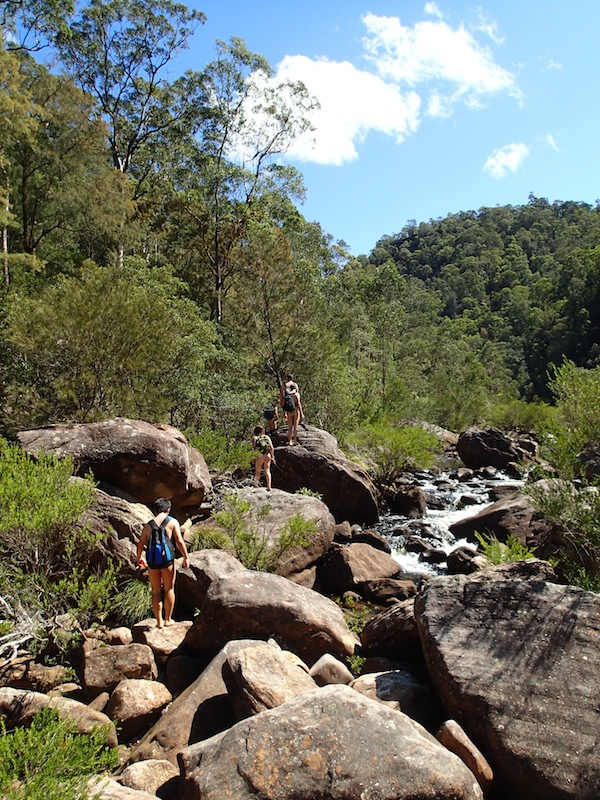 As we made our way along there was more swimming at various points. There was a small rock jump and some nude calendar shots on top of a giant rock in the middle of a pool.
More reapplication of sunscreen. We were improving in our efficiency.
The lunch spot was a total winner. There was a waterfall, which Kristian was the first one to mine for the great back massage it offered. Everyone soon followed suit. The other highlights included a waterslide and bouldering opportunities.
Everyone ate lunch, napped, bouldered, and waterslid, or swam, for a couple of hours. Sierra and Kristian were notable nappers and climbers. Tully was seen to meditate. All was peaceful.
We finally conceded we would have to leave in order to get back at a reasonable time. On the walk out there was a little bit of sadness and nostalgia for me, because I knew the ascent meant I would be going home to put on clothes again. How sad. Otherwise, it was really fun.
There were some scrambles that everyone got up creatively, with some helping hands needed in the trickier places. And there was a lookout. Fantastic views, more photos. Everyone helped each other out and seemed content.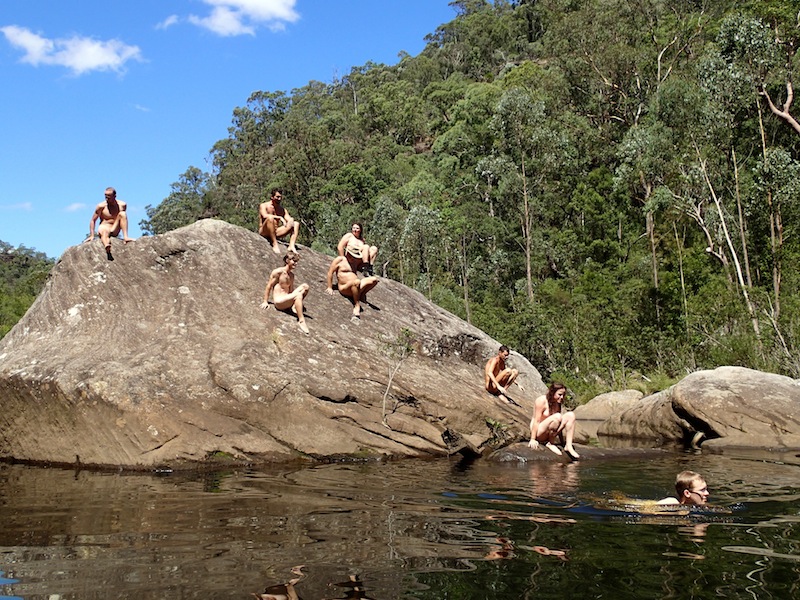 From here it was flat walking through open forest back to the dirt road. We lost the first participant here, as Jason had sensibly stashed his car and grabbed a ride with the rest of us to the start. The remainder of the group pushed on a kilometre or two along the road, back to our starting point.
At one point a car came past, with the occupants sporting some rather large grins. A guy in the back gave us a 'Queen wave' as they slowly drove by.
Then that was it. Back at the cars, it was time to put clothes back on and head home.
A successful trip. Great weather. Wonderful company. But a little sad to be stuck wearing clothes. We couldn't help but feeling they didn't quite sit as comfortably on our bodies any more.