Bjorn recently went ski touring in Rondane National Park, Norway. The following trip report is by Jeremy Platt (reproduced from his blog, which also has extra photos). All but a couple photos taken by Bjorn.
Party: Jeremy Platt and Bjorn Sturmberg
After weeks of rain had melted all of the snow in Oslo's surrounds, the freezing temperatures of central Norway beckoned us for a quick ski trip before I headed out of Europe for good.
I had also been to Rondane in the Summer and was aware of it's amazing beauty and very much fancied seeing it covered in thick white snow.
Short on time, we headed out on the evening train and started our slog up 800m of hill just outside of Otta carrying heavily loaded packs.
After thoroughly destroying all of my hiking shoes in the last 8 months, my only remaining shoes were suede business shoes purchased in Lithuania, which actually did surprisingly well on the icy road. Half way up, we ran into our first stretch of luck, and managed to score a lift up the rest of the hill with a local tourist bus, leaving us only 7km from Mysusaeter, the gateway to Rondane.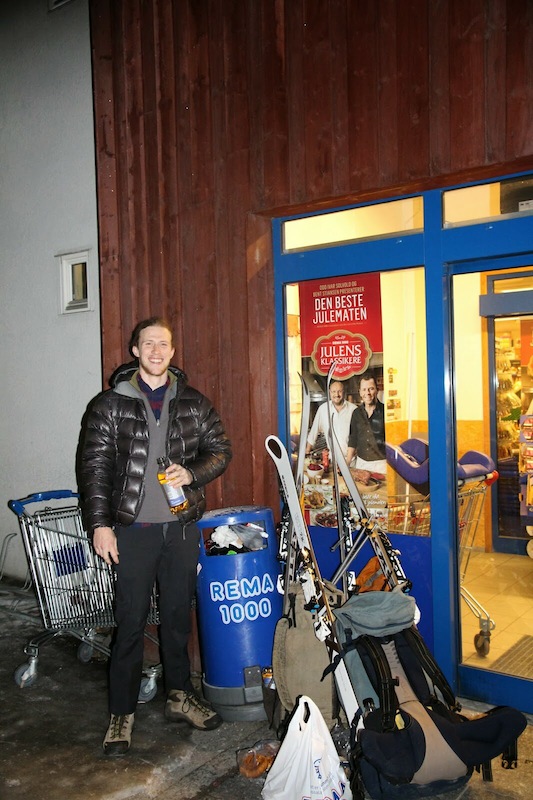 While on the train we ran through all of the terrible possibilities awaiting us on this road bash, including but not limited to: slippery ice, frigid temperatures, wind and general roadbash boredom. Happily, none of these burdened us and even more, the fresh snow perching on the tree tops and the road underfoot actually made for a delightful little stroll.
Upon getting to Mysusaeter however we had our first setback. The car park was unexpectedly far away (4.5km), leaving us around 16km from our destination. Adding to this, the road now turned into loosely packed snow, greatly slowing our pace.
A stiff breeze also started to develop and clouds started rolling in, blocking our full moon. Then, after battling with our new ski set up and almost loosing our fingers to frostbite in the process, it was time to call it a night and find some shelter.
This time, shelter came in the form of an unused balcony which we quickly commandeered, escaping almost entirely from the rising wind (it was projected to be 90km/h seven hours later). Here we huddled eating some frozen pre cooked pasta and a stick of salami psyching ourselves up for a long night ahead.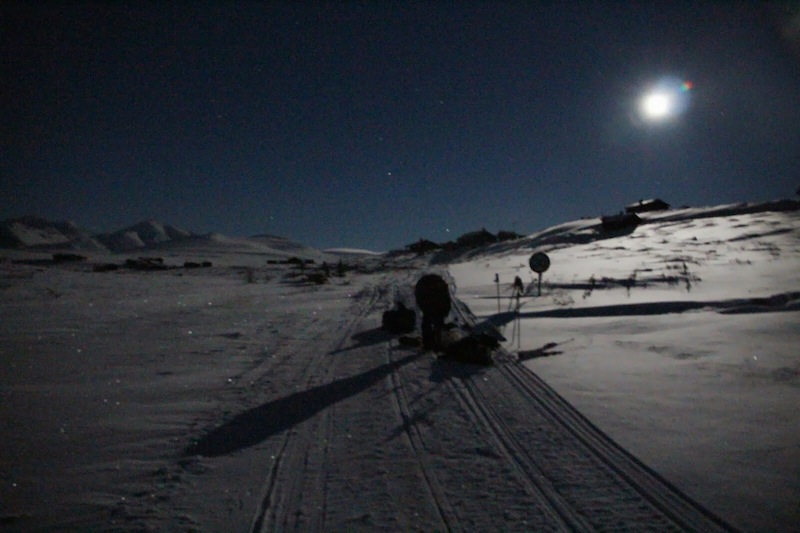 Sleepy times started well, however we were interrupted quite drastically by a change in the wind direction leading to snow blowing fairly freely over the balcony barrier into our cold little faces, leaving us to wake covered in snow.
Rondane is Norway's oldest national park and hosts both some of its tallest mountains (Rondslottet – 2,100m) and rarest fauna, including wild reindeer and musk ox.
Rondane is very popular with Norweigans who flock to it on skis, bikes and boots. In the summer and late in the winter (when there is more snow and light) the park is awash with tourists, however in these shoulder seasons running into fellow travelers is very rare (we had the park to ourselves).
So with the rising light (sun would be too strong a word for it) and dying wind, it was time to quickly throw our boots on and make towards the Rondvassabu hut.
Even before the last buckles were done up on these huge plastic abominations, I knew something would go wrong. The boots quickly started gnawing away at my ankles from both sides and by the time reached the start of the track (after 2kms of skiing), they were feeling pretty rough.
Also, while completely exposed to the wind and the cold there was little I could do but slog away and look forward to hut booties at the end of the day. Fortunately, by midday the wind had died down considerably and the views to both Rondane and Joutenheim were spectacular.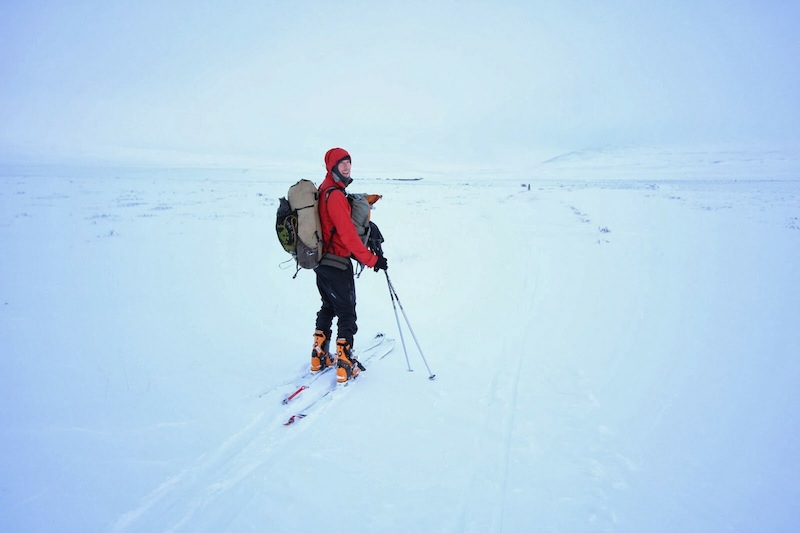 Now, a couple hours later, as the sun was happily departing, we slid past the partially frozen rivers and lakes adjoining the Rondvassabu hut.
Rondvassabu was built at the turn of the century and sold to the DNT (the peak Norwegian outdoor body) in 1932 and has since been used extensively. With 132 beds (in peak seasons), ATM's and internet, this hut dwarfs its equivalents in Australia and New Zealand.
In the off-season, however, only one small cosy section of the 'compound' remained open for self service trippers. Here we thankfully rid ourselves of our skis and packs and settled in for a night of strange Norwegian canned food and a purring fire.
The next day brought about strong winds, heavy snow and more fire and canned food. This had to be one of the most delightful enforced rest days of my outdoors career. We would eat a little, have a sleep, eat some more, maybe tie knots for a while and then repeat the process.
After this very relaxed pace and an excellent sleep, it was time to put the skis on again and make our way to Otta.
The strong winds from the night before had really blown the snow around, leaving a patchwork of deep snow drifts and bony rock gardens.
As we climbed up these drifts the temperature started to plummet towards the expected daily low of -17C and our little stash of hot chocolate and soup was quickly consumed.
We also encountered our first downhill sections of the trip, which saw our rusty skiing skills take us between some fairly treacherous rocky patches and overhangs before flattening out into a some nice flowing sections which allowed for a couple of reasonable tele turns.
After a little more slogging we continued down down down along freshly groomed trails into Mysusaeter and then onto the road back to Otta, which was slippy but firm enough to allow for some tele skating into the setting sun.
With a couple of final large night time downhill sections (on the road) it was time for us to take off the skis for the last time and replace them with the familiar feel of business shoes.
Now walking through town, having a chat about where to camp (high on the list was the heated ATM room) in the expected frigid temps, we saw a train pulling into the platform.
Bjorn quickly declared 'I'm not running for that', but with a little hope and knowledge of Norwegian sympathy I decided to head for a mad dash which luckily got us on just as the doors were closing, securing us a nice warm Oslo apartment that night.
All in all a great little trip to round off eight months around Europe and Asia!
ORIGINAL TRIP REPORT WITH MORE PICS: adventuresandtinkerings.blogspot.com.au