Party: Sky Reidy, Monica Wong, Mitchell Isaacs, David Langeder, Clinton Bradley, Justin Liu, Sarah McGeough, Kshitij Sahni and Claire Chatry
I'd previously done Fortress Canyon with Victoria Benz and was impressed with the easy walk in and out, not to mention the spectacularly scenic lunch spot above a 200 metre waterfall with sweeping valley views.
Fortress is also the perfect introductory canyon, well suited for beginners as there is only one abseil of eight metres.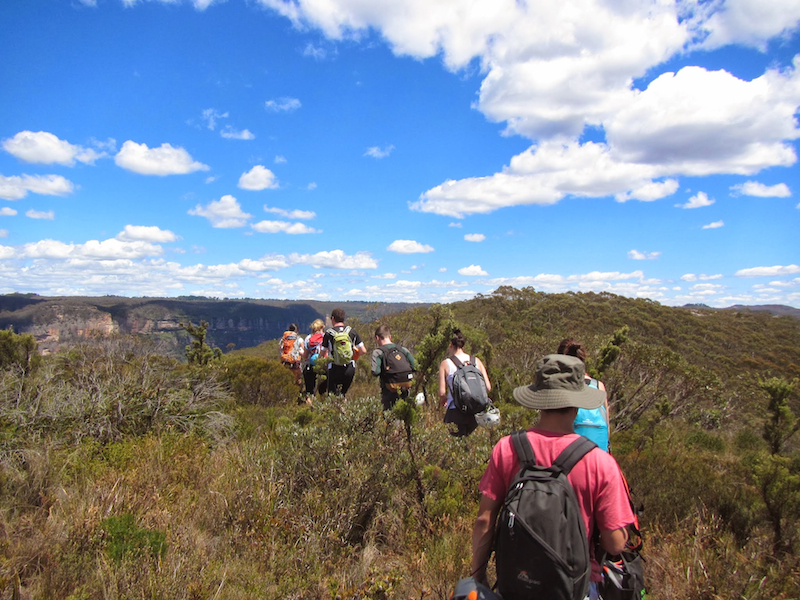 Out went the announcement and we soon had a large contingent of SUBW beginners signed-up in addition to some friends who were keen to experience canyoning.
We rendezvoused at my favourite meeting spot in the Blue Mountains, the Schwartz Patisserie in Wentworth Falls, where we loaded up with baked treats before picking up Mitch en-route to the canyon.
There were the usual navigational challenges during the walk-in, much to the bemusement of our group. Mitch kindly nudged us in the right direction despite my initial insistence that the track was "just around the corner".
Funnily enough, we were then followed-in by other folk who were clearly more baffled than me!
Approximately 100 metres up-river from the drop-in point Mitch led an introductory abseiling session which was sufficient for everyone to confidently tackle the canyon.
It was a scorching hot day so we were keen to get moving and hit the river; however there were still some squeals at the first touch of icy cool canyon water.
Fortress Canyon is known for its lengthy swims. Even in summer a wetsuit is recommended.
We splashed, jumped and paddled our way through the canyon admiring the numerous water dragons, tadpoles and small river fish.
Although it is a relatively small canyon, there are some really nice sections including a long swimming stretch which has some lovely canyon constrictions on either side.
All too soon we reached the end but were rewarded with amazing views across to Lockley Pylon and across the magnificent gorge.