What could be better than than a calendar full of stunning photographs of wilderness? What if you added a band of bushwalkers enjoying those spots in the most natural way possible? And how about having the profits go directly to an organisation that campaigns to protect and expand those amazing wild places?
Well that's exactly what the crew from the Sydney University Bushwalkers are offering the discerning nature calendar connoisseur. Best of all, the club's much-anticipated follow-up to last year's "Men & Women of SUBW: 2013 nude calendar" contains a spectacular array of high-quality photographs.
From the high plateaus of Kanangra, to hidden waterholes in the lower Blue Mountains, from the depths of plunging slot canyons, to the rocky pinnacles of the Gardens of Stone, this band of bushwalkers have gone far and wide to lay bare Sydney's bountiful natural assets.
While bushwalkers have always been known for their penchant for some impromptu nudity — you'd be hard-pressed to find a river or stream in the Blue Mountains that hasn't hosted a steamy mid-summer skinny dip — SUBW has raised the bar in recent years with a series of nude walks, canyons and even natural yoga sessions.
Not content to just immortalise these beautiful places in print, the club decided that every cent raised should flow straight to the Colong Foundation for Wilderness, which has spent decades ensuring these natural treasures are protected for future generations.
They've also dispelled once and for all the myth of the disorganised uni student, because while it may have taken the club almost 20 years between producing their first and second nude calendars, this year's effort is not only an immediate follow-up, it will be printed in November, allowing delivery a whole month before Christmas!
And with an affordable $20 price tag — that's less than six cents for each of the 365 days of joy you're guaranteed to enjoy — there's no excuse not to have this calendar hanging proudly on your kitchen wall (or less proudly tucked away in the shed).
It makes the ultimate gift for any outdoor enthusiast, not to mention an easy conversation starter as curious dinner guests question the naked bushwalkers dangling from your wall.
Pre-orders are being taken now, with postage options that allow you to pick up a copy where-ever you live on this great big globe.
Last year the calendar sold out, so place your order early and you'll be enjoying your very own copy of this limited-edition collectors item in no time: www.subw.org.au/calendar.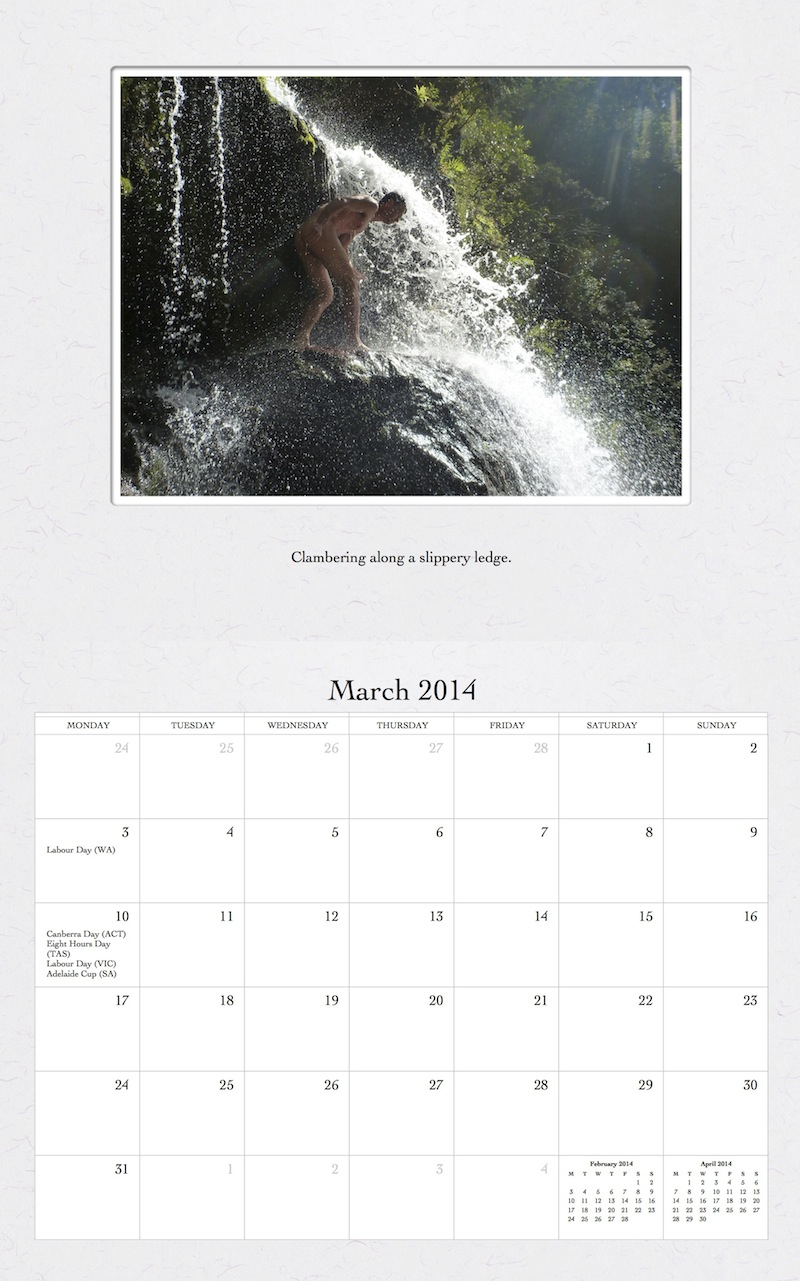 P.S. Check out the story about the 2014 calendar in Sydney Uni's student newspaper Honi Soit.
P.P.S. Last year it was discovered that the club had indeed printed a previous nude calendar in the '90's. Despite my best efforts I have been unable to track down a copy, or even any of the images. If you have a copy, or know where I can get my hands on one, there is a reward on offer!