FreezeFest was much bigger this year, with quite a few trips taking place over the weekend, so each canyon has been written up by a different participant. This trip report was produced by Shaun Nielsen:
While sitting around the fire at night, after the real Freezefesters had done their stuff, it was suggested (by Michael, I think) that we go for a walk down the road. A couple of us agreed, but then it was further proposed that we go do a dry canyon. Considering it was a canyoning weekend, an attempt of a canyon seemed like the best idea.
Upon deciding where to go and who will drive, Wolgan View Canyon was chosen, and everyone jumped into Josh-U-a's (the wonderful canyon singer) ute. We all packed in — a couple in the car and a lot more in the ute tray.
It was quite a fun drive, listening to the hollering from the guys in the tray as we went over the bumps, potholes and through puddles of water. Meanwhile, Joshua was hard at work clearing the condensation from the windscreen while driving roughly 10 people.
We arrived at the parking area for Wolgan View at around 9pm, and as we gathered together we realised how bright it was owing to the almost full moon. With head torches off, we began our way down the path.
It was spectacular walking through the bush in moonlight. The large boulders and pagodas looked eerie and, along with the trees, cast awesome shadows.
The pleasant walking was cut short when a large, unseen branch of a fallen tree decided a jousting game was in order (I still have a bruise and broken skin on my thigh, almost 2 weeks later!). I heard this game was played with someone else too (Sorry, I've forgotten names now, Ulla maybe?).
A slight back-track after walking past the turn off and we were on our way to the start of the canyon proper. A short climb down and the canyon began.
The moonlight was not reaching down here so well, so it was pretty dark. At times there were flashes of head torches, sometimes my camera (I thought I had the flash off?) but mostly it was walking in the dark.
At one stage the sound in my left ear seemed to have changed. Flicking on my light I saw that the canyon wall was about 10cm from my head. Lucky!
We all continued through the canyon, observing a few glowworms along the way. Looking up at the bright sky through the canyon was fantastic.
At another stage I waited behind while I took extended shutter release photos. I wondered to myself if there were monsters here. I was clean picking for one following us — who could take me without anyone knowing…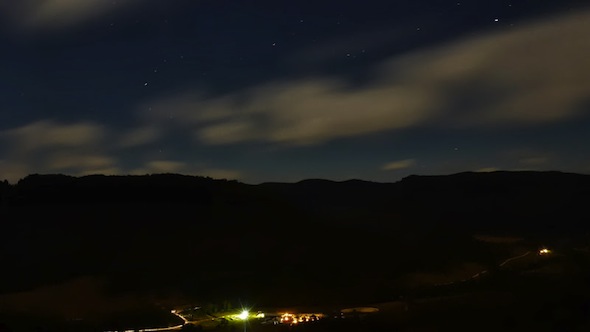 Near the end, I and a third member followed Drew on some easy — sort of — down-climbing towards the lights we could see in front of us. Assuming they were the other folks, we continued. We then realised that these lights were from down in the valley, and everyone else was up above us.
Some short bush bashing upwards and we were back on the track. We reached the guys on the pagoda and enjoyed the views into the valley and the night sky that was moonlit against the hills in the distance. Again, I had to wait for my various 15 and 30 second photos while everyone trod back.
The walk back was nice, it appeared to be a slightly different way than the way in.
Ian was now waiting for his camera to take photos. Drew, Ian and I made our way back after everyone else. We managed to take a wrong turn after getting too involved in discussions of Shark Attack 3, Mega Shark vs Giant Octopus, and the Feast series.
A short back-track, then along the right path, and we meet up with Michael, who had realised we were taking a bit long. Again, we took an alternate route back to the car.
A great trip was had, and we arrived back to camp at 11:45ish, with Joshua aiming for the big water puddles this time.
Check out the rest of the canyons visited during FreezeFest 2013 on the Newnes Plateau: