Wet canyons can be extremely cold places, especially when they are more technical and require lots of time spent pulling down ropes while swimming in icy water or rigging abseils in the chilly spray of a waterfall.
While many people solve that with wetsuits, the added weight and bulk in my pack, not to mention the reduced mobility in the canyon, make me steer clear for all but the coldest trips. Especially for multi-day, remote, or exploratory trips, I'd rather leave the wetsuit at home.
Traditionally that's left me with polypropylene thermals. They're essentially the 'McDonalds' option: cheap and nasty but they do the job. So when Kasia from Globewalker offered me the chance to test the Brubeck Merino Extreme thermal top and long johns I jumped at the chance.
Over the course of summer I've used them extensively in cold canyon environments, sometimes alone, sometimes with a light thermal over the top, and occasionally under a spring suit. For the long johns, I've tested them to the point of failure. Interestingly, the top was much tougher and probably has at least another canyoning season left in it.
Technical specifications:
I'm pretty sure everyone reading this has at least had a look at merino thermals, if not worn them. They have a range of selling points: it's a natural fibre, it's soft yet strong, it's very warm, and best of all it doesn't get stinky.
The difference with the Merino Extreme is the thickness of the fabric that is used. It weighs in at an astounding 236 grams per square metre, making it much heavier (and therefor warmer) than other merino thermals on the market.
Interestingly, it's less than two thirds wool. It actually contains 37 per cent Polyamide and two per cent Elastane, which I assume is about providing additional strength and flexibility to the garment.
The mix also apparently means you don't get the scratchy feeling of straight wool (although my wife's sensitive skin still found them slightly irritating) while still retaining the bacteria killing properties that keeps wool from smelling on long sweaty hikes.
The manufacturer pitches these thermals as a base layer for extremely low temperatures, with "high thermo insulating properties" and "natural thermoregulation" that wicks away moisture and retains its thermal properties when wet.
Testing:
This product is normally pitched to people after an extremely warm base layer for activities like winter walking, skiing or mountaineering. I didn't know anyone who'd tried this thick merino fabric for canyoning.
Over the course of summer these thermals probably did between 20 and 30 days in the bush. From short easy canyons to long cold efforts. They also came along for some tougher multi-day trips where a wetsuit would have been extremely inconvenient.
After taking them out of the packet I put them straight on, curious to feel the difference with my usual polypros. The fit was snug but they were flexible enough not to impede any movements. I was a little blown away by how warm they felt, and the fact that after a matter of minutes I had to take them off. They felt sturdy, but I was a little unsure how they'd deal with the abrasive rocks and spiky branches they'd encounter in Australian canyons.
I often do the canyon walk in wearing my polypro thermals, but I quickly discovered these were too warm for that, and required me to change near the start of the canyon.
Once on, they warmed me up fast, and true to their promise they retained much of that warmth when wet.
I was a little unsure how they'd hold up to the abuse of canyoning (where unlike normal activities the arms and legs are directly exposed to damage). Surprisingly, the shirt suffered very little damage. It has a few small holes, but they have not grown with additional use.
The pants on the other side struggled. I quickly damaged the knees while scrambling, and the hole on my left knee became massive after catching on a branch. I wasn't surprised though, as my polypro long johns are always torn to shreds too.
The one major disappointment was the crotch panel on the pants. Even when new it seemed to be a weaker construction, and before long it began to give out. By the end there was basically nothing left of this panel. This was the only damage that I couldn't attribute to my use. It also concerned me that any outdoor activity that required extensive leg movement would likely cause the same failing.
The other issue was that the thick fabric, while still warm when wet, becomes very heavy. It also takes a long time to dry out. Whether wearing it or putting it in my pack for the walk out, I'd estimate the garments double in weight when wet.
As far as the promise of remaining smell free, it was hard to tell as in canyons you're often in water, but they definitely remained odourless as far as I could tell, including in sweatier dryer section. I did notice that when the dirty thermals were left in my pack or the laundry they definitely didn't smell as bad as my polypro stuff usually does.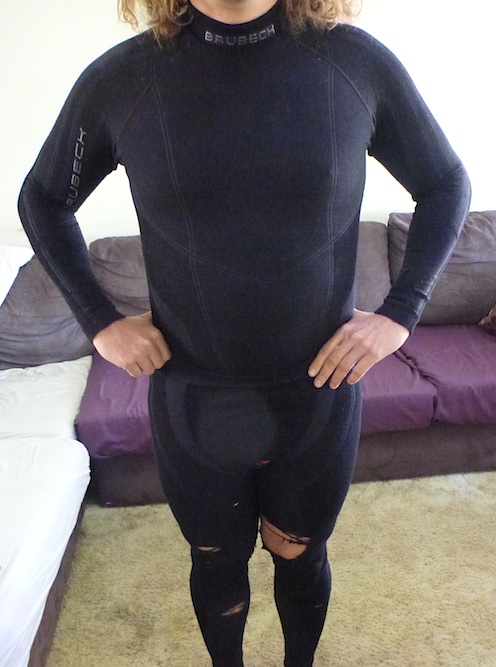 Conclusion:
I almost feel like I need to review the top and bottoms separately.
The top exceeded my expectations. It was very warm, even in wet or windy conditions. It was hard wearing, showing very little signs of damage. It held its shape and remained comfortable.
The long johns on the other hand were always doomed to failure. Scrambling, chimneying and kneeling were always going to destroy the knees — as they do to polypro thermals. I was extremely disappointed by the crotch panel, which seems to be a design weakness.
In the end I was taking the top, but not the bottoms on trips. I think that is a practice I will definitely continue to do for wet canyons.
Now that we're coming into winter I'm also looking to use them in the conditions they were designed for. I am quite confident that as an extremely warm base layer they will perform well. They wick sweat, and in pursuits where they don't get soaking wet they won't end up too heavy.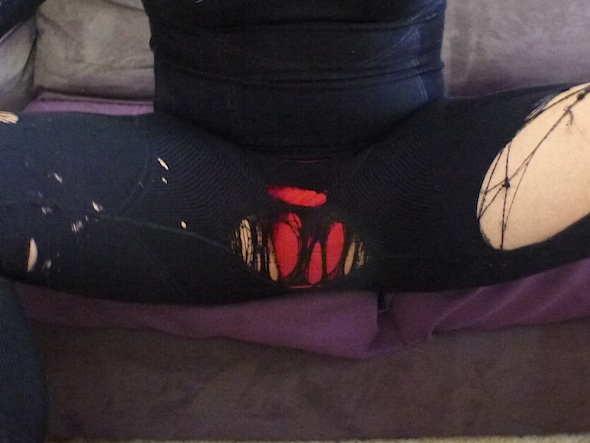 So would I buy them?
While expensive (the top is $109 in Australia), they definitely provide some serious bang for your buck. And the fact that they use merino wool from Australia and New Zealand is a positive. I think the top is worth the investment if you want a thermal top that is extremely warm while using (predominantly) natural fibres.
The bottoms on the other hand are no good for canyoning, in my opinion. I'd rather stick with cheap polypro for that job. Even for other pursuits I'd be concerned by the poorly designed crotch panel. I definitely hope they are updated and that is fixed, as it is one of the few drawbacks to these items.
Rating:
Durability / toughness — 3.5/5
Usefulness — 3.5/5
Value for money — 3/5
Overall — 3.5/5