Party: Christian Wilson, Michael Kennedy, Michael Arrell and Tim Vollmer — Christian's photos | T2's photos
– Trip report by Christian Wilson:
Russells Needle. Google it and you don't find too much info: a Sydney University Bushwalkers page from a trip there in 2001 (they didn't actually climb the Needle on that trip), a few entries from bushwalking clubs, and mentions of it in Dave Noble's blog. But not much else.
It is a spectacular tower of sandstone that sits in the Nattai Valley and has caught my interest ever since I saw it way down the valley on a walk near Mittagong.
Recently I led a trip to explore a fairly new route that makes it possible to visit Russells Needle on a long day trip, named the Slott Way. This gave our party of four a good time advantage to do the 18km round trip in a day.
The trail leads off the more popular Starlights Trail near Hilltop. Slott Way runs off the trail out to Ahearn Head which Tim suggested might be fun to do on the way out. Well it seemed like a good idea at 9.30am… The day proved to be so long however, that we had no chance of doing that as well, after our 10 hour return trip!
Although the whole route is vague and virtually non existent in places, we found navigation to be fairly straightforward.
The thick scrub sometimes produced a few curses, but since the area is wild and quite spectacular, everyone was in good spirits for the day.
The trail followed a small gully that opens out to a superb lookout over the valley. It then dropped about 300m down to the valley floor and crossed the Nattai River, which was very pretty with birdsong and tall trees.
The trail became very confusing after that, with sporadic markers pretty much anywhere, trails that petered out and then prickly scrub to test our resolve.
A few kilometres later and we could see the ridge line leading to the Needle.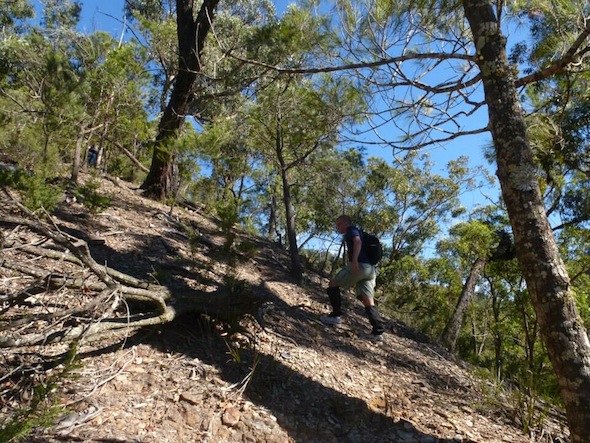 A very steep ascent up the 450m Needle soon brought us to the base of the cliffs, some cairns indicating the way. We found a good spot about 50 m under the summit for a late lunch break with commanding views all around.
As it was about 2.30pm, I was worried that it might be too late to find a way up to the tricky looking summit. Tim and Michael Arrell thought otherwise and proved me wrong. 15 minutes later they were waving from the top.
This fired me up to have a go, and Michael (a seasoned climber) helped show me the route they had found. It was far from easy, with a few very exposed and scary sections.
A false move here would either hurt a lot or could be fatal… in my opinion anyway. Nothing like a bit of fear to give you focus!
The view from the top and feeling of achieving the summit were well worth it.
Getting down was even scarier than going up though, the drop off looked very daunting.
After reaching the river again, we found it simpler walking close to the river where it was clearer, maybe because of the flooding that happens there.
By 4.30pm we were back at the Nattai River crossing and started up the steep exit climb. Michael Kennedy surprised us all by sprinting up the steep track at one point, perhaps he had eaten one too many jelly snakes?
The sun set on us as we gained the firetrails on the tops, and were back at the cars by 7pm after a pleasant hour of starlight walking (on Starlights Trail!).
I think we were all feeling pretty tired by then!
Thanks Tim, Michael A and Michael K, for a great day out and another summit in the bag.
There is plenty of scope for walking in the Nattai, you just have to do some homework first. Even on Google…