Party: Chee, Cathy, Albert, Conrad, Tanja, Maria, Kshitij, Peggy — Albert's photos:
The theme for this trip was "Bubbles and Inflatables". The plan was to walk from Heathcote station to Karloo Pool where we would have a swim and play with inflatable toys and beach balls. Walkers were encouraged to bring swimmers, bubbles, balloons and things we can play with in the pool.
However, that plan didn't look so good once the rain came along. Weather forecast was for isolated showers all day long. A few early emails and messages in the morning were exchanged, many along the lines of: "are you sure the trip is going ahead? It's raining outside". A quick check of the BOM radar assured us that it was raining less in The Shire compared to the city, so it was decided that we would honour the SUBW club motto "Press On Regardless".
Most people caught the train to Heathcote station. The train ride was a good opportunity to get to know the new club members. I also used the time to do balloon twisting and make balloon dogs. Despite the bad weather, I decided to stick to the "bubbles and inflatables" theme. I was very happy to see that Tanja did too. She brought along her rubber duck for the trip.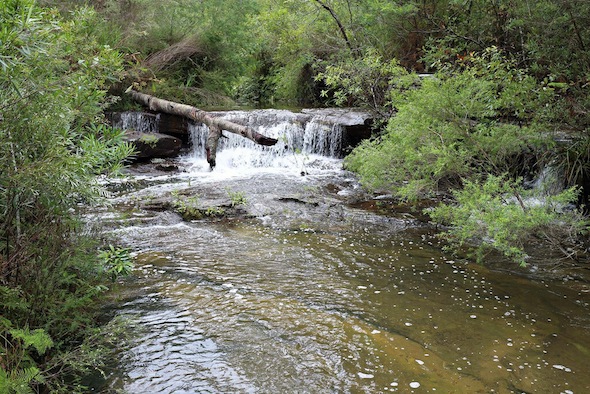 When we arrived at Heathcote train station we found Chee and Kshitij waiting in the car park. It was raining quite a bit now. The suggestion was made to cross the highway and wait a while in a local bakery (perfect place to visit on a cold and wet morning).
We bought coffee and lunch and hung around for about 30 minutes. I brought a box of sweet treats for the group to lift the gloomy weather mood. Much to our advantage, the rain had stopped and it looked like it wouldn't rain for a while.
We returned to Heathcote station and found the start of the Karloo track. The rain had made the track rather wet, but we continued along enjoying impressive views of Heathcote Brook to the north. A few of us had some fun with the balloons whilst walking.
After about 2 km of walking along the track we descended a long ridge and reached the junction of Heathcote Brook and Goonderra Brook creeks. We crossed Goonderra Brook first and then crossed Heathcote Brook just above Karloo Pool.
This spot was really nice and looked like a great swimming hole on a warm summer day. Definitely not today, unfortunately. There were no takers for the swim.
We stopped for a few photos before climbing the ridge to White Triangle Point and Uloola Turrets. From here we had 360 degree views of the Royal National Park.
We followed the Karloo track down off the ridge top to Uloola Falls, which dropped into a densely forested gully. We crossed Uloola Brook and climbed another ridge to reach the top of Gurrumboola Ridge.
We continued along this ridge for 2.5km enjoying the expansive views before descending via White Poplars to Kookaburra Flat on the banks of the Hacking River. We found the place deserted as the rain had kept everyone away. It was the perfect spot for lunch under a huge picnic shelter.
Lunch was a huge feast of many iconic Australian snacks and a few Aldi products as well. After about an hour we packed up and road bashed for 1 km to Currawong Flat and found the start of our exit track.
We climbed Robertson Knoll and then descended the ridge back down to where Kangaroo Creek narrows.
The creek was flowing a lot, which made crossing it interesting. We all crossed safety.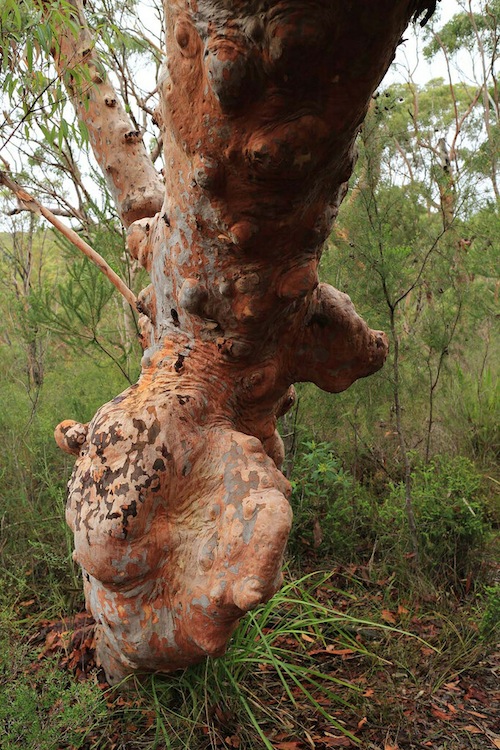 After this we climbed Tuckawa Ridge and after a few fire trail sections, we headed back to the streets of Heathcote.
After a fairly long road bash, we arrived at Heathcote station about 20 min before the next train.
A great day walk. About 15km in total and the weather ended up being okay.