Party: Sky Reidy, Tim Volmer, Todd Harford, Stephen Sheehan, Victoria Benz and Peggy Huang
Our plan for Saturday was to abseil Castle Head, slosh our way through Rennies Tunnel and then abseil Africa Wall and Kilimanjaro. The forecast for the Central Tablelands however included a cold front, with high wind speeds and snow. We decided to press on regardless but knew that flexibility would be key.
Our first taste of the weather occurred when the three girls (Vicky, Peggy and me) piled out of Stephen's car at Wentworth Falls. It had been very comfortable driving from the Eastern burbs, warm heated seats, good tunes and a beautiful, clear blue sky. As soon as we opened the car doors the wind hit us, freezing! Was that rain, sleet or snow? The reason for our detour, Schwarz Patisserie was thankfully only a short, brisk stroll from the car. Hmmm….some food for thought.
We continued to the meeting point at Boars Head, where we encountered Tim in a down jacket! I've never seen him so rugged up and when the first words uttered were 'it's a bit cold and windy', I felt like much less of a wuss.
We decided that Castle Head would be too exposed in the conditions, Tim suggested that we check out the more 'sheltered' abseils near Boars Head (Devils Hole, Whores Bed, Kilimanjaro and Africa Wall).
We scrambled to the start of the Devils Hole abseil, which lands on the chockstone above the Devils Hole. The views were spectacular, snow was clearly visible on the mountains across the gully.
Tim led the way, having wisely set up a rope bag. Todd followed, then Peggy, Vicky, myself and finally Stephen. It was scary and thrilling, all agreed that our senses were certainly elevated. The wind was gusting approximately 40-60km/h, with strong and sustained gusts. We all really enjoyed it.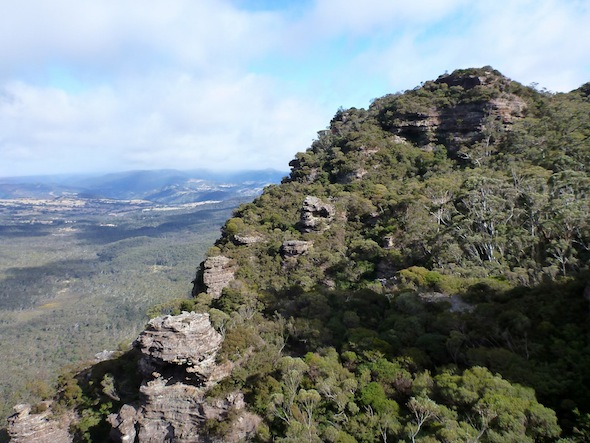 The second abseil from the chock stone was far more protected and a lot of fun. Approximately 30m, mostly overhung. A few of us scrambled back up for a second go.
We decided that it was too windy to attempt Africa Wall and Kilimanjaro, so we opted for the walk out via Devils Hole and then a run at Whores Bed 'canyon'. It was just a short stroll up the road to the Boars Head track, veering off down the left into the gully.
It was much more protected, except for the second (and last) abseil. A fairly standard 30m sheer drop, made more challenging by the wind — particularly for Stephen and I. We had to swing off to the left to clear the rope which had blown up and over a small rocky outcrop. The exit was out was once again via Devils Hole.
We were all itching to have a go at Castle Head or Kilimanjaro but it was still far too windy. We decided to go to the Station Barfor wood fired pizza at Katoomba and see whether the wind abated. It may have. Once settled with delicious pizza, beer and good conversation, we decided to leave that for another day.