Party: Tim "keep up or die" Vollmer, Pete "packhorse" Ridgeway, Sky "$2.5k" Reidy, Mary "midnight run" Merlo, Joshua "bear" Hill, Melissa "Lady Godiva" Freer and Stephen "Ralston" Sheehan — photos by Stephen | Joshua | Mary | Sky | and T2
The Wollemi is one of those places that puts the 'wild' into wilderness. Deep, cliff lined gorges, canyons, scrubby plateaus, confusing winding ridge-lines, this area has it all. So it's no surprise that for about 200 years it was considered that not only could no one live there, but it was probable that nobody ever lived there — an empty patch even indigenous Australians left to the wildlife.
It was a view reinforced by the few white blokes who delved into it's core, people like Major Clews who put huge time and effort into mapping the region. His recollections of his journeys over many years are not only well worth the read, but are responsible for cementing the area's title of "the bad bit across the river".
But then in the mid-90's, out of nowhere, a small band from the Sutherland Bushwalkers stumbled upon a cave brimming with art that changed everything. It took eight years for a team of experts to get out there, but when they finally did they realised this was something special — a cave containing 203 drawings, paintings and stencils in charcoal, pipe clay and ochre. They named it Eagles Reach.
Within it were at least 12 layers of art, from up to five different tribal groups, dating back 4,000 years. It captured the art and culture of countless generations of Aborigines who apparently travelled long distances to specifically visit this area. According to the experts it was the most significant aboriginal site found in south eastern Australia in the last 50 years.
Following on from this scientists, archaeologists from the Australian Museum, local indigenous people and teams of bushwalkers were brought in to carry out an extensive survey of the area. What they found surprised everyone, and included art, engravings, occupation sites, tools and sacred sites dating from thousands of years ago to after european settlement.
In the run up to our trip Joshua and I decided to do some research. Much like wilderness canyons, aboriginal sites are fiercely guarded — for their own protection — so we knew we wouldn't get any precise information. That was fine. What we did manage to do was track down a core area of about 80 square kilometres where most of the action was. We also managed to rope in Pete, who has put in far more time and effort than us to researching the area, and convinced him to make an attempt to find a particularly significant site over the long weekend.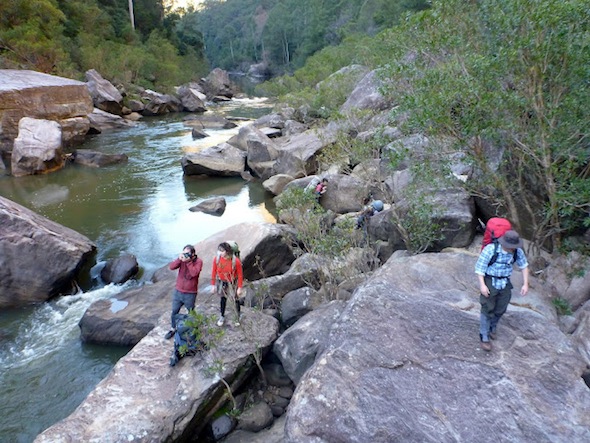 Things didn't start off too smoothly, when we all converged on our fire trail off the Putty Road early on the Saturday morning only to find it was locked while it was being re-graded. This meant an instant 18 kilometres added to our trip.
It was bloody cold, with the two who'd arrived the night before warning us to expect a cold weekend, so we were actually kind of happy about warming up with a road bash through the morning mist.
By mid-morning we were at our steep but easy pass down to the Colo. We watched as the mist broke in the valley below, pausing at a lookout to give our first glimpse over the impressive river below.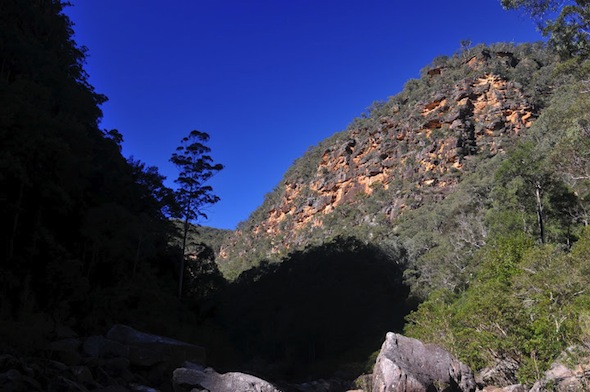 We made slower progress along the river bank, admiring recent flood debris high in the trees, eventually finding an easier route closer to the cliffs. At about lunch time we got to a spectacular open rocky slab, not far from our pass on the other side, so we decided to stop. The arrival of the sun a short time after (not much makes it into the deep gorge at this time of year) convinced us to stay a bit longer than planned and enjoy some photo-pfaffing and lounging around.
Before we set off again Pete decided he really needed to lighten his pack, so his digital SLR, tripod and some other gear — along with my spare rope — were stashed in a dry bag to be picked up on our return. Given the steep pass ahead, it turned out to be a brilliant decision.
The next challenge was to cross the river, and we ended up doing a bit of back-and-forth along the bank in a desperate bid for a dry crossing. The wet summer, and recent rain, meant the level was up a little, so there seemed to be no perfect crossing. Eventually we found a spot where the current wasn't too bad, and there were some rocks not far under the water, making it the safest and easiest place to get over.
Joshua and I set up a rope for people to hold on to during the tricky bit, and it seemed to help. Best of all, when a couple people did slip in it gave them something to hold on to and avoid getting washed away. Once safely on the other side it was only a short stroll to our pass — up a steep, scree-filled gash in the side of the gorge.
We were a little worried by the loose rock, so we stuck to one side to avoid knocking too much loose stuff down on those below. As we climbed we ended up spreading out — all looking for the best route — eventually reconvening up on the ridge above.
From here we climbed towards our planned base camp, pausing to admire the massive cliffs plunging on both sides of us into this most magnificent of river gorges. While the cliffs aren't sheer, in places they seem much higher than those further south in the Blue Mountains, dropping from the flat ridge-tops almost to the very river edge.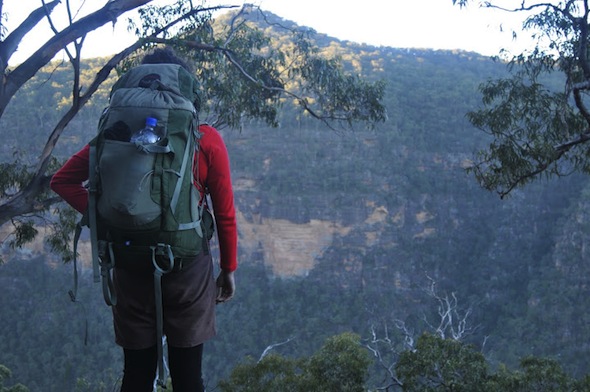 We were all very relieved when we broke through the last of the scrub and hit some minor cliffs under the rocky outcrop we were looking for. We followed it along for a while, finding two reasonable caves, with Pete choosing a quiet one on his own so he could get an early night, while the rest of us returned to the other one. Everyone was stoked to be able to drop packs and take a breather, especially as it was now right on dusk.
Unfortunately we'd all decided to go light on the water, given the steep climb, so we still needed to restock. Setting off through the scrub in the last of the twilight we made our way down to a great little soak where we filled our water-bottles with water. It was clean, and very refreshing, although the algae did give it an interesting after-taste!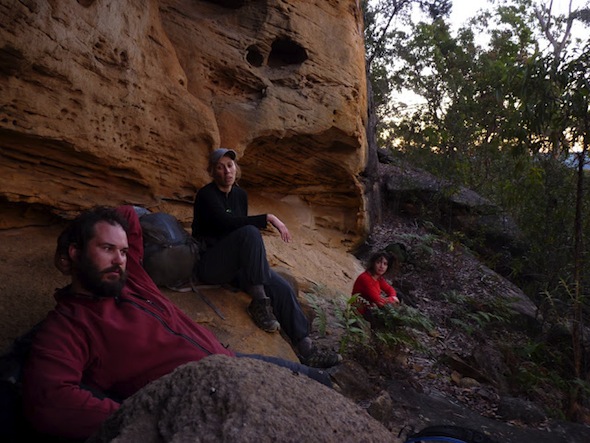 Bashing back up the hill, in the pitch black through reasonably thick scrub, we were all feeling absolutely spent, so were very happy to be able to collapse at our campsite with a nice fire. Despite the tiredness we did manage to kick on for a while, working our way through the booze supply.
We awoke to a most spectacular sunrise. Well, a couple of us did, the rest of us simply took a peak out from our sleeping bags before dozing off again. Thankfully two members of the group decided to take some photos from a nearby rock platform, capturing the sun rising over the blanket of mist that had filled the valley overnight. Bizarrely, over the next hour the mist rose and fell, surrounding us, then dropping lower into the valley, several times.
Today was going to be the key one for us. We only had a few kilometres to walk, and only a few minor cliff-lines to address, so other than that it was simply going to be a matter of searching out sandstone overhangs and looking inside for anything of significance.
Things started well when we quickly found a pass through the main cliff — which Joshua claimed as 'Bear Pass' — before making our way through more open forest to the point where a creek began to cut a deep valley.
Almost as soon as we'd made it down to the creek we found a cave, which offered great shelter, and after a quick look around Pete noticed an unusual bit of quartz. Not a tool, but an out-of-place artefact that showed we were on the right track.
From here we crossed over and made our way up on to a ridge-top. There were plenty of overhangs here, but nothing that seemed in good enough rock for what we were looking for, so we made our way out to the nose.
From this point on we spent several hours zigging and zagging, searching what seemed like close to 100 overhangs, finding passes between cliff lines, and occasionally pausing to admire some pretty magnificent views. Despite our efforts we unfortunately found nothing, nada, zip.
The weather had been steadily turning, with the occasional showers getting more frequent, and after a more distant sweep through the lower creek line itself I returned to find the rest of the group finishing off a relaxing lunch in a particularly large, dry overhang.
We were all feeling a little despondent now, so decided to try the next valley over, but unfortunately time was against us, especially after we were slowed by the thick bush we had to move through. A quicker search, complete with the first of two impressive mini-avalanches from under Stephen, again showed up nothing. Between the increasing rain and decreasing amount of daylight, not to mention the fact we didn't really know where else to look, we decided to head back to camp.
On the way back we refilled our water near the first good cave we found — and the water was delicious — before returning via Bear Pass and making it back to camp with light to spare.
Despite the complete failure of our search — and the fact the rain was now pretty set in — spirits around the fire were high. We had a great overhang, we'd seen some incredible country so far, and we were all feeling stoked to be in such a wild, out-of-the-way place, so far from human contact.
We tried our best to appall Pete with the conversation (the fact we had to finish of the booze supply helped) and we put a big dent in our firewood supply. The dirty fortune cookies were also a huge hit (you'll have to walk with Sky if you want to experience that), and I won't even comment on the $2500 asset on display!
The one downside was bed time, when two members of the group found their tent had been flooded during the day, so had to squeeze their wet sleeping bags and bedding into the rather limited flat space in our cave. Thankfully we all fitted, but it did mean a few more obstacles for Mary to dodge when she went for her midnight run!
The next morning we had a fairly early start. The wet weather meant there was no chance to pfaff about with photos, and we were all keen to be back at the cars before dark. It was raincoat weather from the start, with the undergrowth sagging under the weight of the overnight rain and a light but fairly constant supply of more water continuing to fall from the sky.
Before long we were at the top of our pass back down to the river, but with the wet slippery rocks we decided the scrambling routes to the side wouldn't work and we'd have to risk the loose scree slope down the middle of the gulch.
Within a couple minutes there were several calls of 'rock', as dislodged chunks bounced down into the valley below, but it was Stephen's second boulder (okay, that's a slight exaggeration, but it was a fair old rock) that made us decide to really space out.
In the end there was only one section where we pulled out a handline, and between careful movements and a little zigging and zagging down the slope there were no more rock issues.
We were all pretty stoked to hit the river again, quickly finding the same crossing point and again setting up the rope to help out. Thankfully the light rain hadn't impacted the levels, in fact the water seemed to be a little lower than two days before.
A couple people had made it across when we suddenly looked downstream and noticed Lady Godiva looking to swim across. Eventually she gave up and used our spot, but given the water temp she still got a few points for her commitment to keeping her gear dry.
The return leg along the river was done in quick time, with the rain making life a little miserable, and we'd all decided a nice camp cave near our pass out was the perfect spot for a dry lunch.
Just before we got there we found a large, wet cardboard box on the sandy bank. It seems some numpty (I called them worse at the time) had decided to bring their pack raft down here in its box, but leave the rubbish behind!
Lunch was great, with a nice view of the river from our cave. There were plenty of offers of food as we all tried to get rid of any and all unnecessary weight in our packs before the final climb.
We ended up making quick time on the exit, soon finding ourselves back on the firetrail that in a perfect world our cars would have been parked on.
Given the rain had stopped, Joshua and I thought some nude walking might be in order, so stripped the wet gear off and set off down the trail at a cracking pace (the choice was either walk fast, or freeze, so we chose to stretch the legs out).
Along the way we did notice a few very strange footprints (see pic a little further down, I'm really hoping someone can identify them for me), but other than that the final 9kms wasn't too eventful. By 4pm we'd returned to the cars, huddling inside with the heater on while we waited for the rest of the group.
From here it was meant to be a simple trip to the Ampol, to collect Sky and Mary's car, before heading to the Macquarie Arms at Windsor for dinner.
Unfortunately Stephen's car had other ideas, and a short way along the Putty Road we could hear a strange noise. He pulled over and sure enough, we had a flat tire. With the threat of more rain we made short work of the change, getting everything back in the car and setting off just before the next downpour.
Finally we made it to the pub where we enjoyed some very well deserved cold beers and warm dinners. Objectively, we'd failed miserably in our mission to locate some Aboriginal art sites, but sitting around the table we were all glowing about the walk. It was very easy to understand why this wild place would have had such spiritual significance to generations of people over thousands of years.
The 'bad bit across the river' is spectacular, the Colo is an amazing river, and we're all keen to return again for another attempt to discover some of its hidden secrets.