Party: Tim (T2) Vollmer, Michelle Vollmer, Ulla Heikkila, Christian Wilson, Jeremie Rossy, Carola Benzing, Monica Wong, Annie Cote, Barry Vincent and Peggy Huang — photos by Barry | Monica | Christian | T2
Donkey Mountain is about as close as I can imagine to what bushwalker heaven might be like. An amazing island of rock, soaring out of the valley, ringed by towering cliffs, dotted with distinctive pagodas, the rock fractured by countless cracks, canyons and caves all waiting to be explored.
It is a playground for big kids, and despite looking quite small on the map it seems to contain an endless array of new places to discover and be completely blown away by.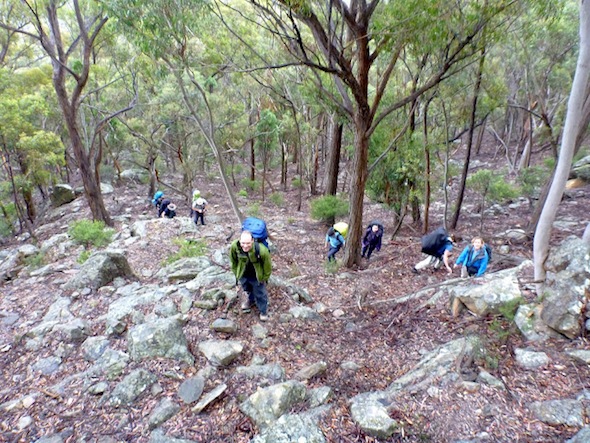 I'd only been there once before, on a very enjoyable trip two years earlier. On that occasion we'd made a late start on the Saturday, thinking there couldn't possibly be enough in this one little area to fill a whole weekend. How wrong we were!
Since then I've been pining to get back, especially as we'd found the amazing sketch maps by Geoff Fox on the last trip that cover off so much of what can be explored and provide a constant reminder of just how much I've missed out on.
Since Michelle had been diagnosed with diabetes just after Christmas she'd been pretty nervous about doing an overnight bushwalk, unsure how her blood sugar levels would deal with the added exertion and worried about being a long way from medical help. But six months on she was finally feeling more confident and started asking me to organise something, so a trip like this, where most of the physical effort is optional, seemed the perfect idea.
Leading up to the weekend the weather wasn't great, with the forecast of more showers. By the Saturday morning the meteorologists had been vindicated, with a very grey sky and light rain as we drove over the mountains.
After a few delays (a nameless person managed to leave home without packing their food, so had to turn the car around and dash back for it!) the whole group converged on the Lithgow Maccas and we set off for the last leg into the Wolgan Valley.
We parked at the small carpark near a stile that leads to the south western end of the mountain, but when we set off through the bush we ignored this, heading towards the other end of the mountain. Our aim was to complete a full circle, with no need for any backtracking, and we not only wanted to camp at the other end, but most of what I still wanted to explore was up there.
It wasn't long before the rain decided to join us, making for some pretty soggy going, and encouraging us to pause whenever we found an eroded overhang under some of the huge slabs of sandstone that have rolled down the slope over the eons.
My memory of the way up was a little hazy, and between the mist and rain it was impossible to see exactly how far along the mountain we'd skirted. Eventually we started pushing straight up the slope (a couple hundred metres early as it turned out), finding an apparent break in the cliffs and pushing up a steep ramp towards it.
It was like a children's book. One minute we were scrambling up a steep, barren scree slope, with cliffs looming on either side, then with a final tricky move we were through a hole in the wall and into a little ferny garden. It turns out this little window took us directly to the impressive Donkey Canyon, which best of all is fairly close to the secret little room we planned to spend the night in.
We walked through the canyon — the walls towering above us — admiring the little ferns and orchids clinging to the walls, before coming to the awkward scramble at the eastern end. With some pack passing and helping hands we quickly had the whole group up.
The plan was to head straight for the Grand Hall — an amazing camp site hidden between the pagodas where a canyon forms one entrance and a narrow crack in the rock the other — that has an enormous chockstone offering a sheltered spot for the fire in wet weather. Within a matter of minutes we were there, packs were dumped, tents set up, firewood collected, and an early lunch started on.
The weather didn't improve over lunch, and it was pretty clear the rain and mist were set in. Michelle decided to stay put — we'd lit a fire and pulled together more than enough firewood to last our stay — while the rest of use started to look around.
Just metres away some of us found an amazing narrow crack, leading up into a cave that overlooked the camp site, while others continued out through the canyon. From this section the cave carved right through the cliffs, joined up with the other side, and provided access onto the pagodas above.
After exploring we returned to the cave, planning to climb back down the crack, when we suddenly heard voices. Looking down we realised there was a lower cave that again cut through the cliffs to a bark-filled ramp on the other side. There were the rest of the group!
We spent the next half hour scrambling out onto a chockstone above the little canyon, climbing several pagodas, drinking water from rock pools (yes, I was reminded several times about my email which said 'bring lots of water, as there's no water on Donkey Mountain'!), found several little creatures and admired the misty valley views, all without being more than 100m in any direction from camp!
Eventually we started moving further afield, fairly methodically exploring each new area we came to. Each 'room' seemed a little different, with some filled with head-high ferns, others being more open, some containing nettles, and still others being just dirt or bark covered ground. We clambered up to hidden caves (Peggy found the most precarious, leaving us all a little nervous as she made her way back down), through more narrow cracks, past the grassy 'cowpasture' and up onto some really impressive pagodas that overlook the Emirates Resort.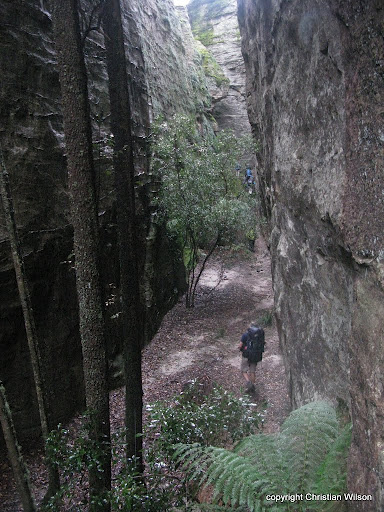 Looking down at this resort (where Aussie cricket captain Michael Clarke recently held his secret wedding) it seemed mind-blowing to think people were forking out $2000-plus a night and yet the views from up here were better than anything they could see! It just goes to show that the best things in life really are free.
We could also look into what appeared to be a short but impressive canyon, which we unfortunately didn't have time to explore due to the short winter days, but it was good to provide a specific area to ferment deep in the subconscious and encourage me to come back again soon.
We looped back around via another ramp which took us back down into the bowels of the mountain and close to our camp site.
Despite the rain, which pretty much kept up all night, we had a great time sitting around the nice warm fire, with lots of great food and plenty of interesting conversation from a diverse group of people. It never ceases to amaze me how different bushwalkers are, but how easy they all are to get on with!
The next morning the weather was a bit better, in that the rain had basically stopped, but the threat of more showers was ever-present. We had a relaxing time around the breakfast fire before finally packing everything up and setting off.
First stop was a few pagodas nearby which not only offer stunning views into the distance, but provide interesting vantage points into some of the deep dark crevices on the mountain, including a great view down into Donkey Canyon where we'd walked the morning before.
Once down we discovered that one particularly large pagoda, that several of us had been on top of, was hugely undercut and looked most precarious.
We made our way back towards our camp site, picking up our packs and heading off to the west through Donkey Canyon. Not long after making our way through here we headed into the amazing Titanic Canyon. This is actually an amazing triangle of rock with canyon-like cracks on each side.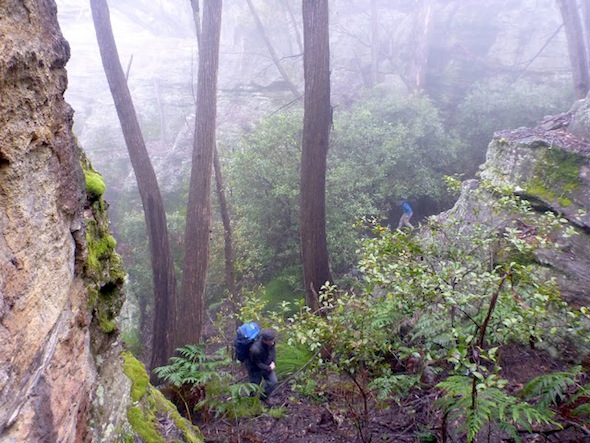 We climbed up a large rock that is starting to flake away from the cliffs, looking out a window to the mist-filled valley, before climbing back down and through a small cave to one of the cracks to the outside of the mountain.
This canyon gets so narrow that moving through it at ground level looks pretty awkward, so we all sidled along an ironstone band several metres above the ground — trying to ignore the fact that the rock was fairly slippery following the rain — before chimneying down to the ground. Once through we popped out at the base of the mountain's cliffs. We followed along, making our way back through the next crack that brings you full circle.
There was another crack nearby that I'd had a look at on the previous trip, but that was incredibly narrow and dark and had stopped me in my tracks. This time I grabbed the torch and made my way in, pushing on as it narrowed and dropped. Eventually the crack split into two, making the gap I was in even narrower, and I figured it was probably geting a bit too small given I couldn't even turn my head at that point. I did hear some voices, with a few of the others examining it from the other side, so perhaps with a bit more perseverance it could have been done.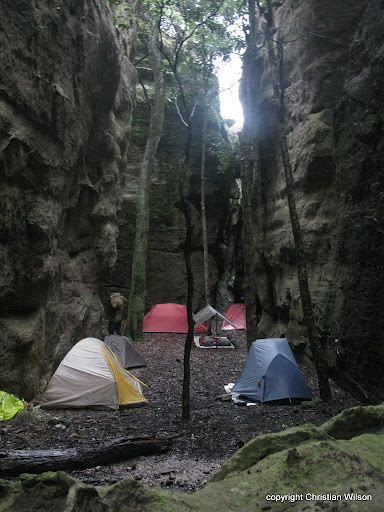 From here we went up through a steep, narrow ramp to the mountain top. This middle section is quite unlike the rest of Donkey Mountain, with a wide, flat, scrubby forested area set back enough from the cliffs to hide any views at all.
Continuing along the mountain there were plenty of interesting ups and downs, with more cracks and crevices to explore. We climbed on a few of the more impressive pagodas and rock platforms to admire the views, at one point even saw the cars parked tantalisingly close by (if only we were birds).
Right as we were getting towards the great lookout that offers views over The Columns and the south-western end of the mountain the weather turned again, with the wind whipping up and rain coming down. It was enough to make sure we didn't dally.
There were a couple slightly hairy bits as we followed the track steeply down, with some big drop aways and lots of wet, loose rock. The rain was still coming down, and we were really keen to find some shelter. I had a vague memory of some overhangs not far ahead, and we pushed on a short distance to the best of them — a huge cave on a big bend in the cliffs, with expansive views.
We sprawled out, enjoying our lunch (and attacking any other snacks we could find still in our packs) while the weather improved a little.
Soon after we dumped our packs and went looking for the ramp up onto The Columns. I missed this last time, so was really keen to have a look up here. It included a few highlights, such as some leaps of faith over cracks in the rock that plunge 50 metres or more below you. It also provided amazing 360 views both ways along the mountain, as well as into both sides of the Wolgan Valley.
Eventually we went back down to the saddle, grabbed our packs, and continued along the shale ledge that leads to the big overhang near the track off this end of the mountain. With the weather still looking ominous the group decided against exploring the very end of the mountain — as the views are fairly similar to what we'd just seen.
The track down was better than I remember, although there were still quite a few little lose rocks sent jangling past on the steep scree. There were also a couple points where fairly recently fallen trees provided brief obstacles. Eventually we were on the start of the faint ridge to the road, which was lightly treed and made for very nice walking.
Lower down, as we followed the remnants of an old fence from the area's cattle farming past, it became almost park like, with grasslands under an attractive mix of trees. I'm sure this spot is incredibly popular with the roos, given how well grazed it was.
Back at the cars we were all stoked to be able to get out of the wet clothes and into something dry. Once changed we quickly set off, making the drive to Mt Victoria for dinner at the Imperial Hotel, knowing we'd have a warm coal fire to stand around.
But unlike most trips the adventures didn't end with the walking. When our meals arrived Annie complained that her steak was at the rarer end of the spectrum, so when she started making funning faces after taking the first mouthful we were all having a bit of a chuckle. But ten seconds in her funny looks hadn't stopped, and after what must have seemed like an eternity to Annie it finally clicked that something wasn't right and I asked if she was choking.
Back came several now terrified-looking nods, so we quickly delivered a few sharp whacks to her back — sending the chunck of meat shooting out onto the floor — and allowing a much-relieved Annie to collapse thankfully back into her seat.
The rest of the meal went well, we all warmed up nicely, everyone else's food was nice (and didn't try and kill us) and we all said our goodbyes and set off home at a very reasonable hour.
Once again Donkey Mountain had surprised me with the wealth of exploration opportunities it had to offer. Even with the sub-par weather it delivered an incredibly enjoyable time that was probably better than any of us had expected.
Even after two weekends up there I've still got a huge list of interesting looking spots I'm yet to get to, making it a definite destination for yet more trips in future.