Party: Tim (T2) Vollmer, Tony Ruzek, Scott Moores and Matt Holland — photos
It was just three days before winter. As I jumped into my car to set off up the mountains I looked at the weather station at Mt Boyce — pretty much the same altitude as where we were heading. It was reporting a chilly two degrees, with a wind chill that would make it feel even colder.
Despite the fact that it was a weekday, and the trip had been planned at short notice, I'd managed to suck three others in for a wettish wintery canyoning trip. My inspiration was the new pair of Adidas Hydro Pro canyoning shoes I'd just gotten my hands on, and was desperate to try out. I'm not sure what theirs was.
We all converged on the side of Bells Line of Road within about ten minutes of each other, thankful that we'd managed to climb above the heavy morning mist lower down the mountains and were now enjoying relatively clear blue skies.
Another check of the weather showed it was now about four degrees. Maybe the decision to leave the wetsuit at home wasn't the smartest. Oh well, too late now.
We walked past the gate on the old, unmarked fire trail. A little bit of scouting around revealed that the worn area that looked like the result of water erosion running off the track was actually our path.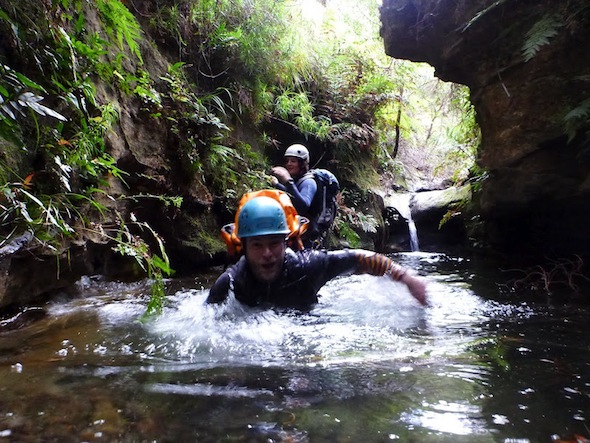 Down into the valley we went, steeply at first, then into an attractive, open and fairly flat forest with a pleasant stream meandering through it. Some interesting rock formations began to appear around us, then the creek cut through an interesting sandstone gorge. We were getting close.
Soon the creek dropped and narrowed, and we found ourselves at the first wet patch. The other three pulled on their wetsuits while I spent my time clinging to a few ledges to avoid a deep wade. I made it across, almost dry, only to look up and see a well-worn path up and over the rock next to it.
Being the nice guy that I am, I kept quiet, waiting until the others had all either fallen or waded through the water before pointing out the dry option.
Again the valley opened out, with tall gums, fringing cliffs and a sea of ferns. Finally the creek began to dig into the bedrock again, down some boulders and into a more rainforesty section, quickly leading to the first — and main — canyon section.
I wasn't expecting much from Dalpura. In fact, I chose it mainly because I only had half a day before I had to head into the city for work. While this first constriction was only short — the whole canyon is only short — it was very impressive, with a narrow slot carved above a wide creek.
We abseiled in from the side, close to the waterfall, landing on a submerged ledge which could be followed to avoid a swim. We'd all warmed up nicely by now, so we took some time admiring the dark, curved creek cut through the mountain.
It continued with some more pleasant sections, like the chockstone-covered cave section, some log-balancing, and more shallow but attractive canyon walls.
Where the section that was technically canyon ended the creek still cut an impressive horseshoe, with a towering curved cliff arching above us on the right while we spun around almost 180 degrees. It made me wish I had a fish-eye lens that could capture it.
Soon enough we were at the top of a final waterfall, near where the exit track heads off. We decided not to abseil, instead following a ledge around and out onto the cliffs on the right, which offered up an expansive view of the upper Grose Valley in front of us.
We dropped down into the creek from here, following it back up to the base of the waterfall for a look around before stripping off the wet gear and starting the steep climb out.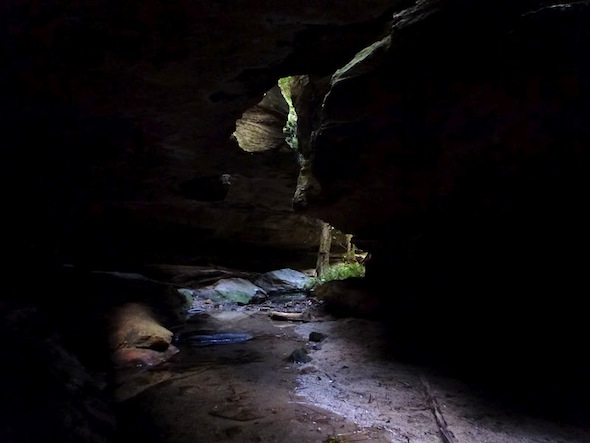 The exit is a great bushwalk in itself, up a gully, then beside a small cliff-line, before delivering you out onto an attractive ridge-top. This ridge had some impressive pagodas, so we took some time to climb a few and admire the views before heading for the cars.
With a track that wound through some attractive heath and grassy swamps, all while offering endless valley views, it was a wonderful way to end a short, easy day of canyoning, and had us back to the cars by lunchtime.