Party: Tim (T2) Vollmer, Sky Reidy, Adrian Spragg, Tony Ruzek, Chee (Sarah) Wong, Peggy Huang, Bjorn Sturmberg, Emma Spencer and Tui Swinnen — T2's photos
When I first began bushwalking, I remember being easily amazed by almost everything I experienced. While I'm still just as passionate about nature and the Aussie bush, the reality is that experience seems to take away a little of the wonder. Even the physical excitement, the adrenalin, inevitably lessens with each dicey scramble or long abseil.
But then along came this little canyon, one that wasn't very deep, dark or technical, and strangely brought it all back.
I would normally name the canyon and give details (it is in the latest canyoning guide book after all, and is not in declared wilderness), but after experiencing this unique and pristine spot, so close to the hub of the mountains, I can't help but want to keep it a little secret in the hope other people will blindly stumble upon it like we did.
Being Easter, I kind of expected most people to be busy enjoying the full long weekend, but surprisingly there were several takers to my last minute email about doing something on just the middle two days.
Everyone was extremely open to any suggestion, so I decided we should try this strange little canyon on the Kings Tableland that seemed to be in an unlikely spot to offer up too much, but should at least be quiet on a long weekend.
I was also keen to try out the new 9mm Edelrid canyon rope, which was kindly being lent to me for the weekend by Brett from Summit Gear so I could review it.
After picking up the rope we all converged on Bullaburra, leaving a couple cars there before heading out on the Kings Tableland to the start of our canyon.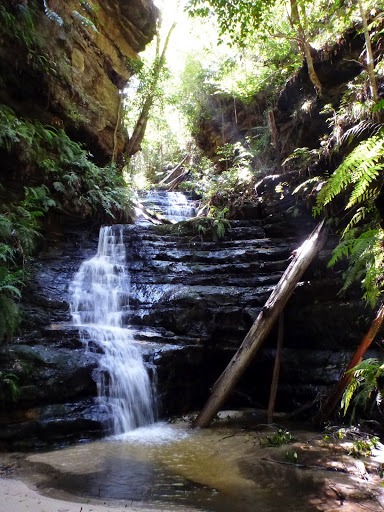 It was a stunning autumn day, with crisp blue skies, and we were all in high spirits as we pushed off through the scrub and towards our creek.
All we had was a rough coordinate, and there was certainly no track, so after a little looking around we simply decided to push down through the hanging swamps (complete with cutting grass) that seemed all-too-abundant in the area.
A handline got us down the first small drop, but eventually we were stopped by a bigger cliff and had to pull out the rope. We could have made it into the creek with one, long drop, but it would have been a terrible pull down, so we broke it into two nice little drops.
From the minute we hit the main creek I was blown away. Just upstream were some stunning little cascades, with high cliffs lining the open forest of coachwood trees and ferns.
Despite having houses at its headwaters, the water was crystal clear, and we spotted the first of many yabbies almost straight away — a big fella who was keen to put on a show of aggression.
For almost the entire length of this creek it was easy walking through beautiful surroundings. There were almost no signs of other people (no wear marks on the moss and only two items of rubbish), and certainly no suggestion it was popular with other canyoners.
We dropped into a stunning green chamber that looked like a massive creek joining from the left, but as we entered it turned out to have been worn by a single tiny trickle of water from high above.
Downstream we enjoyed the first of several short swims, although a few members of the group weren't too keen on the slippery climb down the small waterfall to get to it!
For the next couple hours the walk oscillated between attractive, cliff-lined open creek walking and small but attractive canyon sections.
Some involved swims, others log-walks, and the best one a great little abseil down a waterfall.
The drop was only about five or six metres, but the anchor situation was a little dodgy, and there were some nervous looks at the thin log we balanced across the slot as a belay point.
Things became a little less fun after the final canyon section, when the creek started to become more bouldery and scrubby, and the certainty of our navigation began to waver.
With everyone keen for a break we finally stopped on a rocky slab by the creek and had lunch.
Within 10 minutes of starting walking again we found the creek junction we needed to follow to our exit, and unlike our lunch spot it was bathed in sunshine. Bugger.
This exit creek, while not canyon, was equally stunning. It was such a pleasure to walk I'd like to head back and explore upstream in the two branches.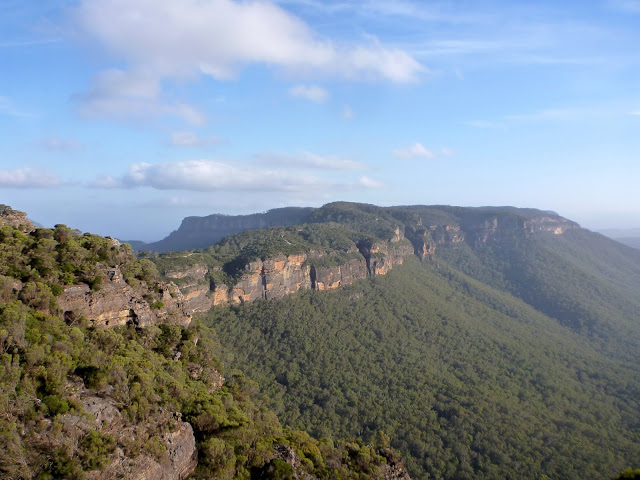 Instead we forced a pass up the slippery cliffs, pushing through some scrub until we eventually found an old fire trail.
Even this track was attractive, with lush ferns on the sides, making it one of the nicest track bashes I've ever had to do.
Back at the cars it was only mid-afternoon — too early for the pub — so we decided to try a really quick trip through Whore's Bed Canyon.
We drove over to Katoomba, setting off into the gully I assumed was Whore's Bed, directly next to Boars Head Rock. It turn out I was wrong!
Of course I didn't realise this until I'd abseiled in. Thankfully the others didn't follow, and I looked for an alternative exit (I wasn't keen on trying to prusik back up the long drop, which included an overhang and awkward narrow slot).
I eventually made my way into the gully the first of the Boars Head abseils takes you in to, and followed it up to the drop. Next to the abseil the rock looked like it offered an easy scramble, but about 5 metres up I realised there was a dodgy section and I really needed a belay.
Adrian made his way back up with a rope, and as the sun sank low and some dark clouds rolled through he set up a top belay so that I could climb out.
We all regrouped back at the cars and headed for the Gearin Hotel, where it turned out Bjorn, Emma and their climbing friend Aaron had already placed their orders for dinner.
Sky decided that due to a leg injury and the fact her shoes had self-destructed in the canyon (the second pair I've seen her kill!) she should just head home.
After a beer and a good feed the rest of us set off to Mt York, where the climbers had their tents set up, and we enjoyed a nice camp fire despite the mist and light rain that insisted on joining the party.
In the morning the weather was no better, so our plans to do a big, hard canyon like Arethusa seemed particularly dumb. The wet rock also made the climbers less keen, so eventually we all decided on an easy abseiling trip at Boars Head.
We headed back to Katoomba and geared up before doing the incredibly short walk in. With a big group the first abseil took a while, but it gave us all a chance to enjoy the views while the first few people headed into the slot to setup the safety line for the tricky part of the trip.
The next three abseils would take us down the impressive narrow crack between this huge headland of rock and the main cliff-line. Above the crack closes up completely, and where we were it is so narrow you can walk through it, but looking down it opens up into an impressive chasm.
The safety line made the 10m journey to the other side of the slot very easy, although the next abseil from here was still nice and tricky, with those of us carrying larger packs forced to suspend them below us if we wanted to fit between the tight sandstone walls.
From the bottom it is straight onto the next abseil, a long but easy drop even further down. Finally the chasm ends with a sharp drop-off — a final big drop into a gully below.
From here we wandered around the cliffs to the point where we regrouped (we would need bother ropes to do this anyway), before embarking on the final 45m drop into the Megalong Valley below.
After this it was a short, pleasant walk along the base of the cliffs — past a hermit's camp cave — to the track up Devil's Hole.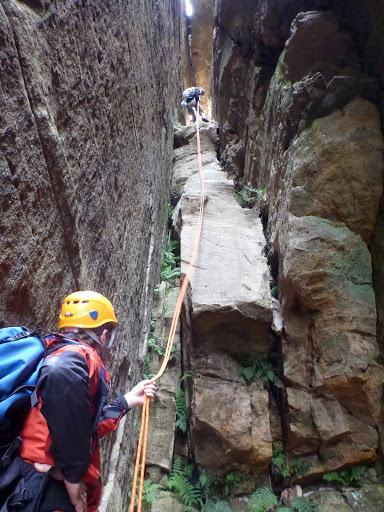 We didn't mess about on the way up, instead making good time back to the cars (which meant ignoring the chance to do the fun 30m free-hanging abseil from the chockstone high above).
Em decided to demonstrate her koala skills in a nearby tree while the rest of us dumped our gear and decided on a destination for a late lunch.
Eventually we all converged on a packed Common Ground Cafe where we enjoyed a great feed, which came surprisingly quickly despite the place being packed out.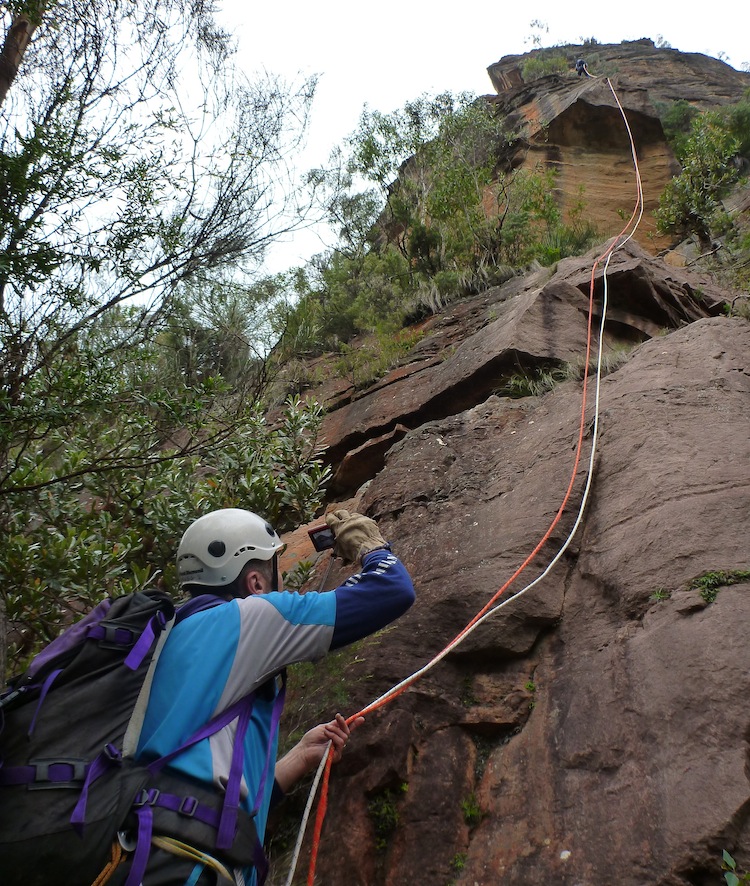 From here most of the group set off home, while I decided to follow the climbers back to Mt York for some top-rope action on the crags.
We didn't have much time, but there was enough for me to fail miserably at a most uncomfortable off-width while both Em and Tui demonstrated some serious skills as they flew to the top.
As the sun finally set — painting the rocks a deep red — a big storm began rolling through, so will one last failed attempt at a climb (I blame the fact I was wearing canyoning shoes) we set off back to camp in the last of the twilight.
Despite having distant thunder and lightning hanging around for some time, the sky above was clear, with a stunning tablecloth of stars spread above us while an almost-full moon rose from the horizon.
It was a great night, with good company and a fine fire. Needless to say we celebrated Easter in a way that truly celebrated its pagan roots. I'm sure Homer would have been proud!