Party: Tim Vollmer, Peggy Huang, Sarah Chan, Diana Ocampo, Daniel Arnesson, Jiri and Cat Svec, Chee Wong, Lilian Donoso, Chantal Bronkhorst, Melanie Luxem and Andrew Randall — T2's photos
I remember collapsing onto hands and knees — fighting back the urge to vomit as the adrenaline surged through my body — before composing myself and pulling out my phone to call Michelle, just to let her know that I loved her.
I didn't tell her at the time, but I'd just had a hell of a time confronting my fear of heights, my right leg was killing me after an earlier fall (Michelle still maintains that I'd suffered a hairline fracture, given the long recovery time, and while I refuse to see doctors she has permission to have it X-rayed when I die), and I was desperately hoping the chains were the worst of it.
Before that I'd scurried along a thin ledge (which in later re-tellings was less than 10cm wide with a 30m drop below — just a slight exageration) and had made more than my far share of errors on shale ledges that regularly ran out (including the one where I pulled a chunk of rock down from above my head in a tight spot).
It must have been some time in 2007, less than a year after I'd started bushwalking (beyond the stuff you do as a kid), and I only had a handful of solo walks under my belt. This loop off Radiata Plateau — a more or less trackless exploration of Blacks Ladders and Esgate Pass — was about pushing the boundaries a bit, carrying nothing more than a map, compass, some water and a my regular lunch of a cheese and bacon roll.
I remembered it as a great day walk, with blue skies and a hot sun bearing down on the cliffs and shale ledges, but as time went on I'd more or less forgotten the details, other than the general sense of wonder, excitement and terror I'd experienced.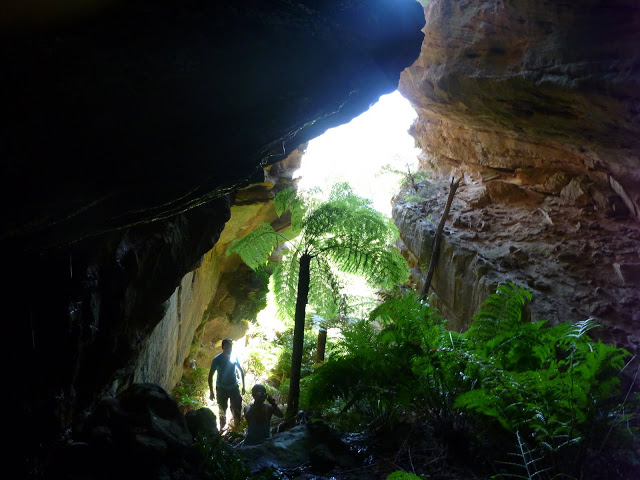 So it was strange when a couple weeks back, out of nowhere, this walk came to mind, inspiring a quick Google which brought up the track notes by Allan Wells that had originally inspired me. That was enough to convince me I needed to go back, this time with a camera, and despite the fairly short notice I had a dozen others who wanted to join me for what is a relatively easy pass finding trip that despite the easy access seems to be rarely done.
The meet-up was an indication of how the day would continue, with missed trains and timing miscalculations meaning it was nearly 10am before we all converged on Katoomba (bar one unnamed person who did the dubious email drop-out seven minutes before we were meant to depart!).
We drove a few kilometres, past the Explorer's Tree and the start of the Six Foot Track, before leaving the cars and setting off through the maze of old tracks that criss-cross the plateau.
About 10 minutes in I made the first navigational error (note to self: doing a trip from vague memory alone isn't smart), missing a turn and taking us the wrong direction. A short return up the hill had us back on track, but not for long, with a swampy section again throwing me.
A smart phone came out, with Google Maps confirming we were in the right place, so back through the swamp we went (the mountains are so much wetter than a few years ago!) and before long I'd spotted the distinctive gum trees I recalled.
From here it was a simple walk down the ridge to the creek which cuts through the cliff line, forming the very obvious natural pass that is Blacks Ladders. Supposedly it was used by the local aboriginals and had been shown to the European settlers early on, being marked on a map from the 1830's!
At one point three metal spikes hammered into the rock helped with a short scramble, before a second slippery rock took us to the level of the main shale ledge we would follow.
Soon after we enjoyed a pretty little waterfall that drops into a pool, then an inocuous looking crack in the cliffs that could be scrambled into, concealing a canyon-like slot which offered a great window into the Megalong.
For the next few hours the walk basically involved following ledges, having them run out, backtracking, climbing down, going back up to avoid scrub, following a shale ledge, having it run out… yes, you get the picture.
Despite the repetition, it came with plenty of spectacular vistas and some fun spots for tree climbing and other gymnastics (who knew Peggy could do the splits whilst perched on a precarious rock outcrop?)
The sheer size of the group, as well as differences in experience, meant we started sprawling out, so Cat, Jiri and Daniel generously took care of those at the back while the rest of us pushed on in the search for Esgate Pass.
It was pretty obvious when we were close, with the distinctive detached end of Megalong Head came into view, spurring us on faster.
A pause on the very nose had Diana up a precariously perched tree, koala style, before we went around the cold southern side, up a lush gully, and to the base of the pass.
It was much easier than I remembered (as I knew it would be). There was no trouble following the narrow ledge, which while it does start out as 10cms wide, within a couple metres it is a foot or two deep, and the scramble up the crack to the chains was similarly straight forward.
I'd brought rope for the next part, assuming we might need to belay some people, but the group didn't hesitate, making short work of the seven or eight metre high rock face which has the old chains placed by Ben Esgate running down it. While the climb isn't hard, the drop away below is impressive, so I was quite surprised with how easily everyone took to it.
The front group decided to wait here and eat lunch, which was perfect because we could see the others moving along the ledge far below. But when we'd been there about half an hour, and hadn't seen or heard from them again, it started to get a little worrying.
I abseiled back down the drop (yes, what a whimp) and went looking for them, only to find Jiri coming up the gully. It turns out they'd had lunch on the ledge right on the nose to allow everyone to catch up.
With a little bit of friendly coaching the last of the group made it up the chains, before doing the final few scrambles that took us up to a great lookout where we regrouped and had a well-earned break.
The final walk back, about two kilometres along a flat track, made for a pleasant finish and ensured we were all saddled up and ready to go by 5pm.
While the trip may have been much less terrifying than I recalled, it was even more beautiful. It is an amazing little gem hidden away from the tourist hoardes at Katoomba, which is not only a pleasure to explore, but has a real sense of history to it.