Party: T1 and Tracey
I cast the mind back to January 2010 and the birth of the Fat Canyoners Club, from "the deranged ramblings of a multi-day canyoning trip" in Bungleboori Creek North Branch. Despite not quite meeting the ahhh… profile of a Fat Canyoner, I was happy to accept honorary membership of this exclusive tribe.
Many months later, I am much more worthy of the Fat Canyoner badge, after squeezing myself into Penrose Gully Canyon… and getting stuck. Better still, it's a canyon I've done 5 or 6 times before, completely without issue. Luckily, I had Tracey with me, and no amputations were needed (a la 127 Hours)… phew!
Another hastily-planned weekend away brought us to Barcoo Swamp late on a Saturday afternoon. We considered a quick walk-through of The Dry Canyon (aka Wolgan View) but decided to postpone until the morning, in favour of an early camp and warm fire… and later we were blessed with an 11pm rise of a full moon, on a cool and chilly night. Perfect.
Wolgan View Canyon is a wonderful short bushwalk off Glowworm Tunnel Road. It is completely dry and abseil-free, but with its deep, narrow and twisting slots, it is a perfect introduction to Blue Mountains canyoning.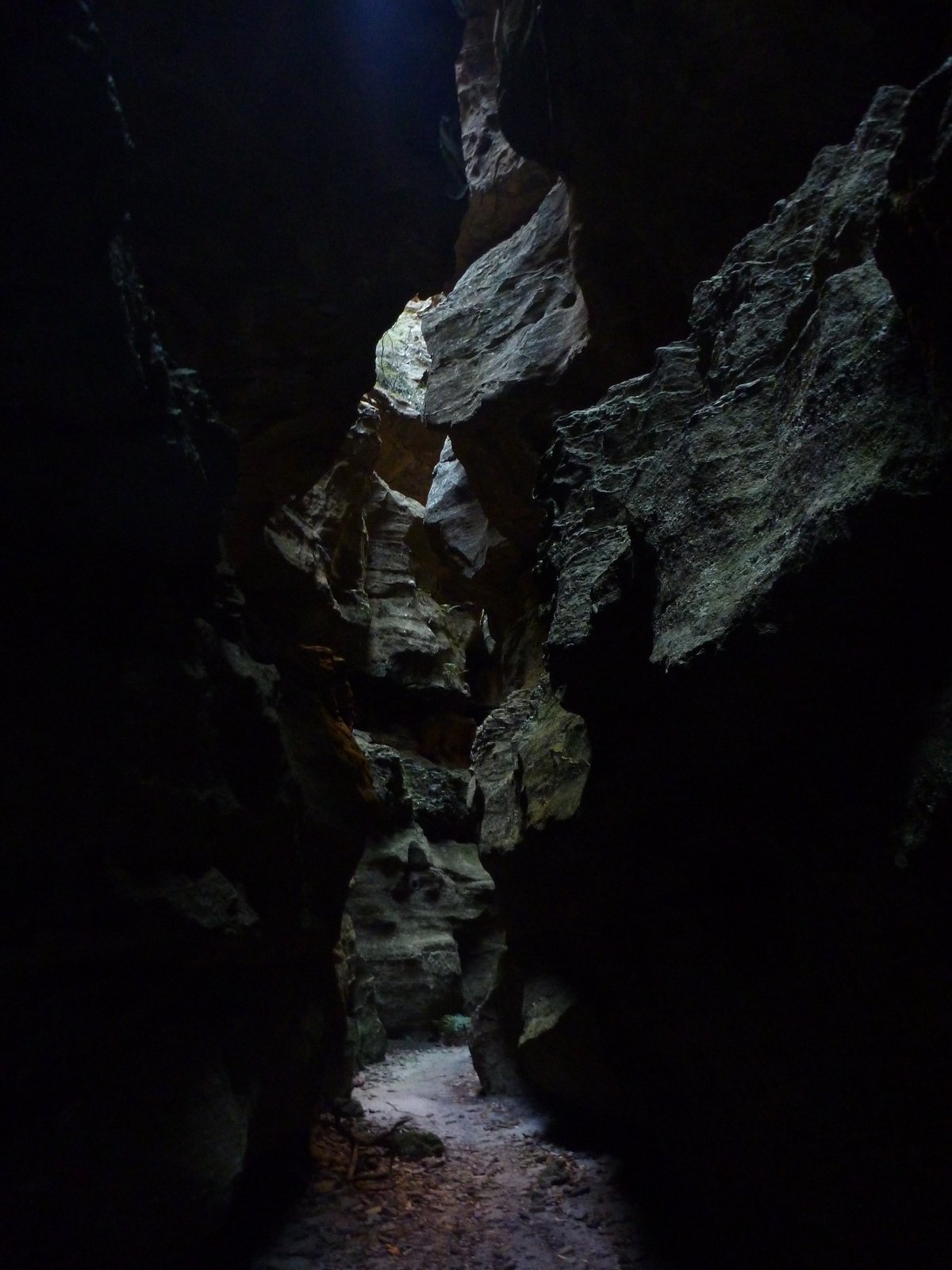 In warm, sunny weather, Tracey and I darted up to the tops for pagoda-summitting and the spectacular views of the Wolgan River valley, plus a unique top-perspective of the canyon, where it twists snake-like out into the valley.
After lunch, beside the Old Coach Road, we headed out to the short, narrow canyon in the upper reaches of Penrose Gully. I've led a few trips out here now, being a convenient and interesting companion to the nearby Tiger Snake Canyon.
Perhaps overconfident after seeing Tracey slip easily through the narrow crevice following the second abseil, I threw myself in with pack on the back and rope tied across me. I quickly found myself slightly suspended (and embarrassed) by said rope and pack, as they wedged into the slot. I then realised that with a helmet on, it was really difficult to see what had happened!
Slowly, I extricated myself from helmet, rope and pack, before being able to drop free to the canyon floor. Looking up, there was the pack and rope still wedged in nicely. Classic.
With the final abseil out of Penrose Gully Canyon completed, we headed downstream then up the interesting slot pass, for nice views towards the Wolgan River valley. A brisk walk back to the car ended a nice leisurely day canyoning.
Photo albums and video links: