Party: Tim Gastineau-Hills, Fiona Knox, Stacey Ly
Here's a change from the norm – a trip that's not a bushwalk, not a canyon, and only a bit bushy! This is very civilised, easy cycling in scenic, subalpine northeast Victoria. Just perfect for an FCC trip.
When an old friend of mine [a keen canyoner and cyclist] ran the Murray to the Mountains Rail Trail for the NPA last autumn, in classic disorganised form I belatedly posted the trip to SUBW – an attempt to bring some youth to the group. Alas, that failed – just too late and too far away, I guess. But a new year, another NPA trip, another chance! All I had to do was post it a little earlier…
I kind of ballsed it up again. A miscommunication on dates meant the weekend of NPA's trip was missed, therefore no SUBW-NPA co-op [-sigh-]. However, luckily, keen interest from Stacey and Fiona (together with two eventual drop-outs) meant the trip could go ahead anyway.
For Fiona, living in Melbourne, distance wasn't too much of a hurdle. After finishing exams late in the week, she planned to drive to Mt Buffalo to meet us on the Friday.
To combat the long drive from Sydney, and to get the most out of a trip south, Stacey and I decided to head down early, setting out on Wednesday and camping en route, beside the Murrumbidgee at Jugiong. Jugiong Creek Reserve is part of the Travelling Stock Route network (coincidentally a network that the NPA is currently campaigning to preserve). In previous years this has been quite a lovely spot, however unfortunately we found it flood-ravaged, overcome by debris and weeds.
We stopped for a late breakfast at Holbrook and briefly admired the strange park with the HMAS Otway [what?! 250km from the coast?], before pressing on to Albury-Wodonga. The plan was to check out a section of the High Country Rail Trail, from the Kiewa River to Lake Hume.
This proved particularly scenic. The Kiewa River still showed signs of being in flood – sections of the rail trail were damaged late last year – and Lake Hume clearly was also very full. It was a very leisurely ride of ~16km out past Bonegilla Station, Ebden Reserve and Ludlows Reserve. A beautiful sunny warm day – and we found it just too nice to pass up a quick dip in the lake!
However, the loose gravel surface of this Bonegilla section of rail trail did prove tiresome. In future it will be great to return to the sealed Tallangatta section and also ride the soon-to-be-reconstructed 600m bridge over Sandy Creek.
With the weather turning chilly, we were quickly on the road again and arrived at Bright Riverside Caravan Park before dusk. A quick pitch-of-tent beside Morses Creek and we were strolling into town to the Sol e Luna for a good Italian feed. This is what this trip was all about. Stacey discovered that the chef's special of wild mushroom tagliatelle is indeed truly special!
Next morning, breakfast at Jackie's Tea Room, then off up Mount Buffalo. A week ago, I was doubting we'd make it here, after nearly 15cm of snow coated the mountain and one morning's weather check saw the temperature at a chilly -6 degrees. That did not seem a good omen. However, it had warmed up this week (approaching 4 or 5 degrees!), delightful patches of snow covered the tops, and the sun came out every now and then – perfect walking weather!
We began with The Horn. At 1723m, the plateau's highest point, there are some stunning views back across Cresta Valley, towards Back Wall and The Hump. An interesting smoke haze sat in the valleys below. After some impromptu snowball fights, we moved on to the Leviathan, a huge granite tor – fascinating to look at, although I think I was more excited about the camp cave beneath! We then walked the Old Galleries track, an interesting loop through a jumble of granite boulders and tors.
At midday, it was back down the mountain to meet Fiona, load all the bikes on one car and return to the top. After a blissful lunch on the jetty at Lake Catani, with fish jumping around us, we chose the loop walk through the Chalwell Galleries – more incredible boulders and a climb down through a dark deep chasm. A final dash up The Monolith (including Stacey braving the dilapidated stairs onto the rock itself) and it was time to begin our ride down the mountain – an exhilarating, chilly 20km of downhill from the Mt Buffalo Chalet to the park entrance, through winding bends, past scenic viewpoints and over gurgling alpine streams. In failing light we ditched the bikes to dash upstream to view Ladies Bath Falls and Eurobin Falls, both pristine streams running off the mountain.
Back in Bright, another indulgent restaurant meal, dwelling long enough for the staff to start downing drinks at the bar, waiting for us to leave!
Up early in the morning and to the Edelweiss Bakery in Bright – yum! Not wanting to be too early for our rail trail, we walked back through the caravan park, tried out the play equipment (as you do), then tried out more play equipment on our drive out of Bright. A local produce market in Bright was also worth a visit.
So finally to Everton Railway Station [Upper Everton really] and the Everton to Bright section of the Murray to the Mountains Rail Trail. This is a delightful 58km ride on sealed path, through Myrtleford, Ovens and Porepunkah. For the most part, this section of trail runs alongside the Great Alpine Road, although some early lengths thankfully swing away from the traffic, including a short winding climb through trees to Taylors Gap. This hardly strenuous start was immediately rewarded by a long tasting and lunch at Gapsted Wines, before we reluctantly decided that we had to move on to make it to Bright before dusk!
Other highlights through to Bright were another local produce market in Myrtleford, Fiona and Stacey's "warm dance", and Lucky The Dog running with us for quite some distance.
The following day it was Beechworth to Wangaratta, and where better to fuel up than at the famous Beechworth Bakery, with more glorious foodstuffs than any Fat Canyoner would ever want, and popular enough to need two floors of seating and its own 1300 number!
This section of rail trail is simply wonderful. Within minutes of leaving Beechworth, you're away from roads and heading through pasture, before entering state forest for the marvellous downhill run of about 12km, through sweeping bends and cuttings, to Everton Railway Station. Narrowly avoiding a heavy rain shower, we joined the Wangaratta line and followed long, straight lonely rail trail, well away from any road. Catching up Fiona at Reedy Creek, we found her lying on a beach beside the creek – it was that kind of day.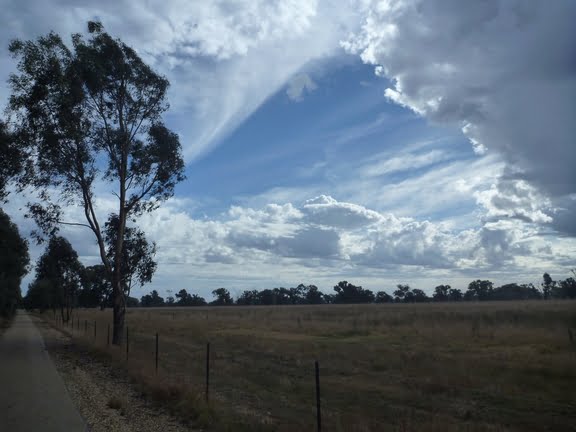 A narrow underpass negotiated the Hume Highway and soon we were winding our way through back streets into Wangaratta. After some final car shuffling, it was goodbye to Fiona and back to Gapsted Wines (of course!) for Stacey and myself.
A plan to camp on the way back to Sydney was aborted due to bad weather – it simply bucketed down most of the way up the freeway. Some of the driving and truck manoeuvres were plain scary!
All-in-all, this was a tremendous trip – autumn colours, clean crisp air, relaxing riding, excellent food, beautiful company and fond memories. It will be very tempting to run this again next year!
Photo albums: