The Gardens of Stone, on the western side of the world heritage listed Blue Mountains, are an iconic area full of stunning sandstone cliffs, pagodas, and canyons. While parts of the gardens are protected as national park, large sections are state forests and are increasingly being encroached on by coal mines.
On Saturday my three sons and I were among 150 people, including locals and members of the Blue Mountains Conservation Society, National Parks Association and Colong Foundation for Wilderness, that gathered in Ben Bullen State forest to see one of the areas currently under threat from open-cut mining.
The unique scenery and biodiversity of the area is currently threatened by a proposal by Coalpac Pty Ltd that would turn more than 1000 hectares of publicly owned forest over to exclusive occupation and destruction by open cut coal mining.
From where the protest was held we could see down the valley to an area already being mined, with the entire valley floor cleared of all plant life.
If the proposal is approved, these beautiful areas which provide invaluable wildlife habitat for dozens of threatened native animals would be lost forever.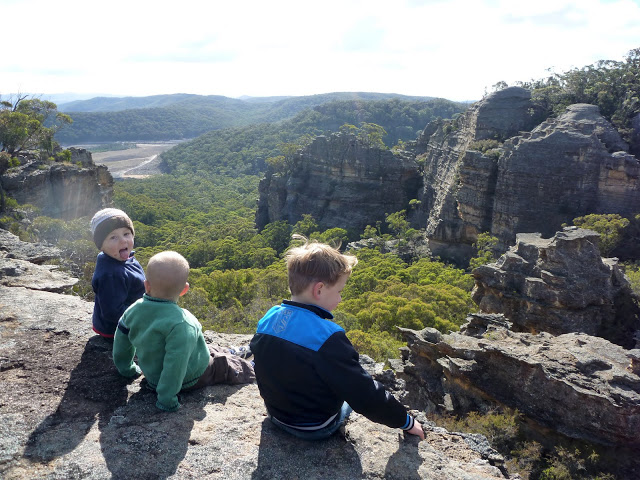 The pagodas and sandstone escarpments would have high, open cut walls directly at their base, threatening them with collapse.
BMCS is leading the campaign to have the area protected as a State Conservation Area, which still allows underground coal extraction while ensuring the areas natural values are protected.
In fact, the State Government's own National Parks and Wildlife Service has said it wished to add this forest to the conservation reserve system as a matter of priority.
Across NSW, areas of high conservation value and great beauty are under threat from the rapid expansion of the coal and coal seam gas industries.
I have signed the letter to NSW Premier Barry O'Farrell asking him to reject this mining proposal and act to protect the region within a State Conservation Area. I'd ask you to spend a few minutes doing the same. You can also sign an online petition being run by the Nature Conservation Council of NSW on the issue.
Photos of the protest event and some of the pagoda area