Party: Joshua "Rocky" Hill, Dan Scheuch
After two weeks of rain, flooding and generally horrible weather, Dan and I decided to tackle a canyon. Despite a somewhat dodgy looking weather system and the threat of high water we decided Monday was going to be the best bet and after much consideration and revision we decided on Why Don't We Do It In The Road (Serendipity) Canyon.
We arrived at 10am to a very deserted Cathedral Reserve, which didn't surprise us too much. After the usual faffing around with gear we headed off down the fire trail(s). The fire trail condition had changed slightly since I had last done this canyon. There was a big sign on a gate which I had used before saying "Private Property Do Not Enter". I guess this is just another example of local landowners not too pleased with dirty canyoners entering their property. Fair enough. So with a little retracing and a walk down another fire trail we ended up where we wanted to go.
I was quite surprised at how much water was on the fire trail. At every little low point there seemed to be rivulets running down into the bush. With so much water running up top I was a bit concerned about how much water was going to be in the canyon.
After about half an hour we arrived at the first set of abseils, which can be bypassed, but we decided they looked kind of fun. The amount of water running down from here was quite impressive. Dan and I decided that we might as well suit up due to the unknown amount of water below. In retrospect it wasn't the best move as we didn't really have a swim until much later in the system.
The first abseil was a nice two stage drop with water pouring down the waterfall. Easy done. A few meters after the first abseil was a 3m scramble which we decided to abseil because of the water pouring just to the left of the scramble making everything wet and slippery.
About 10m after that scramble we came across the 10m abseil into the creek proper off of a large tree. To the left was a large pounding waterfall. This was quite a nice abseil which was really atmospheric with the waterfall and the flooded creek below. I would like to add that this was really the only time I brought out my camera. Lugging $3000 worth of camera equipment through a canyon is a really scary process and for the rest of the trip it rarely left my triple dry bag.
Forty-five minutes worth of pleasant creek walking followed, highlighted by an abundance of yabbies and small cascading waterfalls dropping into the main creek. While there was no swims in the creek walk section the water was still fairy high. This provided us with enough water to assuage our sweltering bodies which were unfortunately clad in wetsuits.
We soon arrived at the main abseil into the constriction, which from now on shall be dubbed the 'Swirling Cascade of Potential Death', or SCPD for short. Both Dan and I looked with horror at what would normally be a pleasant 8m drop, which now proved to be a swirling mass of frothy, pounding, watery doom. After much discussion between Dan and I on the viability of continuing, we decided to press on regardless and rig up the abseil for the SCPD.
To my great surprise and pleasure, I ended up not being trapped by the swirling doom and safely made it onto some large logs at the bottom of the abseil, which I couldn't see from the top. Dan proceeded without incident as well. We where quite lucky really. If the logs had not provided a safe landing place it could have been much more challenging.
From here we really noticed how flooded the canyon was as much of it required swimming. My vague memory of this canyon from two years ago was of stagnant short pools of water with little running in between.
The next two abseils theoretically could have been done as jumps but we decided to rig up. The first abseil was about 4m into a nice deep frothy pool followed by a longish swim. Shortly we came to the last abseil which I remember jumping last time. Unfortunately the water level was so high I did not want to risk landing on a submerged ledge.
All safely done we swam a small length to the end of the pool. It was at this time when I noticed about 1.5m below me was the pleasant green fronds of fern leaves firmly attached to the ledge below, which gave a great impression of just how deep the water really was.
So with the canyon completed we trotted off down to the 'Gambe. I remembered that there was a nice lunch spot a short way upstream. We traversed the hairy ledge that led to the exit track and aimed for the rocks for a spot of lunch.
'Serendipity' is defined as making a fortunate discovery whilst looking for something unrelated. This proved to be the case as we found to our surprise another party of two sitting at the lunch spot: Boyd Robinson and Nina Gallo. This Serendipitous occasion was further cemented at it turned out that Dan knew both members of the party from his past climbing adventures, so they invited us to stay and have lunch with them.
After enjoying the weak sun, bold water dragons, and yummy food we discussed what our options where. Boyd and Nina where thinking about tackling Whungee Wheengee but as the river level of the 'Gambe was quite high they where not too sure if it was tenable. Boyd described how he and Nina had spent nearly an hour trying to swim 200m up stream and how it took only 10min to arrive at where they started. This got us thinking why not use to water flow to our advantage and float/swim down Wollangambe 2, stopping to look at the bottom section of Whungee Wheengee.
I had never done Wollangambe 2 before completely. Two years ago after Whungee Wheengee, we swam up stream to the exit track for WDWDITR, and I remembered that it was a mixture of swims, bolder hopping and walking. This proved not to be the case this time. The 'Gambe was truly full and the water level, while not what I would describe as dangerous, could have had some nasty consequence if we where forced down some of the rapids. If only we had thought to bring Lilos!
So floating down the swollen 'Gambe proved to be quite a treat. Dan, Boyd and Nina all floated on their backs with the drybags keeping them elevated, while I floated my bag to prevent any pressure potentially causing my dry bag to fail. It was amusing to hear the other three make comments about how, this or that spot, was used previously as a lunch spot, only to float past with that spot a metre underwater.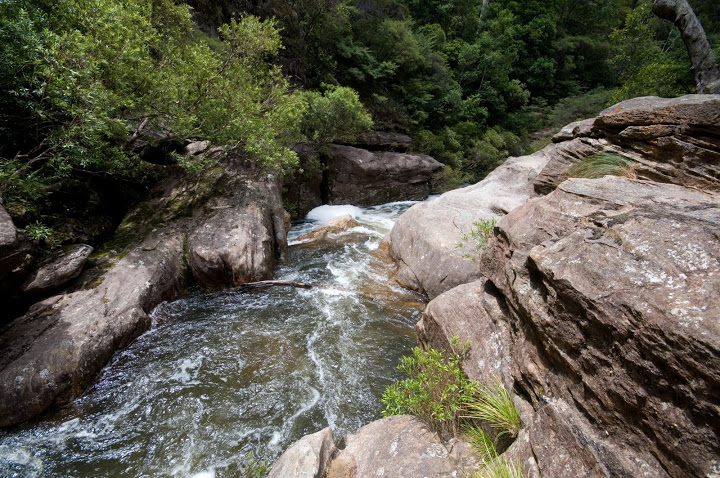 After a mixture of floating and trying to avoid rapids we arrived at the Whungee Wheengee junction. As soon as we swam into the end of the canyon we realized how much colder that was was comparied to the bath like 'Gambe. We spent a cold 30min enjoying the dark constriction which was quite spectacular as always. Again I marveled at how high the water levels were.
I was impressed by the signs of just how high the water really can get. Standing in waist deep water there was a line of froth that extended a good 3m from the current water level. This was a sobering reminder that canyons can be quite deadly in high water and it made me wonder if we would get that isolated shower that Mr Internet Weather predicted.
Pressing on we reached reached the exit track. When asked for the time I replied that it was 4:20 which was met with some sniggers. Literally, as soon as we stepped out of the 'Gambe the predicted isolated showers hit. It was amazing how warm the rain water felt after being inundated in the canyon waters for nearly three hours.
We trotted up to a small overhung cave. Lit a small fire and longed for a jaffle iron. Shortly we decided to press on and walked back to the cars. In true Fat Canyoners style I cursed my Santa-like physique.
On arriving at Cathedral reserve we were met by hundreds of leaches which loved our rain soaked skin. I was quite pleased to avoid being leached of any of my precious blood but the other I don't think where as lucky.
Overall quite a good trip filled with challenge and diversity.