Party: Tim Vollmer (T2), Tim Gastineau-Hills (T1), Kosta Seiler, Mariacristina (Mary) Merlo, Denis (Boris) Alexandrov and Stephanie Spragg
As we pulled into the carpark at Zig Zag the thermometer on the car said it was just six degrees outside, while the thick fog and constant light drizzle made it seem even more miserable than that.
We'd all arrived within a few minutes of each other, with the plan being for a rather ambitious day out to Nosedive Canyon via Deep Pass and Railmotor Ridge. It was the second time I'd planned to do this canyon, so I was pretty determined to press on regardless, but with such unseasonably cold weather there were some real safety issues.
Finally we decided that a long, wet day, not only involving extensive navigation but requiring a long upstream swim in the north branch of Bungleboori Creek, was just too risky, so we turned our minds to an easy alternative.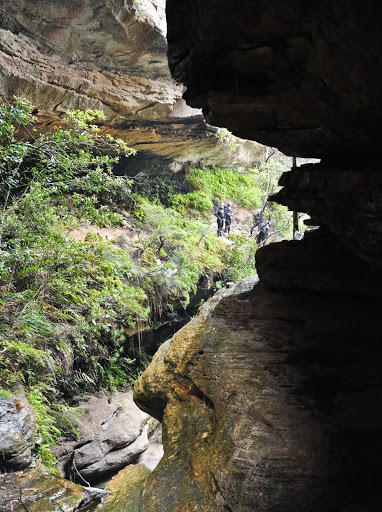 Having never done Juggler and Grand Canyons, because they always seemed too easy and likely to be crowded, they seemed like a good option for a day when no other sane canyoners would be around. So into the cars we hopped, heading to the top of the Pilcher Track.
We geared up at the cars, with the weather so cold that wetsuits were pleasant the whole way and the trip so short bags were a little unnecessary. It wasn't long before we were in the creek and making our way down the first few slippery cascades and into the 'canyon' section.
Juggler isn't much of a canyon, more a series of pleasant abseils down a nice creek, but given how short it is and how close to Grand you'd be mad not to do them both. A couple of the abseils are particularly nice, like the one down a log in the waterfall or the last big drop.
At the end we headed down to Beauchamp Falls. While the track is technically closed due to a landslide, it is still very easy to access and there is only one spot where it has become a little dodgy. At the bottom there was a little exploration and contemplation before heading back up to do Grand Canyon.
The tourist track was very pleasant, with just a handful of walkers braving the weather and everything looking very green.We paused to admire a nice little camp cave — which came complete with a roll of toilet paper on a metal rod — before making our way up the recently upgraded path above the canyon.
As we passed the sign saying the Beauchamp Falls track is closed we came upon a group of 'mature' walkers who seemed a little surprised by our wetsuits, helmets and harnesses clanking with crabs and descenders, with one woman exclaiming "you look like monsters!"
Further along we met a couple leaning over the fence, trying to see what was below in the canyon, and as the woman muttered "it would be good to go down there, wouldn't it" T1 proudly replied, "we'll be there in a minute". To quote Boris, "it felt pretty fuckin' good both times."
Having walked this track before, and backtracked the lower section of canyon to the swim, I didn't think there was much that I'd missed out on. Boy was I wrong!
From the moment you do the one, simple abseil into this canyon it is spectacular. High, towering cliffs. Constant, unbroken constriction. Lush green ferns. In many ways this canyon is on par with Thunder Gorge for aesthetics, yet with easy access.
The constant drizzle actually made things better, with little waterfalls falling from everywhere (although it didn't assist with the photography!). It did make us want to avoid the water at all costs, so there was plenty of scrambling, sliding, bridging and climbing moves showed off.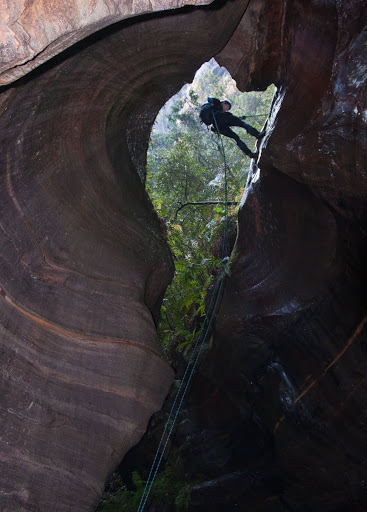 At one tricky spot, where the rest of us simply gave up and slid in, Kosta was determined to make it across 'dry' (I say dry, but the rain had soaked us all anyway) and was hanging by a single finger on wet rock before he finally realised he didn't quite have the reach of the next move.
When we reached the swim there was much disappointment, not so much because of the need to get wet, but more because this meant the best of the canyon was coming to the end.
Before long we were at the scramble out of the creek onto the Pilcher track, with the first section more than a little uninviting due to its wet, muddy, slippery nature.
Once on top the bush was stunning. We paused several times to gorge ourselves on native currant bushes, bulging with their sour fruit, and also came across several stunning Waratahs which unfortunately had their sweet nectar replaced with rain water.
Soon after we were back at the cars, finishing unusually mid afternoon, so we started off down the mountains to the Blue Mountain Hotel at Lawson for a relaxing drink before the final trek home.
While Nosedive had evaded me again, it was still a great day, and I'd also discovered that just because a canyon is easily accessible doesn't mean it will be any less incredible!