Party: Tim Gastineau-Hills (T1), Tim Vollmer (T2), Joshua Hill, Kosta Seiler, Nigel Butler, Melissa Freer, Henry Backman, Marta Bello, Niro Yoganathan, Denis Alexandrov, Hélène Lebhar, Jérémie Rossy, Annie Côté, Trang Pham and Chaitanya Manapragada
The first SUBW beginners abseiling and canyoning weekend was only a month back, but proved so successful and enjoyable that it was an easy decision to run it again. Back in September, large interest meant T2 had to turn away people, so naturally first dibs this time went to them. Trusty leader Nigel also got early preference (after his classic geographical balls-up last time that resulted in him failing to reach the campsite).
Things began shakily, with two drop-outs during the week, and Marta breaking a toe.  Impressively though, Marta still came along. We also took some repeaters in Annie, Melissa and Henry.
The plan for the weekend was simple – introductory abseiling and introductory canyoning, with drinking and commotion around a massive bonfire. There was just one variation to the last trip schedule – we substituted River Caves Canyon for the Dry Canyon [aka Wolgan View].
Once again, an advance party headed out on Friday night – myself, Kosta, Nigel, Trang, Denis, Melissa, Henry, Annie, Hélène and Jérémie – however things didn't go entirely to plan. A thick fog over the mountains meant Annie, Hélène and Jérémie camped off Bells Line of Road, near the Zig Zag Railway. Denis and Melissa reached our campsite along Glowworm Tunnel Road first, while the rest of us crawled along the road in tight convoy, arriving very late.
With T2, Niro and Marta arriving on Saturday morning, and Joshua coming who-knows-when, we completed a pep-talk and drove down the road to our abseiling practice area – easy sloping pagodas to teach on, followed by the nearby interesting overhangs and sheer drops. The second area even offers a canyon-like feel, with a wonderful abseil into a slot, between cliff and a fallen rock slab. There were certainly some nerves and awkward moments, but most quickly proved themselves competent abseilers. Many also scrambled up the awkward pass back to the abseils (which avoids a long walk around the road).
After a few hours in the warmth and humidity, all were keen for a cool canyon, with the option of a swim. So back to base camp for a late lunch, then a drive out to the Mount Cameron Trail and River Caves.
The track into River Caves is steep and rocky at first but soon evens out to an easy meander down a lovely gully. Towards the bottom we passed groves of waratahs in full bloom. The canyon, on Budgary Creek, is an impressive 3- to 400m sandstone chasm, with small shallow pools, small cascades and waterfalls.  The name comes from several interesting caverns and passages along the side walls, which we ducked into and mucked around in. A couple of us had a dip (accidentally or not) in the creek.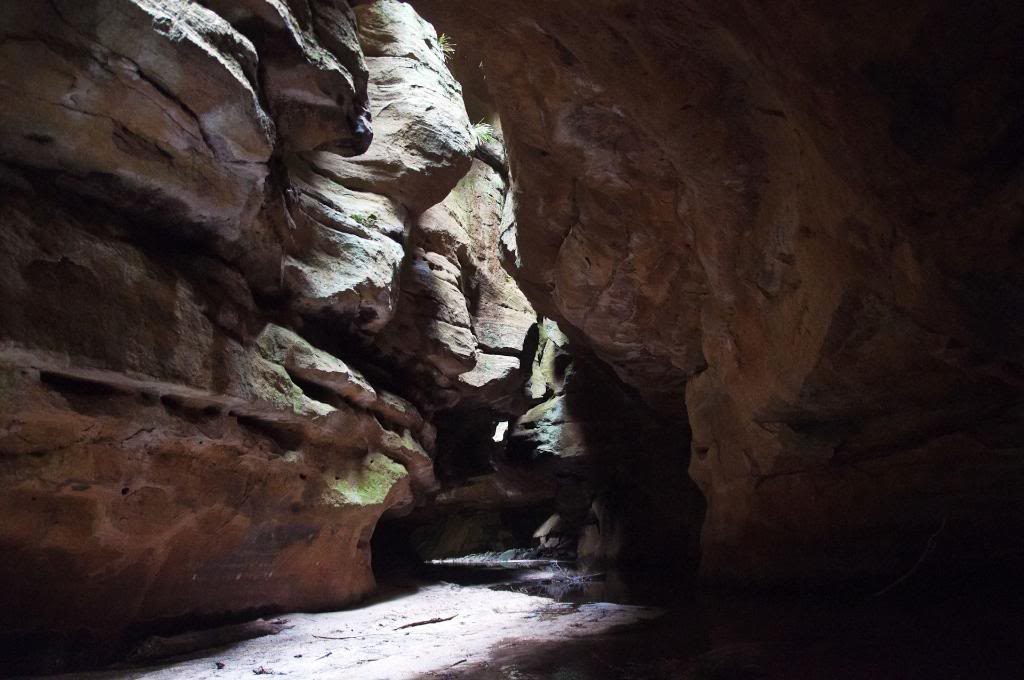 A short steep climb out and we were back at the cars, ready to retire to our campsite for hard-earned food and bevs.  Joshua had arrived while we were gone, so with a raging fire, more bottles of wine than a cellar and chatter to the max (particularly T2 who was in exceptionally loud form), it was well into the early hours of the morning before the final few stumbled away to their tents.
We awoke fairly early, roused the stragglers from their tents and got stuck into breakfast. Joshua had already left at the crack of dawn, off to start an 8-day trek down the Wolgan River to the intersection with the Colo.  Like the previous beginners trip, the goal for the Sunday was Tiger Snake Canyon and Penrose Gully, so after another pep-talk, gear prep and a discussion about the weather (which was looking a little stormy and windy), we drove out to the car park on Old Coach Road and set off along the fire trail.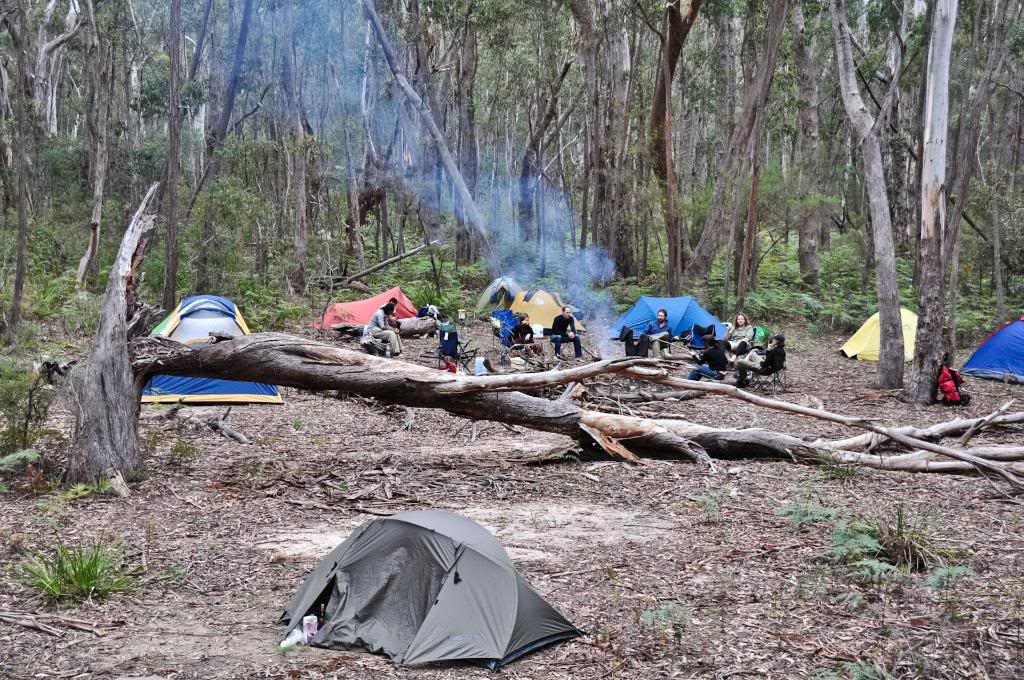 The upper constriction of Tiger Snake Canyon was easily negotiated, with a  mixture of awkward narrow drops and some careful bridging. My group was even blessed with a visit from a Tiger Snake – decked out in classic green, yellow and black stripes – at the shallow pool below the upper constriction's long abseil.
Downstream we used two anchors and abseiled into the middle of the  bottom constriction, a truly spectacular entry. As always, some time was spent exploring this wonderful deep chasm, scrambling up above the archway, photo-phaffing etc. before finally scrambling out and taking the pass and exit track back to the fire trail.
After a late lunch, and with Marta staying behind to rest her tender toe, we dropped into Penrose Gully for the short but marvellously squeezy section of slot canyon. Just three abseils but awesomely awkward, with tight squeezes and bridging of narrow gaps. The second abseil, from an interesting anchor (a short knobbly bollard), provides the most technical descent of the weekend, requiring bridging out across a narrow gap before dropping back in.
At the final drop, we chose the higher route and overhang, rather than the hole (where the creek flows). This went fairly smoothly, with several swinging into the small waterfall below, much to the amusement of others.
From here it's a quick exit up a wonderful slot through the main cliff line, a lookout stop with views towards the Wolgan River valley, then a short scrub bash back to the track and on to the cars.
We made light work of the camp clean-up, packed the cars and with dusk falling we were on the road and heading for the traditional pub dinner.
Another successful beginners trip, escaping without major incident and once again pre-existing injuries didn't get in the way (too much). Most importantly, new skills learnt and much fun had by all.