Party: Tim Vollmer, Michelle Vollmer, Tim Gastineau-Hills
Michelle had made it through her first canyon, Fortress, without trouble a couple months earlier, so I was keen to find another easy canyon for her to hone her newfound abseiling skills.
She agreed to Yileen, thanks to the short walk in and relatively easy walk out, but was more than a little daunted by the 50 metre abseil that it finishes with.
The three of us made short work of the walk in — which was pleasant despite it being a cool, overcast autumn day — drawn on by the increasingly spectacular views of the Grose Valley from the ridge-top track.
Dropping in via a small creek tributary, it was a relatively easy and pleasant stroll, and came complete with some quality entertainment when T1 pulled off an impressive slide.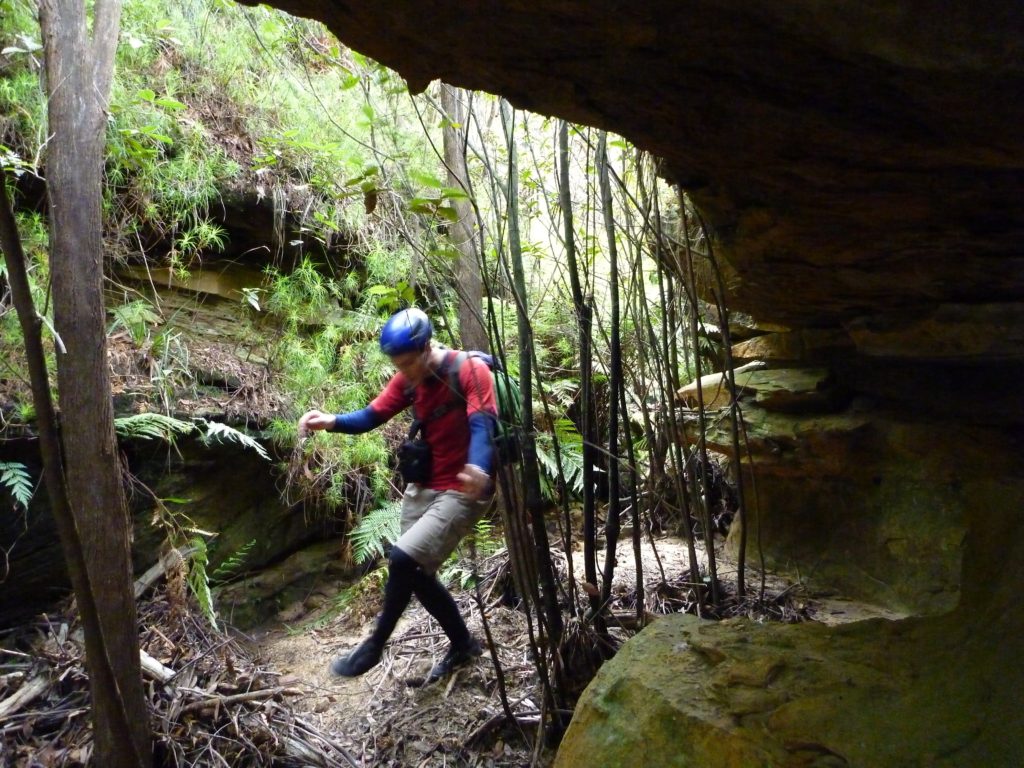 The canyon, while never particularly deep or dark, had several very pleasant constrictions. There were a few hand-over-hands and short abseils, with plenty of sliding, scrambling and wading.
At one point a swim was unavoidable, and while the water was very cold the unusually clear blue-green colouring at least made the leap in a little more appealing.
At the end the canyon took a sharp 90 degree turn, with a good length abseil into the final slot, which was not only an enjoyable drop, but a great abseil to psych up a very nervous Michelle for the last effort.
And then we were at the crux; a 50 metre drop down a huge waterfall from a very large tree, with sheer cliff walls rising on both sides and the expansive valley in front of us.
In the end Michelle did fine, enjoying the effort immensely once she was back on solid ground.
We stopped for lunch at this lovely spot, and thanks to the cold soon had a fire going to warm us up. While there was probably enough wood nearby, we threw a few small pieces of coal from the nearby seam into the flames, enjoying the cosy, steam-train smell it gave the smoke.
Finally we made the bash across the next gully and on to the track back to PiercesPass.
Once back at the lower car park Michelle decided that was enough for her, while T1 and I were keen to walk out to Rigby Hill to enjoy some of the impressive vistas.
It was a pleasant stroll, with improving weather, and from the end we explored down to the cliff edges, giving particular attention to the spectacular overhang on the next ridge over that is so popular with base jumpers.
And of course we finished with a hearty pub feed and a cold beer, which was the incentive needed to convince Michelle of the merits of canyoning in the first place!